Columns
Staying Quiet to Break Silence
Santa Barbara High School Students Fight Gay Violence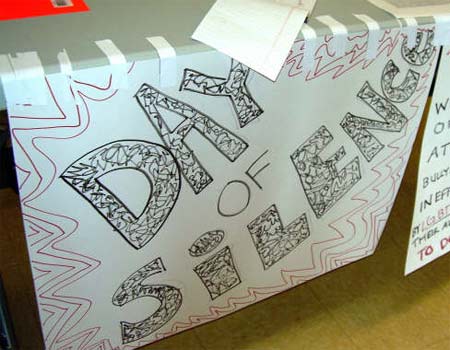 Walk into Santa Barbara High at lunch and be hit by noise: yelling, singing, chatting, and arguing deriving from all areas of campus. However, last Friday, things were considerably more quiet.
The day began with a single table in the main hall and two students silently standing behind it. Hundreds of students swarmed past on their way to first period, wondering what was happening that day. Some backtracked, dragging their friends by the hand, some approached, and others walked silently away. The table was in honor of the National Day of Silence and the struggles of anti-gay voices in school.
It's difficult to forget the violent death of 15-year-old student Lawrence King earlier this year, often attributed to his sexual orientation and how he expressed it. King was just one victim of many who have been affected by anti-gay hate crimes. As a result, the Gay, Lesbian and Straight Education Network (GLSEN) declared the National Day of Silence to be held in his memory. In its 11th year, the event brings together students from across the nation to call attention to the "silence" of LGBTQ (Lesbian, Gay, Bisexual, Transgender, Queer/Questioning) youth who face harassment and violence at school.
The National Day of Silence has taken place at Santa Barbara High School for years, even though the school's Gay-Straight Alliance Club mysteriously disappeared years ago. Although most staff and faculty have been overwhelmingly supportive of the cause, their support does not generate understanding or acceptance among students. Often students share anti-gay epithets, gossip, and inappropriate jokes, a few even taunting and proudly telling stories of ganging up on LGBTQ youth and their allies. In the past, the club Future Leaders of America led the project to end anti-gay harassment at SBHS by holding assemblies, passing out participatory ribbons, and advertising the event. This year, the club Dons For Change took on the responsibility.
Shortly before lunch, four students stood in the middle of the grassy quad, silent and upset. A bewildered assistant principal and custodian stood in front of them confusedly holding several cones and caution tape. The students furiously used cell phone keyboards, notepads, and frantic gesturing in an attempt to communicate their needs. With time, the club finished setting up a "Silent Picnic," providing a supportive place for students participating in the Day of Silence to spend lunch.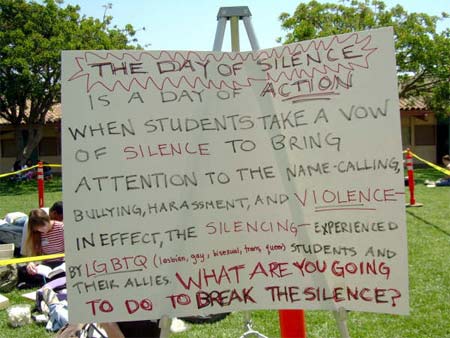 When the bell rang at the start of lunch, students poured out of classrooms and openly stared. A small square of grass smack in the middle of the quad protected a few students inside. Skeptical and curious, students dropped by to understand what was going on, spreading the word. As lunch continued, more and more students drifted into the silent zone, eating silently, playing chess, and listening to music. Teachers dropped by for encouragement, counselors ate lunch inside, and staff protected students from any disrespectful behavior. Luckily, there were close to none.
It goes without saying that many students disagreed with the Day of Silence because they believed it was pointless, even though they supported the cause. However, seeing first-hand the number of students who stopped to read the sign, the number of those who showed up at lunch, and the number of people who acknowledged the issue at all, I would say that the day was a success. Like all problems in our society that are often only brought up once a year or every few months, LGBTQ harassment happens everyday. Last Friday was only a stepping stone for youth to show support for the issue, finally "breaking the silence."