Arts & Entertainment
Big Bounty on Billfish
Santa Barbara's Rick Rosenthal Searches for Superfish on PBS Sunday Night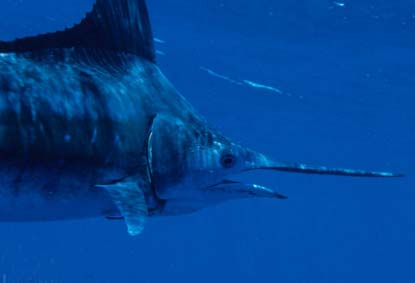 Some can swim at speeds exceeding 60 miles per hour and travel 9,000 miles in one single migration. Others will travel more than 200,000 miles in their 50-year lifespans. Legend has it that some have weighed more than 1,500 pounds, bigger than a small car. And they all come equipped with the fiercest weapon in the deep blue sea. These are the billfish, the marlins, sailfish, and swordfish that live in waters all over the planet.
And like much of the planet's sea life, these fish are getting hammered by the insatiable human desire to hunt them and their prey for food and sport. In the last 50 years, observers say that more than 90 percent of the billfish population has disappeared, from the Pacific off Costa Rica and Caribbean off Cuba to Baja California's islands and Australia's Great Barrier Reef and beyond.
But that's not stopping Santa Barbara-based filmmaker Rick Rosenthal from finding them in the open ocean and uncovering some of the mysteries that have made them the subjects of our culture's greatest stories, from Ernest Hemingway's Old Man and the Sea to the Chumash legend about a glass house of swordfish located off Rincon Point. The marine biologist and filmmaker's quest to find these "superfish" will be aired in a PBS Nature documentary on Sunday, May 4, at 8 p.m.
Called, fittingly, "Superfish," the hour-long, artistically rendered show follows Rosenthal as heads to such places as Cabo Blanco, Peru, where years ago, the elite went to catch "granders," or marlins weighing in at more than 1,000 pounds. Those stories are just that now, for the fishing club closed down due to the lack of fish. Rosenthal postulates that the decline in that region may be due to overfishing of squid, and there's plenty of mind-blowing footage of that industry – as well as the disastrously bloody harvests of the billfish species themselves – to bolster with his suspicions.
The film's not all gloom though. Rosenthal – not to be confused with the other filmmaker named Rick Rosenthal – provides some stunning underwater shots. And the surprise find at the end will make even the most doubtful shed a little smile. It's worthwhile viewing for your Sunday evening, as are most of PBS's Nature episodes. But this one, with a little hometown touch, should be required viewing for all Santa Barbarians.