Outdoors
Reclaiming Nature For Kids
Museum of Natural History Gathering Explores Issues Relating to Loss of Natural Experiences in Childhood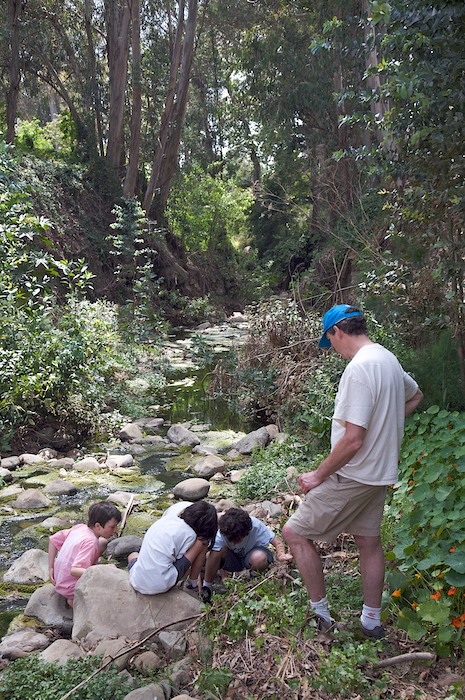 I was lucky when I was a kid. There were places to play everywhere and nothing to distract me. The creek behind our house was deep and mysterious and at every chance I was out in it exploring every nook and cranny. Just an hour away my grandparent's farm served to provide me with almost every sort of outdoor experience I could dream of.
There were cows, chickens, watermelon on the vine and long rows of corn we'd play hide and seek in. I learned to fish there, shot my first gun to scatter the crows that were hassling the farm cats that kept the mice away and even learned to drive the tractor through the alfalfa fields. I was so busy having fun that there was no way I'd have chosen to head inside to watch TV, but then again no one we knew even had one to watch.
Kids today aren't so lucky. There aren't nearly so many places to play, hardly a farm in sight and so many things to frighten a parent into keeping a kid inside that it's a wonder anyone ever gets dirty anymore.
Richard Louv is a columnist for The San Diego Union-Tribune whose interests in the relationships between children, family and nature led him to write Last Child in the Woods: Saving Our Children From Nature-Deficit Disorder. In it he discusses what he calls the growing alienation of children from the natural world and the implications it has.
"Kids don't hike, play in the backyard, climb trees, catch frogs, build tree houses or do most any of the things we did when we were kids," Museum of Natural History Educator Elaine Gibson says, "Instead we've either turned them towards organized sports such as soccer, football or baseball or they've gotten hooked on indoor activities. Between the ages of 8 and 18 kids now spend an average of 6.5 hours in front of a screen – whether a TV, GameBoy or computer, they're rarely more than a few feet from an electrical outlet."
Louv postulates that the costs of this alienation are high and have led to a number of disorders, among them ADD. Sunday, May 18 at 2 PM the Museum of Natural History will host a community discussion of the issues relating to the nature deficits kids now experience as well as ways to do what Gibson calls "reclaiming free-range childhood."
Titled "Remember When" (you splashed through the creek, collected snakes and bugs, climbed trees, and explored every inch of the woods and fields?), the workshop is free and is open to all in the community who have an interest in helping provide ways to bring more natural experiences into the lives of their kids.
Join Elaine, local environmental educators and Mayor Marty Blum on Sunday May 18 to gain an insight into ways to bring nature back into kid's lives as well as to share your own ideas.