Arts & Entertainment
2008's Lightning in a Bottle Brings Art, Music, and Green Living to Live Oak
Bottle Rocket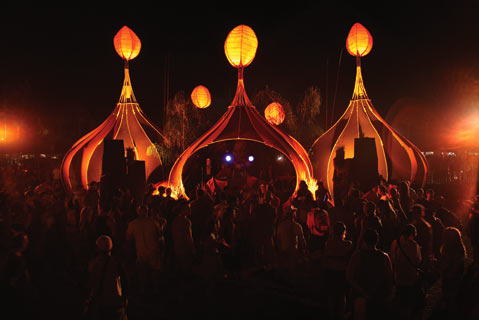 Now in its fourth year, the Do LaB's annual Lightning in a Bottle music and arts festival, held every spring at Santa Barbara County's own Live Oak Campground, is quite literally about to explode. The now four-day event, which will host anywhere between 3,000 to 6,000 attendees and employ more than 200 staff and volunteers over the course of the weekend, began simply enough. Many moons ago, the hills and plateaus of the Santa Ynez Mountains became the hot spot of choice for a group of young music enthusiasts, deejays, nature lovers, and party kids. Under the stars and far removed from the confinements and limitations of the city proper, said youngsters were free (for the most part) to throw loud, large dance parties that stretched long past last call and well into the wee hours of the morning. It was here that Do LaB founder Jesse Flemming and his friends found something they felt they could truly be a part of. So much so that the one-time sound engineer was driven to devote himself (with the help of a couple of friends and family members) to throwing out-of-this-world events for a living. It was also here that the inaugural Lightning in a Bottle (LIB) was first held.
"It started about nine years ago, and it was just a small, private mountain party for a bunch of friends-it was actually my birthday party," recalled Flemming.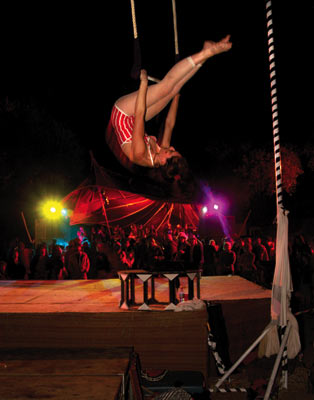 As years went by and bashes came and went, Flemming came to terms with the fact that his then career of choice simply wasn't where his heart was. So, he quit his job, gathered his pals-including brother Josh-and plunged headfirst into the wide world of event creation. "I was working at a recording studio, doing post-production audio for commercials and radio spots," Flemming explained. "But on the side, my brother, some of my friends, and I were throwing little parties and kinda doing things like that for fun. We were doing a lot of decorating and lighting and decor for small events throughout the city and our community, and it started getting bigger and bigger over the years, and eventually we all kind of bailed on our jobs and started focusing on the events full-time-and worked our asses off to get it to a sustainable place, which we're finally at."
Taking what they learned at other music fests-namely Coachella, where the Do LaB's now prominent stage setup and art space has become a fixture-the burgeoning company recognized what they had on their hands with LIB, and the rest, as they say, is history.
"Over the years it got a little bigger and a little bigger, and once we decided about four or five years ago that we really wanted to be in the event business for good : that's when we changed it from a private event to a public music festival," Flemming said. "It's always been about music, but four years ago was when we added a lot of art elements to it. : We just didn't want to throw another party for the sake of throwing a party; we wanted it to have intention and [be] a party with a purpose."
Aside from throwing an epic weekend-long music fest-the Do LaB's biggest annual undertaking by far-Flemming and Co. set out to do things a little differently, employing their own sustainability coordinator and working quite literally around the clock to create an event that was both environmentally friendly and educational. Cue sustainable expert and resident "Green Queen" Shena Turlington.
Waste Not
Since jumping on board with the Do LaB, the 25-year-old has instituted a series of procedures, protocols, and techniques that have helped to make LIB the first and only green music festival in the world. "[Jesse and Josh] have a really strong desire to make a positive impact on the environment," Turlington said. "And it's just [stemmed] from all their experience at festivals. They really hated seeing all the waste that it caused, but what they love to do is throw inspiring events. So they took me on and asked me, 'How do we make this green? Can you help us? Can you show us?' : So my job is kind of to evaluate all the processes that we have and how can we make them greener, and beyond that, how can we inspire other people to do the same."
LIB's 2008 showing will mark the second year that the fest has been able to consider itself green. And with two added days of music, art, events, and educational opportunities being offered this go-round, it seems that Turlington truly has her work cut out for her. "It's definitely a different kind of animal when you're dealing with a small green event, and then with a huge green festival," she explained. "Waste is a huge focus-it's always a huge focus-but even now it has to be way more organized, as you're thinking about an exponentially higher number of people coming. If there's one piece of trash on the ground, all of a sudden it's in peoples' minds as okay, and all of a sudden there's trash everywhere. But : there's [also] more of an opportunity to offer more workshops. I love educational opportunities, so I really try to get creative with that and with what I get to offer to all these people."
Aside from drafting an extensive, informative Green Report, which outlines how last year's LIB fared on the sustainability front, Turlington has gone above and beyond to help organize a bevy of activities, workshops, panel discussions, and family-friendly projects for 2008's fest that reflect what the Lightning in a Bottle initiative is all about.
Making It Easier to Be Green
"We're going to have a whole panel on 2012 and this evolutionary future coming upon us, there's going to be Daniel Pinchbeck, who's written books on it," she enthused. "We have an amazing sustainable transportation panel with Chris Paine who directed Who Killed the Electric Car?. : My favorite workshop is going to be a pedal power workshop, where people will learn how to turn a bicycle into pedal power and create light, or whatever they want to power from it and exactly what parts you need-all second-hand, all cheap. 'How to Build a Solar Cooker for 10 Bucks,' that's a good one. : Then, for kids, we have a lot this year-music for kids, like how to deejay, dance workshops : tons of fire skills workshops. And then on top of that the speakers, then on top of that the dance stages : Oh! There's also going to be 'How to Make Biodiesel.' That'll be a good one."
Add to that a never-ending stream of live music, featuring acts like Bassnectar, The Glitch Mob, West Indian Girl, and Kazell, performance art shows by way of Lucent Dossier's Vaudeville Cirque, art installations, on-site art activities, local food and goods vendors, and event-sponsored hiking, yoga, dance workshops, and deejaying lessons, and you begin to skim the surface of what Lightning in a Bottle has to offer.
"This is a participatory festival, and we want everyone to shine; we want them to create their own art, we want them to perform, and we also want them to be green with us :" Turlington said. "So it's not just about talking at people and telling them information, it's about being there in the environment right then, learning about how to do things better. : And it's combined with this community and inspiration and all this art, so you leave the weekend associating being green with all these fantastic experiences. And then you're more readily [capable] to implement it at home, and you're more able to because you've had all this practice."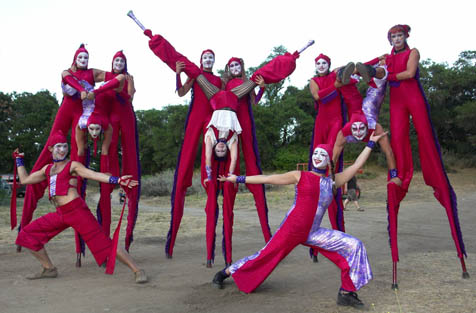 "We design and create an environment, an experience for people to just be blown away," said Flemming. "So we actually really, truly care about every little detail. We design and build, or co-design and build, all the stages, all the signage, the fences, everything we do. It's not about making money for us, it's about creating an amazing experience."
And even with all the planning, chaos, and detail-oriented grunt work now hitting its peak, Flemming and Turlington appear nothing but stoked on what this weekend has to offer. So much so that they've already got newer, equally exciting ideas waiting in the wings.
"We're actually working on concepts for a second weekend music festival to kind of keep it going throughout the year," said Flemming. "We're trying to do four big [events] a year; I don't know if we'll be doing four this year, but hopefully by like 2010."
Green from the Ground Up
But as far as Memorial Day weekend is concerned, the duo's minds are still very much on the task at hand. Following our conversation, Flemming was headed up to Live Oak to attempt the "virtually impossible": building three big stages from scratch-one made completely of hand-selected trash, another constructed out of an enormous bamboo DNA helix that was originally made for last month's Coachella Valley Music and Arts Festival.
"What I love getting out of it is seeing people have a great time," said Flemming. "The feeling you get from that makes the whole thing worth it. : After the event, you see the emails and you get the responses and the blogs and it changes so much. It gives them inspiration going back into their daily life to help them change things they're not happy about and help them just move down a different path. That's really what we're doing. We're trying to create change."
And a change they most definitely have made as concert promoters, bookers, and event planners around the world are now looking at Lightning in a Bottle-and Turlington herself-for inspiration and advice on how to greenify their events. And with this year's showing already looking to be bigger, better, and more eco-friendly and environmentally minded, it's our guess that there are only more good things to come from this camp in the future. So, for first-timers and repeat Bottle goers, Flemming encourages you to head up, camp out, "bring some funky outfits, and get ready to have fun."
4•1•1
The 2008 Lightning in a Bottle festival takes place this Thursday, May 22 through Sunday, May 25, at the Live Oak Campground (4600 Highway 154). For additional event details, camping information, musical guests, and schedules, visit lightninginabottle.org.