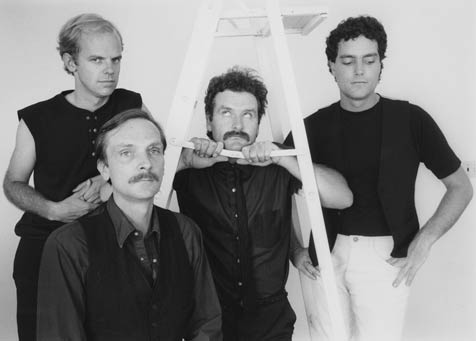 Saturday night was date night, but Friday it was out with the boys. It was funny how it all evolved, actually. I don't mean out with the boys; I mean just going out, period.
We used to look down our noses in the early 1970s at people who hung in bars-we weren't sure what the attraction was. Our idea of a fun evening was much more exotic and had more to do with proscribed alkaloids, conversation, Zap Comix, or Hieronymus Bosch art books. Or we listened to albums from Abbey Road to Led Zeppelin II, and sometimes friends who played guitar strummed and maybe we sang along. We hardly ever watched TV.
After all, this was supposed to be the New World. And not the ironic one that X sang about later, but a real, tangible break from the dumb-ass booze and sports-watching culture that led our parents into Vietnam. (We frequented the Plaka or Cold Spring Tavern, drinking ourselves down from the Magic Mountain, but that's another story.)
If anything, the genesis of nightclub-hopping reminded me strangely of the onset of group puberty. That is to say, when we were in grade school we hated girls until suddenly we didn't-a lot. And it was the same way with clubbing.
We sneered at the brand-new fern bars like 1129, and then one night, circa 1975, we ran into a friend en route to a new nightclub who was decked out in flared jeans, a plaid shirt (unbuttoned extra), and a wide, wide belt. "You look really good," one of my long-haired friends said. A sudden blurring ensued. Then we were all dressed to the nines regularly, prowling and drinking Mediterranean Stingers until two, followed by breakfast at Casa Blanca, Carrows, or Frimples.
Get Happy!
I went out even though most nightclubs seemed either too fancy or too funky. The aforementioned 1129-which later became Oscar's-across from the art museum, was stiff, better suited to well-heeled Montecito Lotharios and the breeding ground of those beings later branded as yuppies. As of yet, though, they were commingled indistinguishably with the more successful drug dealers, waterbed store owners, and rock promoters. It was the first place I saw a Pong machine.
The opposite end of the spectrum was Baudelaire's. Claire Rabe's place was the crown of creation in a series of funky, hippie-ish joints. The first one nobody remembers was called the Red Barrel, and it was above State Street in a space nobody could find today. Joan Baez's sister Mimi Farina played there. (The proto-club, the Noctambulist, was long gone, a story unto itself.) Later came the Bluebird, hosted by the winsome Peter Feldmann, but that was a sit-down kind of place. Who can forget the daffy Pizza Luau? Out Goleta-ways, there was folk and classical at Borsodi's, and Fubar rocked. Later to the rescue came the redoubtable Pat's Grass Shack.
Baudelaire's was it, though. Funky, brash, and mostly rock and roll, it lasted from the onslaught of S.B. rock bands through a post-punk heyday with appearances by national acts like Rank and File. Out in the alley, people smoked fat Columbian doobs. Inside, I remember ranting at closing time, asking a sultry beatnik gal whether this was an Artificial Paradise or the very Flower of Evil. She smirked wisely. I stumbled out. That was Claire Rabe, of course, whom I never really knew until I wrote for this paper.
But this is about the other sort of club, the nightclub, which proliferated like mushrooms in the mid to late '70s. When I first moved to Santa Barbara with my parents in the late 1960s, my uncle, who was no bohemian, made fun of the place. "Roll the sidewalks up at 8 p.m.," he said. "Newly wed and nearly dead."
Everything began to change as my tip of the baby boom began to have a little spending dough. Suddenly the whole town seemed like a party. One night, despairing of ever connecting with anybody, I wished aloud to see a woman I loved in vain at Bishop High. A week later in the same Feed Store line to get in, my friend Michael pointed her out to me. Inside, I sent her a drink, feeling sophisticated. She came over, but the music was too loud for conversation, and we laughed and exchanged phone numbers. That's my best story.
Most important to us was the Feed Store's panoply of faces, a cavernous place down at the bottom of Anacapa Street, which was last known as the Coach House before it fell into its current office incarnation. Then it was almost elegant with brass railings, a fancy bar, and a nice stage. If you got there after about 9 p.m., there would always be a line and a cover charge. Once inside, you waited forever to get to the bar or have a waitress wait on your table and then bring your drink. By then, I was already ready for another.
The band I remember best was Hot Ice, and for some odd reason, a kind of sophisticated jazz-funk premise ruled the dance floor: Pinche Pete, the Moment. Later on, I met a guy who had been an owner of the club and who told me that whenever the drinking slowed and the dance floor emptied, he'd just send word to the band to play Eric Clapton's version of J.J. Cale's "Cocaine" and the world came alive. The drug scene had changed, too. People did lines on glass-topped tables. The parking lot was a big dirt lot between the club and the ocean, and twice after closing time I found guys crashed out in the back seat of my Rambler. They apologized and stumbled into oblivions.
But then other clubs began offering rocking camaraderie. The Standells, who had a hit 10 years earlier with "Dirty Water," played the slightly bedraggled Four Winds uptown. A guy named Ace Diamond opened a living room-like club called Ace Diamond's Showcase. Teasers was where Cantwell's Market now stands. We liked a woman bartender there. Other joints: The Bull Market, which became Kelly's Corner; upstairs and downstairs at the Mar Monte; for a second, Carpinteria's Reindeer Room was cool; even El Encanto had its moment in the spotlight. Then again, we once dropped acid at the San Marcos Bowling Alley and I swore it was the Happiest Place on Earth. The Hawaiian-themed joint at the Santa Barbara Inn, Don the Beachcomber, however, was satanic and reactionary, no matter how many micrograms you ate.
Night Fever, Night Fever
If that wasn't enough, John Travolta changed the whole world. After Saturday Night Fever played the Granada, a lot of State Street restaurants realized all they needed was a disco ball and a stereo to attract a crowd. My guess was this was the beginning of the end for The Pub and the other shorter-lived gay clubs in town. Then came Pepper's.
It was the cusp of the 1980s and Pepper's-a multilevel club lined with mirrors that took months to build and was touted as the new Granada-distilled the ethos and suddenly had the longest lines, inside and out. We resisted, but knew we had to go. The Feed Store, then popularly known as the "Meat Store" for its blatant pick-up scene, was being usurped by Rocky's on lower State, but the same kids were just transplanted a few blocks. Michael liked the dance clubs-he had faith in them. It was, after all, night out with the boys.
So one night we showed up. There was a long line, but there were stunning women in it. We had our nice clothes on-designer jeans, fitted print shirts, and vintage cowboy boots. One guy came staggering up past the line with a woman holding up each arm. He reached out to the man at the door and handed him a $50 bill. He went right in. We yelled some kind of inchoate protest and the bouncer, who we vaguely knew from Frimples, snapped the bill so we could see it.
An interminable half hour later, we reached the head of the line. The bouncer looked at our pants. "Can't get in with those," he said.
"They're designer jeans," I protested, feeling doubly cheap.
"I can see that," he said. "Those are the rules."
It wasn't exactly the last straw, but it would do. Our New World had become a lot like our parents', ruled by hunger and thirst for acceptance based on accumulated trappings. We were keeping up with the Jones, and their joneses, too. My club days became sporadic. I met my wife about six months later. I hadn't been going out so much in the intervening time, partly because I'd gone back to school and partly because I preferred hanging out with some lefty friends in a rock band.
My first date with my future wife was at Rocky Galenti's, though, dancing to a band I used to love on boys' night out. Some of the guys in the band and singer Barbara Wood knew me, but that didn't seem to impress my date. She liked swing bands and hanging out with art books and music on the stereo. She was wilder than any night on the town with the boys. And thereafter we just didn't see much point in going out.