Captain Patrick Byde, Solvang, CA
On the Fourth of July, S.B. County Fire Captain Patrick Byde of Engine Company 30 in Solvang was awaiting the flames on Farren Road in west Goleta. The Gap Fire was the closest the Arroyo Grande resident had seen a wildfire come to neighborhoods in his seven years working in Santa Barbara County, and a reminder of some of the worse situations he'd seen in seven previous years as a hotshot and helicopter crewman. On that evening, there was lots of waiting, allowing Byde and his crew to re-position resources in anticipation of where the fire might come.
"There are moments where you're certainly very busy and there are moments when you're not so much," said Byde. "I've been doing this for 14 years now, and it just becomes like going to work." On Tuesday, July 8, Byde was back in the station, just doing his job again by being there to protect the community of Solvang. With some of the station's crew up in Northern California, some on the Gap Fire, and the rest ready to work in Solvang, the division of labor has proven one of the biggest challenges this fire season. "What it means is just about everyone is at work," said Byde.
But doesn't the praise from the community make it all worth it? "I love this job," said Byde. "It's the best job in the world. It's good work. We work with great people, and it's just a great profession. Moments [of praise from the community] certainly add to it, but I wouldn't say that's why I do it." -Matt Kettmann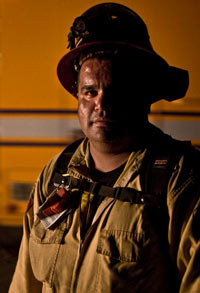 Captain George Nunez, Valyermo, CA
Late on Monday night, Captain George Nunez, who is based in the mountains southeast of Palmdale, was leading his crew in the building of hand lines above the flames on West Camino Cielo near the Winchester Gun Club. Like other crews, they worked hard. But unlike other crews, Nunez's firefighters were prison inmates from a Los Angeles County correctional facility. They are part of a program available for physically fit, nonviolent, and low-risk-of-escape inmates to work outside the prison setting while earning credit for early release and $1.45 a day. They were genuinely grateful to be there, and a few even expressed interest in pursuing careers as firefighters when their sentences are up.
"They fight fires alongside everyone: hotshots, Cal Fire, BLM, you name it," explained the captain, who added that when not fighting fires, they work on fire abatement projects for Caltrans, the Forest Service, and the National Park Service. "It's getting tougher for them to get fire jobs when they get out, but it does happen. It's a great opportunity for these guys to get out and do something different. A lot of them have never even left L.A." -Ben Preston