Food & Drink
The Scoop on Seagrass
Learning from Josh Brown, Chef at Santa Barbara's Newest Seafood Centerpiece
With the relatively new restaurant Seagrass celebrating its fiscal grand opening on July 14, head chef Josh Brown agreed to answer a few questions about this culinary newcomer and share some tasty tidbits about his experiences as a chef.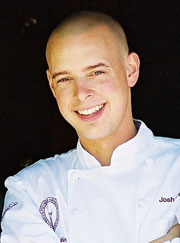 Though Seagrass only opened a little over six months ago on Christmas Eve, Brown most certainly is not. After graduating from Santa Barbara City College's School of Culinary Arts in 2000, Brown joined the staff of bouchon santa barbara where he met owner Mitchell Sjerven. Since then, the pair has been working together for almost seven years to create the ultimate wine country dining experience at bouchon. But with Seagrass, they're setting their sights on the sea. Maintaining his passion for the freshest ingredients, Brown still shops the Farmers' Market religiously, but has turned from lamb to lobster when it comes to meat, fulfilling the new restaurant's promise to "provide the most amazing fresh fish and seafood dining experience in Santa Barbara."
So here are a few fun facts for the foodies and secrets for those of us who want an insight into the Seagrass menu, all gleaned from an informal interview with Chef Josh Brown.
On weird ingredients:
"I would never serve anything that would terribly shock anyone," explained Brown, who then admitted that the weirdest things he's ever cooked were periwinkles. Not the typical garden variety and not to be confused with the poisonous violet flower, periwinkles are a type of sea snail that enjoyed a brief stint on the Seagrass menu. These snails are about the size of a dime and "take forever to clean," according to Brown, but they must be delicious to make it into his kitchen.
On upcoming delights:
Seagrass's adaptable menu is ever-evolving in order to incorporate what's fresh, in season, and available. Never knowing what will come next, Brown gets the low-down on what's good every Monday, and then create the menu. So what's Brown especially anticipating for this summer? Even though it doesn't start until October, "I'm secretly looking forward to the lobster season," he admitted.
On a chef's childhood:
When asked what he wanted to be when he grew up, Brown explained, "I don't remember thinking about that as a kid." But by the age of 17, he had started cooking. Though he's on the young side for a chef, Brown's 12 years of experience makes him a force to reckon with in the culinary world. "It's been a constantly learning career," he said. "What I do five years from now will be dramatically different from what I do today." So we don't need to worry about getting bored dining with Josh. He seems to just get better with age.
On getting what you want:
"I like pleasing people," said Brown. "Really, I'm at the public's disposal." What does that mean for Santa Barbara seafood lovers? That Brown is willing to take suggestions, so for those of you hankering for a few periwinkle snails, it's not too late. "I'll do pretty much anything if you give me enough notice," the chef promised.
On favorite menu items:
When asked for the insider's scoop on the Seagrass menu, Brown divulged, "The onaga is my favorite." It's a white fish from Hawaii and "one of the things I've been holding onto for a while," compared to the fast turnover for most other menu items.
4•1•1
Seagrass is located at 30 East Ortega Street and open seven nights a week for dinner. See their website or call 963-1012.