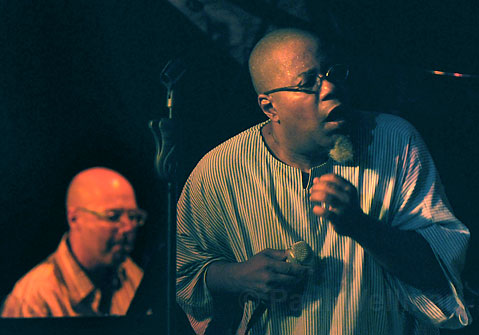 "We all need to understand and respect each other's humanity," said Dwight Trible, making an appearance on KCSB-FM's The E Syncretic Revolution. "Ultimately, we will come to love one another, but until that day, let us at least respect each other's humanity." Love and respect are at the core of this distinctive vocalist, prolific musical collaborator, and not-too-shabby kalimba player's worldview. He shared it on the radio and, with his ensemble, brought it to life at SOhO on Wednesday evening.
Trible's four-piece band opened each set without him, but the show didn't really begin until his vocals entered the mix. Moving with exaggerated slowness and smoothness, the goateed, dark-spectacled Trible took the stage with a singing style neither verbal nor strictly nonverbal, drifting from wordless improvisation to tonal disquisition on his favorite themes. Whether it was our world's lack of love, humanity's ascent to the mothership, or why one should vote Obama, all subjects sounded compelling in Trible's voice.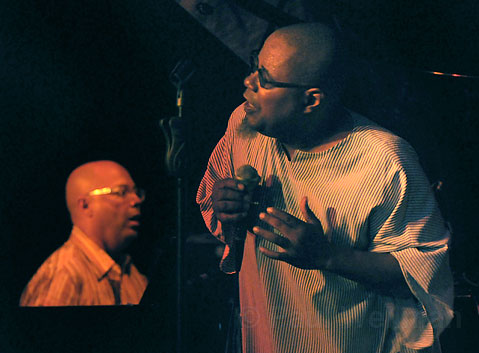 To call Trible's manner of singing "unique" is not simply to misuse the word and mean "unusual." Nobody else does what he does, or at least not with the same precision and intensity. He uses whole dimensions that other singers don't even know about. While climbing and falling from pitch to pitch with the best of them, he also manipulated the volume, the direction, and the distance from the microphone with which he sang, oscillating from soft and still to powerful and commanding. Even in his quieter moments, when he sounded as if he were singing in the distance despite being right there up front, his voice commanded all the attention one usually divides equally among the players.
Trible's performance, persona, and outlook on life united in the show as he delivered his self-styled wisdom against the kind of jazz tracks nobody seems to lay down anymore-the kind of thing fans dig through dusty crates of 1970s vinyl to hear-which at the same time sound like a type of simultaneously bold, improvisational, and unapologetically vocal jazz that few have ever done before. As Trible remarked on the air, "I let it happen on its own. If you get out of the way and let the spirit move through you, all kinds of wonderful, wonderful surprises will happen."