News
Vandenberg: Missile Launched, Protester Arrested
Air Force Base Security Says Objector Violated "Ban and Bar"
Although the skies were foggy and visibility was nil, the test launch of a Minuteman III Intercontinental Ballistic Missile (ICSB) was carried out in a joint exercise by Vandenberg's 576th Test Flight Squadron and the 341st Missile Wing from Malmstrom Air Force Base, Montana at Vandenberg Air Force Base in the early hours of Wednesday morning.
The missile, a nuclear-capable vehicle with capacity for three warheads, deployed three test reentry vehicles, which reached their Pacific Ocean targets near Kwajalein Atoll in the Marshall Islands. "For the past 50 years Vandenberg has been at the forefront of testing and improving American ballistic missiles," said Colonel David Buck, commander of Vandenberg's 30th Space Wing and the spacelift commander on this particular mission. "Thanks to the hard work of Team Vandenberg, we continue a proud legacy of assuring the readiness and reliability of our ICBM fleet."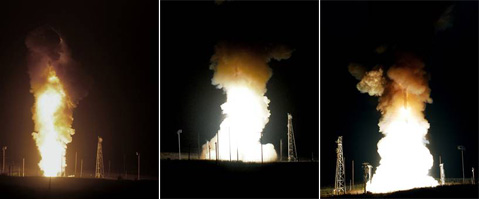 While everything went off without a hitch with regards to mission success, three people stood at the base's main gate in opposition of base security's removal of protesters at past protests. In response to past protest incidents – including when, in 2003, local activist Dennis Apel sprayed his own blood on the sign at the base's main gate to protest the war then gearing up in Iraq – the sign is now draped in black cloth and fenced in by orange plastic netting. A thick green line is painted on the ground across the main entrance, which marks the boundary for peace protesters.
On one side of the intersection, a group of Air Force Security personnel stood, chatting among themselves in the morning fog. On the other side, protesters stood waving and American flag with a peace sign emblazoned in the blue field where the stars normally reside, proudly displaying a hand written cardboard sign that read "Make Peace Legal."
One of the protestors – MacGregor Eddy, who organized the demonstration – was arrested at about 6 a.m. for violating her "ban and bar." Eddy is one of a number of protesters who have been issued "ban and bar" letters from the Air Force, prohibiting their presence on base property, but protesters have maintained that state law dictates that their presence on the state highway that runs through the property, and its easements, make use of the "ban and bar" there illegal. After Eddy was escorted from the premises by security forces, the remaining two protesters continued their vigil.
"We're here to make sure the protesters are safe and that they don't break any laws. We let them exercise their constitutional rights," said Lieutenant Colonel Antonius Spangler, the commander of base security forces. Spangler, who has been stationed at Vandenberg for about a decade, has seen almost 20 protests. "Most protests are peaceful. They do their thing and then they leave. That's fine by us." However, the two protesters across the road didn't feel that their constitutional rights were being honored, and were incensed that they had been made to move their car so many times by base security and local law enforcement officers, who were also present at the scene. "They're very arbitrary and random," said Sheila Baker. "Do you think that [President] Bush should give sympathy for the dissidents in China when we have people being arrested for the same thing here? What law are we breaking for being here?" She also commented on what she said was the dubious legality of the Air Force's use of "ban and bar." "Did [Eddy] deserve to be arrested? Is there any difference between us and China? No."
Though the press release sent out by Eddy indicated that the protest was being held in opposition to the continued use of intercontinental ballistic missiles – with each launch being conducted at a cost of approximately $50 million – the focus of the protest had shifted decidedly toward issues related to access. Apel, a regular at the base gates, and one of the "ban and bar" recipients, said that the reason for this is due to a recent motion filed by the activists' attorney for "defense of necessity," which makes violations of the law legal in cases of necessity. The group's rationale, he said, was that since they are involved in an action of direct civil obedience towards the base, their violation of the military's "ban and bar" letters qualifies as defense of necessity to uphold their right to frequent the state highway and its easement. Judge Rita Coyne-Federman, who conducts Vandenberg's misdemeanor hearings at the U.S. Bankruptcy Court in Santa Barbara, will hear the motion on September 18 at 1:30 p.m.
Apel, who was most recently arrested for violating his "ban and bar" on August 9, said that although the base commander has the legal right to prohibit anyone from entering base property for security and other reasons, that authority still doesn't apply on the public highway. "There have been three arrested for this," he said, "myself, Macgregor Eddy, and Bud Booth. Each time, the government has dropped the case, but the issue never gets resolved because it never makes it to court." Apel and other activists are seeking assistance from the ACLU to file suit against the base for wrongful arrests, but in light of their budgetary constraints, he said it will be very difficult to achieve that.
In a movement began by veteran and well-known peace activist Bruce Gagnon, the first week in October has been designated Keep Space for Peace Week. Apel said there is usually a protest on the first or second Saturday of the week. Although dates and times for the events haven't been confirmed, base officials preempted the protests by requesting that organizers give the base two weeks notice so that the Air Force can have security forces and rest facilities in place. "If they work with us, we'll work with them," said Lieutenant Raymond Geoffroy, one of Vandenberg's public affairs officers.
4•1•1.
The public affairs department at Vandenberg Air Force Base can be reached at (805) 606-3595.