Sports
San Marcos High Honors Its Four Olympians
Todd Rogers Shows Off Gold Medal Before Hitting West Beach Sand
Todd Rogers said he was once "a skinny little freshman" at San Marcos High, but later he made some big, fat dreams come true. He won a gold medal in beach volleyball at the 2008 Summer Olympics in Beijing.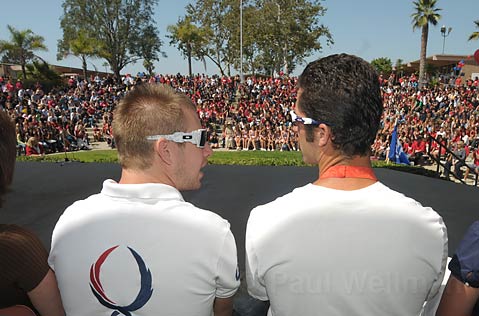 Rogers and Adam Duvendeck, a two-time Olympic cyclist, appeared at an assembly Friday morning to the applause of the entire San Marcos student body. Honored in absentia at the school's outdoor amphitheater were two other former Royals who participated in the Beijing Games open-water swimmer Mark Warkentin and U.S. men's water polo coach Terry Schroeder.
"Four Olympians from our school that could be the representation of some countries," said Kelly Martyniuk, the senior class vice president.
San Marcos volleyball coach Jon Lee said he first noticed Rogers playing soccer and recruited him to play volleyball because "he could move so much more quickly and jump so much higher" than other players.
Duvendeck tried volleyball as a San Marcos freshman, but he had more success on a cycling club and devoted his efforts to that sport. He placed eighth at Beijing in the team sprint race. Warkentin took eighth place as well in the inaugural Olympic 10,000-meter swim. He has not yet returned from the Far East.
Schroeder, who has a chiropractic practice in Westlake, also was unable to attend the gathering. He was represented by Mike Irwin, a San Marcos teacher who coached the water polo team when Schroeder was an All-CIF player. He was a star on the U.S. team for a dozen years, winning Olympic silver medals in 1984 and '88, and this summer he guided the American men to another silver quite an accomplishment as the team was ranked just No. 9 in the world.
Rogers is having a busy weekend. It began Thursday night with a celebration in Solvang, his adopted home. Then it was back to his original hometown, Santa Barbara. After showing off his gold medal at San Marcos, he was saluted at the Rotary Club. On Saturday morning, he and his playing partner Phil Dalhausser take the court at West Beach for their first match of the $200,000 Association of Volleyball Professionals Crocs Cup Shootout.
Rogers and Dalhausser are top-seeded in the men's bracket. Besides the Olympic championship and three other titles in Europe, the pair has captured 10 of 12 AVP tournaments this year, including last weekend's event in Cincinnati. Jake Gibb/Sean Rosenthal, the last U.S. team to knock them off, are seeded No. 2. Two other former San Marcos players are in the 16-team event Dax Holdren, a 2004 Olympian, is seeded No. 12 with Will Strickland; and Anthony Medel is seeded No. 9 with Brazilian partner Fred Souza.
Two-time Olympic champions Misty May-Treanor and Kerri Walsh headline the women's draw. Second-seeded Nichole Branagh/Elaine Youngs upset them in the Cincinnati final last weekend, ending a year-long streak of 112 consecutive matches won by May-Treaner and Walsh.
The action at West Beach continues until 5 p.m. Saturday and will resume at 9:30 a.m. Sunday. The men's final is scheduled for 2:30 and the women's at 4 p.m. Sunday. General admission costs $20 and courtside seats $40.