News
Soul Calibur IV
Fighting at Its Best
Platform: Play Station 3, Xbox 360
Release date: July 29, 2008
Developed and Published by: Namco
ESRB: T (for teen)
I've found myself less than enthused about some of the games I've reviewed in the past, which is not to say I can't get any excitement out of myself, but I jumped at the opportunity to review Soul Calibur IV. I am in love with this game. It's just incredibly fun, jam-packed with features, easy enough for rookies like me to enjoy, but deep enough for the hardest of hardcore fighting game fans to get into. There's no point where this game fails, and I just don't see myself getting sick of it for a long time.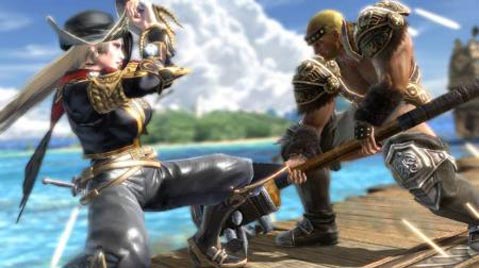 We'll start with the easiest thing to compliment, the graphics. This is just a jaw-dropping, gorgeous game, and at no point does the game slow down during fighting. The character design is a step above every other game to come out in a while. Just the way the characters move is a thing of beauty, and there's a layer of polish on the whole game that just impressed the hell out of me. I did see a few instances of some graphical glitches, but they were really only in the cinematic scenes before and after the fight. The impressive thing about the story scenes though, is that they're all rendered in real time by the game's engine, and they still look great. It even inserted the character I created into the story, which I was not really expecting.
Speaking of character creation, this feature returns from Soul Calibur III, albeit in somewhat diminished fashion. You can't tweak quite as many things this time around, mostly dealing with the weapons options. You are able to customize pretty much anything else, from the look and size of the character, to some of the skills they can use in battle. I spent a lot of time messing with different options on the characters I made, and I found myself fighting just one more time so I could get enough money to buy some piece of equipment to make those characters complete.
Not that character creation is the only thing to do in this game. There is enough to do in this game to keep anybody entertained for weeks. Beside the standard story, arcade, and versus mode, you also get the "Tower of Lost Souls" mode. This mode pits your character against a series of challenges and there are certain criteria that if reached will gain you new items. Some are easy to complete, some are quite difficult, but there's enough here to keep you entertained for a while. And if that's not good enough, you can always take your action on the Web and fight against others online.
The thing that impressed me most about the game though, was the way that every character played differently. While each character has similar moves to start out with, each has their own personality and play style. With more than 30 characters to play as, you're sure to find one that fits your particular style, or you just go crazy and try to master them all. The move list for the characters has some nice and easy combos for the beginners, but also has some crazy long moves that will challenge long-time fans. It's got the right balance that makes the game challenging, but never frustrating.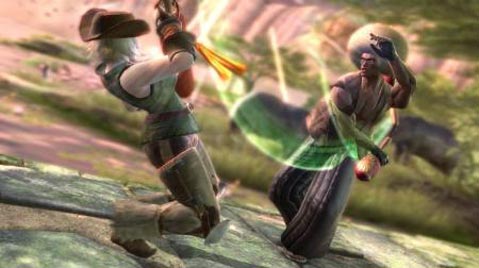 Of course the addition to the game that got all the attention was the inclusion of Darth Vader in the PS3 version, Yoda in the 360 version, and The Apprentice (star of the upcoming The Force Unleashed game) in both versions. Are the characters a little out of place in the game? Oh yeah. Are they still a blast to play? Oh hell yeah. While I wasn't able to see how Vader plays on the PS3, Yoda is so much fun to play as, although you have to be careful around the edges of the rings, as he's always jumping around and has a tendency to jump off the edge, which can be annoying. But they got the voice right, and it feels like you're fighting as Yoda, so every Star Wars fan is going to want to check this out. As for The Apprentice, I can't say as much, but he's fun to play as well, and his inclusion has actually gotten me a little more excited to play Force Unleashed than I previously was, so I guess the game did its job there.
Since summer is kind of dead time for game releases, this is the Triple A title for the month. I'll definitely be playing this well into the Christmas season and beyond. Now, if you'll excuse me, I've got a few more characters to play through on story mode, a bunch of new weapons to buy, a couple floors on the Tower of Lost Souls to go through, and then I have to show some friends who's boss, so as you can see, I'm a little busy.
Time to kick some ass!
My say: