Business
Fit Enough to Fight Alzheimer's
Santa Barbara Woman Aims to Help Improve Mind, Body, and Life
When Mary Daley and her husband of 52 years, Brad, discovered that he had been diagnosed with Alzheimer's, Mary immediately launched herself into a thorough research of the disease. "More and more I discovered articles that said exercise would slow down the progress of the disease," said Mary, explaining how she got the idea of teaming up with her daughter Lynn, a Santa Barbara area physical trainer, to make an exercise video targeted to Alzheimer's patients and their caregivers. The YourXercise video was born.
According to Dr. Frank Longo, professor of neurology at Stanford University School of Medicine, exercise and a healthy diet used as a preventative measure earlier in life can cut the risk of Alzheimer's almost in half. Not surprisingly, many of the risk factors for Alzheimer's -diabetes, obesity, and hypertension, for example – are also cleared up by these healthy living habits. For patients who have already developed early stages of the disease, exercise may be less effective, but it does get more blood flow to the brain and stimulates the growth of a protein called BDNF (brain-derived neurotrophic factor), which prevents neuron degeneration.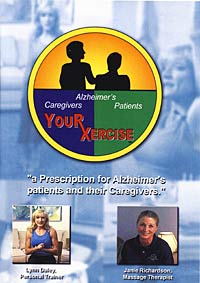 The YourXercise video features a set of exercises tailored to patients who, natural to the progress of Alzheimer's, have lost balance, coordination, or motor skills. The whole routine is done seated in a chair and is reasonable yet effective for anyone, according to Lynn. "There couldn't be any equipment," she explained, pointing out the dangers of items as basic as elastic bands used for strength training that might snap and injure a patient.
In addition to safety precautions, Lynn also thought out the exercises in terms of brain stimulation, which plays a significant role in fighting the symptoms of Alzheimer's. She substituted alternating motions for mirrored ones to stimulate both sides of the brain, while also involving all parts of the body for a similar effect. She hopes that through the video, "The viewer would be getting to know his or her own body" and creating an awareness of how far to push himself or herself. "Perfect form and a sincere effort get results," is Lynn's personal philosophy of exercise, and she explains that by focusing, people can "push the envelope, not rip the sucker open."
Apart from the physical benefits of the exercises, the video creates a way for caretaker and patient to connect. Mary explained using the video with her husband as "a wonderful way for us to communicate" at a time when she "was losing contact with him." Lynn also explained that by putting both caretaker and patient on the same level as viewers with her television self as a third party, the two can share an experience and benefit from a break from the usual caregiver and receiver relationship.
Finally, Lynn focused on putting something she learned from her personal experience with a father who had Alzheimer's in the video. "I saw my father the whole time as my father," explained Lynn. "As the Alzheimer's progressed, his brain was shutting down, but he wasn't." Keeping this in mind, Lynn tried to make sure that she was treating a viewer with as much respect as possible, despite any changes she would need to make in terms of speaking slower and more clearly so she could be easily understood by patients. "I would want to be treated with the same dignity," she said, imagining what it might be like to have Alzheimer's.
Currently, there are five million Americans who have Alzheimer's and the number is projected to increase to 20 million by 2050. While some of the factors contributing to these numbers are pure demographic, such as longer lifespans, Longo emphasized that many people are not living very healthily and therefore are at risk for the disease. A healthy diet and exercise are easy preventative behaviors that decrease the risk for many health concerns, but many people don't adhere to them. Not exercising is a "slow form of suicide" according to Longo, explaining how the human body is not naturally meant to be in a sedentary state all the time.
In addition to physical activity, the neurologist also recommends cognitive activity that can range from doing crossword puzzles to volunteering to learning to play a musical instrument. Like muscles, "The brain is use it or lose it," said Longo, who promotes doing a variety of both physical and cognitive activities to combat Alzheimer's as well as to have a healthier lifestyle. In general, prospects are looking good for Alzheimer's patients, with research showing positive effects of simple behaviors like exercise and healthy eating, as well as some 30 treatments currently being tested that are geared to attack the underlying causes of the disease.
In Mary and Brad Daley's case, by the time the YourXercise had been created, it was a little too late for the physical activity to have any significant impact on Brad's health, but it gave the two something to do together when the Alzheimer's was becoming more and more of a barrier between them. "For that, I was grateful," said Mary, who hopes that the word will get out about YourXercise so others can benefit from what it has to offer.
4•1•1
YourXercise can be ordered by visiting yourxercise.com or by calling 1 (877) 431-7975.