Opinion
Lindal Iverson 1945-2008
Assistant Property Manager at Peoples' Self-Help Housing's Victoria Hotel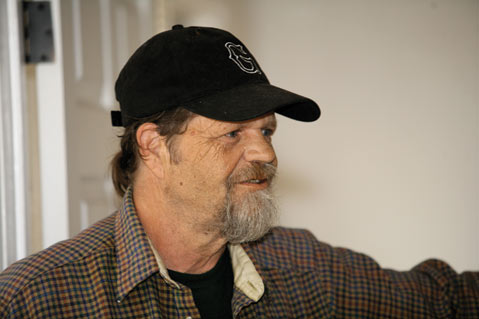 Every now and then, our lives are touched by a person or event that causes us to think outside our comfort zone, someone we learned to admire or who challenged us to be a better person. Lindal Iverson was such a man and, if you knew him, you would call yourself lucky.
I knew Lindal for a little less than four years, but right from the start, Lindal showed me he was a man of great compassion and dignity. Besides being extraordinarily caring, Lindal was also an intelligent and complex person. After returning from combat duty in Vietnam, and before taking on the position of assistant manager at Peoples' Self-Help Housing's Victoria Hotel, Lindal went through a period of soul-searching and was homeless for many years.
I spoke one night with a man who befriended Lindal during this time. Lindal and this friend were trying to find warmth in the midst of a cold Santa Barbara winter. Lindal had somehow obtained a blanket, and he offered to share his warmth with his friend.
A woman I spoke with told me the story of how one time her teeth were in excruciating pain and her gums were bleeding. Lindal gave the woman money and cab fare to go to the emergency room.
When fellow residents were having a hard time or had a bad day, Lindal would invite them to his room, and play soft music until their souls were better.
Lindal loved old movies, especially Westerns, and old-time radio broadcasts. He had a great memory, often watching Who Wants to Be a Millionaire? and answering all the questions correctly without hesitation. One of his favorite pastimes was walking a little dog named Mui, who is our hotel mascot. You may have seen them, a small yellow Chihuahua and a rather eccentric looking man.
Lindal used to wear a necklace with three pacifiers attached. If you were a person at the hotel who was having a bad day or complained a lot, Lindal would offer one of the pacifiers to you. Another of his fellow residents mentioned to me the fact that although they shared a love of sleeping late, Lindal was nevertheless perfectly capable of enforcing the rules of our community kitchen, which closes at 10:30 a.m. This person would stumble in around 10:20 a.m. and Lindal would remind him of the benefits of getting up early before closing the kitchen doors exactly 10 minutes later.
Lindal once helped a woman who had been raped by making sure she had clothes to wear after a hospital visit, and giving her $100 from his own pocket just to try to make life easier for her. Lindal was the only person the woman wanted to speak to after her ordeal.
Lindal was a man of sweet soul and noble heart. Born and raised in Santa Barbara, he served in Vietnam from 1965-68, received a Purple Heart medal, and is still waiting for three others that our country still owes him-a National Defense Service, Vietnam Service, and a Republic of Vietnam Campaign medal. Lindal served on a gunner boat, and although he was proud of serving the ones with whom he served, he was not proud of the war itself, or the men who constructed it.
Like the song says, "Those kinds of cars don't pass you everyday."