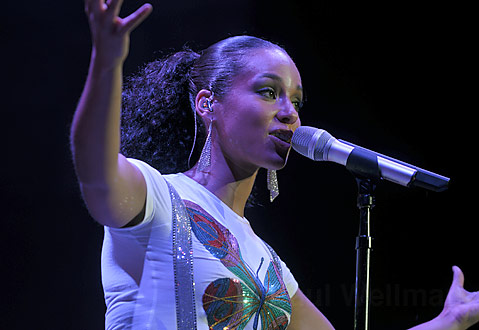 Alicia Keys certainly has a lot going for her. Her classical piano training and refined songwriting separates her from so many of her contemporary counterparts, as does her amazing vocal range and capacity. She has won 11 Grammys, sold more than 30 million albums, and currently is filling concert venues across North America to capacity with her live shows. And when Keys and her ensemble made a stop in Santa Barbara last Friday night, the fruits of her labors were all on display.
Among a blaze of spotlights, Keys bounded onstage, interspersing her seductive delivery of "Go Ahead" with a flurry of gesturing and over-head hand claps. Not that she needed to signal an invitation for the audience to enter her sphere; Keys's presence alone had each and every one of her listeners firmly in her keeping. Across the course of the night, the singer conveyed her musical message through a mixture of spoken word, soaring vocals, and, when not at the piano, bodily motion.
With a seven-piece band (along with three backing vocalists) crafting a soundscape that typically hovered at the R&B/soul end of the musical spectrum, Keys sublimely joined the accompaniment on grand piano. From a Latin-infused rendition of "Karma" (that gave the ensemble the perfect opportunity to show their full worth) to the piano-driven "Superwoman," Keys offered a selection of empowered compositions that inspired audience members to rise to their feet, point, sing, and return the affirmations right back.
But the audience participation didn't end there. When the spotlights from the stage bathed the terraces in their scrutinizing glow during "Unbreakable" they revealed a sea of writhing bodies. Needless to say, there was no doubting the degree to which Keys's performance resonated with her fans.
While the musical execution and stage presence across the course of the evening could have perhaps benefited from a little spontaneity, all critiques were forgotten with "No One." Aligned with hooks and charm, the song was an example of popular music at its contagious best. As Keys walked off stage at the conclusion of it all, she left her backing vocalists bouncing up and down to a chorus of "Uh-Ohs." Sure it was slick and rehearsed-but it was also just so damn infectious.