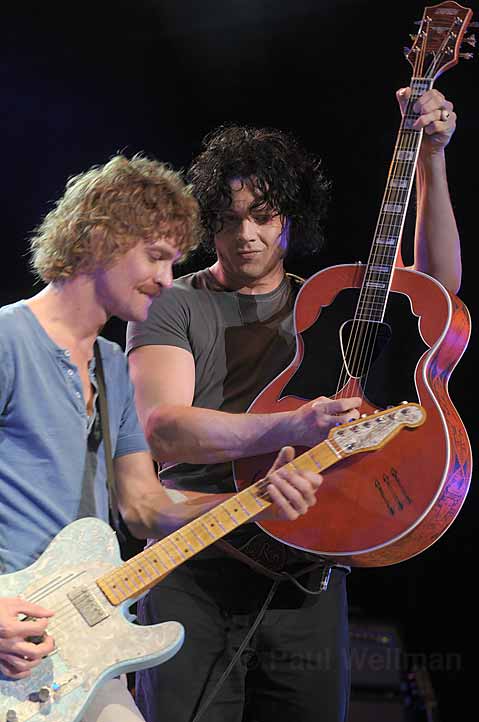 Ithink it's safe to say that the formation of a rock 'n' roll "supergroup" brings about as much trepidation from critics as it does excitement from fans. And looking at music history's recent track record (Velvet Revolver, Zwan, that horrible Sebastian Bach/Ted Nugent mess), it's no wonder why. Lucky for those of us in attendance on Thursday night, Jack White's Raconteurs proved that superstar unions don't always have to equal sonic disasters.
Together with fellow notables Brendan Benson, Patrick Keeler, and Jack Lawrence, White ripped through a set of blues-rock tunes with the same fervor that marked his Stripes performances, providing a platform for a group of exceptional musicians to shine both individually and together.
But before the boys had their crack at the stage, garage rock's latest dynamic pairing, The Kills, opened things up with a short-but-sweet set of tracks off their two most recent albums. Backed by little more than a drum and bass loop and Jamie Hince's pounding guitar, leading lass Alison Mosshart smoked and sizzled through "Last Day of Magic," "Black Balloon," and "Cheap and Cheerful" with her characteristic attitude and aplomb. The performance embodied The Kills' feel-abrupt, sexy, and very DIY-without losing the crowd, which says a lot considering the size and scope of the venue.
Yet it was The Raconteurs' crunching stage entrance and in-your-face opening number ("Consolers of the Lonely") that made the place truly stand up and take notice. Following The Kills' minimalist approach, White and Benson appeared to be fronting one of the fullest sounding bands in rock. In fact, it was the pair's chemistry and onstage camaraderie that seemed to shine the brightest Thursday night. Together, they seemed not only to complement each other, but vocally help one another out, as White admitted early on that he "wasn't feeling too good." Needless to say, he could have fooled us, storming through "Blue Veins," "Old Enough," "Top Yourself," and "Rich Kid Blues"-and jumping back and forth from piano to guitar with an enthusiastic swagger. Sure, the set could have been a little longer, and the place could have been a little fuller, but overall The Raconteurs' point was made: The blues do still have a home in contemporary popular music, and the supergroup, when done right, can rock harder, sing louder, and pen some pretty great tunes.