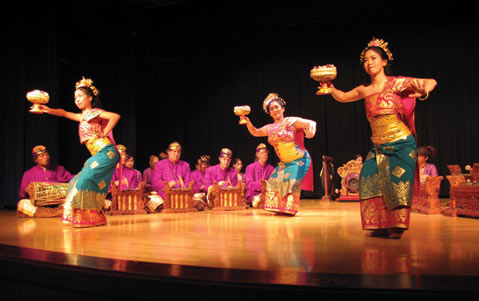 SIGNS OF THE SEASON: One of the sure signs-and for the music-minded, sure thrills-of autumn's arrival hereabouts is the opening of the hunting season. Serious musical hunting, that is. This is the season of the concert series, and not a week too soon. We've enjoyed celebrity pop suds up at the Bowl. We got our yearly summer dose of classical music courtesy of the Music Academy of the West, but now things begin in earnest. This week's series openers include the prized and relatively new chamber music series at the Santa Barbara Museum of Art-kicking off Tuesday with the classical guitar sensations, the Katona Twins-and the much-valued world music forum of UCSB's MultiCultural Center-opening Saturday with Gamelan Sekar Jaya.
Best and brightest of all is the worldly wonder known as Community Arts Music Association. The finest four-letter acronym on Santa Barbara's cultural landscape, CAMA not only boasts lofty artistic values, but a deep history. Now in its 90th season, CAMA starts its new roster on a high, soft note, with renowned Hungarian-Polish pianist Piotr Anderszewski, at the Lobero next Thursday, October 16. This is the first of several chamber music events in CAMA's "Master Series" program, while CAMA's series of international orchestra concerts-taking place this year at the Granada Theatre-begins on October 29 with the Jerusalem Symphony Orchestra.
In a serendipitous venue historical note, Anderszewski's program closely resembles one memorably unveiled not long ago in the same room by Alfred Brendel. Further serendipity arrives in November, when famed British pianist-composer Thomas Ads makes his Santa Barbara debut at the Lobero with violinist Anthony Marwood in an all-Stravinsky program uncannily and not coincidentally recapitulating a concert performed in the Lobero on March 16, 1937, by Igor Stravinsky and violinist Samuel Dushkin. The hunt is indeed on!
WE HEARD IT HERE FIRST DEPT.: News is quickly spreading that the Lobero is one of America's finest jazz venues. The relatively intimate size and acoustics are ideal for acoustic jazz, as is the sheer warming vibe of the place, especially with the thinking person's fare and depth-charging genres of jazz and classical music. Local jazz hero Charles Lloyd-a longtime regular visitor to the Lobero stage-helped publicize this theater's jazz-colored lure by recording his trio project Sangam (ECM) live there.
Now comes another live Lobero jazz recording going public, if on a more low-key and semi-anonymous basis. The SF Jazz Collective, which presented its fascinating Wayne Shorter-themed concert at the Lobero last spring-probably the greatest local jazz concert this year-has recently released a stunning three-disc set documenting their 2008 tour, and culled from recordings of eight shows, including the Lobero stop.
While we've heard the SF Jazz Collective regularly in town during its thus-far five-year life, the current line-up is by far the most inspired. With modern-day trumpet great Dave Douglas, tenor saxist Joe Lovano, vibist Stefon Harris, and trombonist Robin Eubanks now in the ranks, the all-star status is complete. More importantly, these musicians-not to mention Collective players like drummer Eric Harland and alto saxist (and recent MacArthur Genius Grant recipient) Miguel Zen³n-are keenly attuned to the nature of collective thinking. For this year's project, members wrote "little big band" styled arrangements of Shorter's pieces, including "Infant Eyes," "El Gaucho," "Black Nile," and his standard "Footprints," and also presented new originals. Highlights on that list include Eubanks's "Breakthrough," Douglas's "Secrets of the Code" and Harris's "The Road to Dharma." Released in a limited edition on the in-house SF Jazz record label, the album is well worth checking out and should wind up on many year-end top 10 jazz album lists.
JAZZ SHOW OF THE WEEK: For a good taste of what makes the Lobero and jazz an inspired match, go there tonight, Thursday, October 9, for the opening night of "Jazz @ the Lobero" featuring revered veteran pianist Ahmad Jamal in his Trio.