Sports
Lineman Turned Rhodes Scholar
SBCC Assistant Football Coach Chris Joseph Is off to Oxford Next Fall
You don't have to be a genius to know that UCLA is fighting long odds in its football game against USC on Saturday. But there is a Rhodes Scholar who knows from personal experience that the odds can be overcome.
Chris Joseph was a starting guard for the Bruins in 2006 when they stunned USC by a 13-9 score, knocking the Trojans out of the Bowl Championship Series championship game.
"It was a slugfest," Joseph recalled. "We were grinding back and forth the whole game. We'd give a little, take a little. It was an awesome feeling when we won."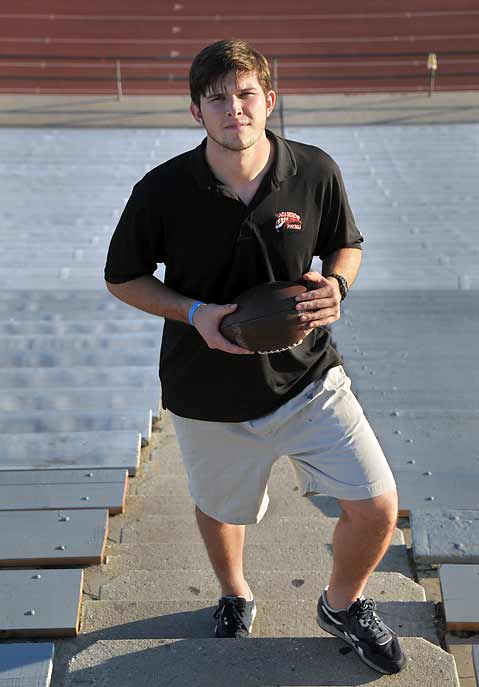 Two years later and 50 pounds lighter, Joseph faced another grueling challenge. It was a thinkfest. He was one of 16 candidates for two Rhodes Scholarships that would be awarded to California residents. The winners were determined after a siege of interviews in San Francisco on November 22.
"It was a different kind of pressure from a football game," said Joseph, who graduated from UCLA last June with a 3.95 grade point average. (He had one grade lower than an A-minus in his academic career.) "I was doing it by myself. I didn't have 10 teammates to rely on." His prowess in football was an asset; physical vigor is one of the criteria set forth in the will of Cecil Rhodes that established the scholarships in 1902. "You're supposed to be strong in mind and body," Joseph said.
He scored points for honesty: "When they asked me to name a poet who would best fit a situation, I told them I don't read much poetry, so I didn't know."
The suspense reached a peak at the end of the 13-hour day, when the committee reached its decision: The coveted scholarships would be awarded to Joseph and Scott Hugo, another UCLA student who played on the rugby club. Nationwide, there are 32 new Rhodes Scholars, including an active Division I football player, Florida State's Myron Rolle.
Joseph will begin his studies at Oxford, England, next fall. He will work toward a Master of Philosophy degree in geography, which was his major at UCLA.
"He really wanted this," said Chris's father, Dan Joseph, a retired physician. His son revealed a startling degree of self-discipline at an early age. "He wanted to play in the YFL [Youth Football League] when he was seven, and they said he was too big," the elder Joseph said. "He ran and dieted on his own and lost 10 or 15 pounds."
UCLA loved Chris Joseph's size (6'5″ and eventually 290 pounds) and his smarts. He was only 17 when he began his college football career, having skipped an elementary grade. His first two football seasons ended with knee injuries that required surgery. He came back and started his last 26 games in the offensive line.
Joseph got some nibbles from NFL teams last spring. His former line coach Tom Cable, now the head coach of the Oakland Raiders, was interested in him. But he decided to bank his future on furthering his academic knowledge toward a career in resource management. "I'm interested in the forest ecosystems of Canada and Russia," he said.
While his scholarship applications moved forward, Joseph moved to Santa Barbara. He filled a vacancy on the SBCC football coaching staff in midseason. "I coached the defensive line," he said. "It was a blast." The Vaqueros finished the season on a six-game winning streak.
"Chris picked things up so quickly, it was a seamless transition," SBCC head coach Craig Moropoulos said. "He was quietly intelligent. When he told me he had to do an interview for a post-graduate scholarship, I didn't know it was the Rhodes. When I found out, it didn't surprise me."
ATHLETES OF THE WEEK: Junior point guard Amber Stevens averaged 13.5 points, eight rebounds, six assists, and two steals as the Westmont women's basketball team improved to 7-0 with victories over Occidental and Menlo. Laguna Blanca senior Kevin Lunn placed third in the State Division 5 cross-country championships. The Santa Barbara Athletic Round Table honored a pair of Bishop Diego athletes- Teddy Sleep (cross country, basketball, baseball) with the Phil Womble Ethics in Sports Award, and Michael Schlesselmann (cross country, basketball, volleyball) with the Scholar Athlete Award.
GAMES OF THE WEEK: Basketball returns to Westmont College's Murchison Gym, which recently served as a fire evacuation center, when the Warriors play a double-header against Hope International on Saturday (Dec. 6)-the women's game at 5:30 and the men's at 7:30 p.m. UCSB's women host Gonzaga, which is off to a 7-1 start, at 2 p.m. Sunday (Dec. 7).