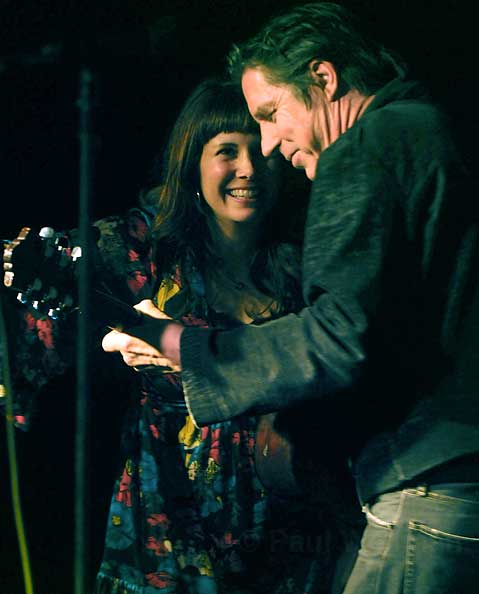 Without any formal introduction, John Doe, formerly of the famed Los Angeles punk band X, took his place behind the microphone at SOhO on Friday night. From there, he dove straight into a set no less inspired than the brand of punk rock he created when he co-penned and released X's first album, Los Angeles, back in 1980. And the difference some 30 years later is solely in the delivery. Though Doe is no longer playing anything that could rightfully be called punk, the Americana/folk he's been writing and performing is just as exquisite, a testament to his true talent as a musician and songwriter.
What ticket holders got on Friday night was a pleasant musician (who offered and even requested requests) performing a delightful mix of melodies and harmonies in an almost 1970s, Jim Croce-infused style. And the crowd was just as various as the artist: fans young and old seemed to inch closer to the stage with every chord.
Doe, a very warm and personable showman, was sure to cover some of the old hits throughout the evening. One of special note was "Poor Girl," which he slowed down and rearranged from its punk rock roots-all without compromising any of the song's original polish. He then segued quite properly into another very beautiful number, one he said he wrote while visiting a friend in Seattle, a place he jokingly mentioned makes him quite depressed. "That's the entirety of the love section of our program," he announced after finishing, then switched over to his Les Paul for a deeper sound while his backup vocalist, Cindy Wasserman, grabbed a tambourine.
Around the time the dancing crowd started to sing along to "Burning House of Love," it became apparent that the night was both fun and unarguably successful.
Also out to help set the stage were singer/songwriter Natalie D-Napoleon and old-school S.B. surf rockers Kelp. Nostalgia and presence made Kelp's darker tunes memorable, while D-Napoleon's solo bravery and strong voice came across as nothing short of exceptional.