News
To Vend or Not to Vend
School District Nutritionist Says Campuses Peddle Unhealthy Food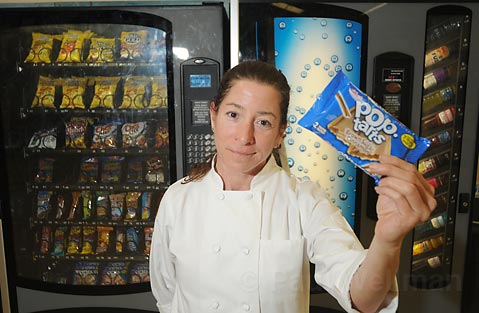 A battle is going on in area schools, and it's not between rival sports teams.
As of September 2008, the State of California has issued new educational codes that strictly regulate food and beverages sold in schools based on nutritional value. And though Santa Barbara schools are complying with this new "wellness policy," Nutrition Services and high schools are struggling to find common ground on vending machine policy. Nancy Weiss, the district's Director of Nutrition Services, claims that although campus vending machines adhere to the wellness guidelines, they are still selling nutritionally void beverages such as Gatorade and Vitamin Water, which cause unnecessary and unhealthy competition with the school lunch program.
"Vending machines are running rampant on my campuses," Weiss said. "Principals are actually competing with us and making their kids unhealthy. I don't have a complaint, I have concern: We really just need to read the back of any bag or bar and see what is healthy."
School representatives disagree with Weiss's claims, contending instead that these items not only fit within the regulations, but vending machine sales are necessary fundraising mechanisms for their campuses, now suffering from even higher budget cuts. "Our machines comply with all the district's health requirements," said Dos Pueblos principal Mark Swantiz. "Most of the money from them supports our athletic program – uniforms, transportation, officials, assistant coaches … To have a successful program we need fundraising, and vending machines are a big part of the program."
San Marcos High School principal Norm Clevenger concurs with Swanitz, saying, "[Vending machines] support all the programs and supplement everything. With all these budget cuts, vending machines can help raise money for anything we need."
But Weiss is not convinced. She insists that schools have the capacity to raise money without the use of vending machines, either through auctions or magazine sales, and that for schools to truly exhibit nutritional wellness, the standards need to be raised to include only foods that are beneficial to health, rather than foods that simply abide by the rules.
"Lays [potato chips], Gatorade, Pop-Tarts – they all work within the government regulations so they're saying that's admissible, but here in Santa Barbara, schools have a wellness policy," said Weiss, stressing the word "wellness." "They even have a Snickers bar with Santa Barbara compliance. We're peddling backward. We're not doing the right thing for ourselves or for our kids."
Both Swanitz and Clevenger believe that the new food standards are sufficient. If foods are compliant with Santa Barbara rules, they say, then they should be considered healthy and okay for students to consume. "I think it's an improvement," Clevenger said. "I don't know how far we should go. It has to be attractive enough where kids will buy it, but not make it too healthy where kids will go across the street and buy a pizza instead. High school kids have that option. We need to keep them interested."
In her continual push to eliminate nutritionally void foods, Weiss is getting some heat from principals, parents, and even 10-year-olds. She recently received a 45-student petition from a fifth grade class to have their popcorn chicken and pizza return to their campus's lunch line. The class even suggested to Weiss to add "freshly made" peanut butter and jelly sandwiches, chicken nuggets, and chicken noodle soup to her menu instead of their archenemy, the Asian chicken and vegetable wrap, which they found unappealing.
"It is only one letter from one group of kids," said Weiss, noting that it was the first and only physical message of complaint she has been sent from any student body about the new food items. She said she personally found the Asian wrap delicious. "What I said to them is, 'I do appreciate your opinions' but … " Weiss shrugged. And that was the end of the exchange.
A representative from Santa Barbara High School could not be reached for comment for this story.