Film & TV
SBIFF '09: Meet the 10-10-10 Filmmakers
College and High School Student Competition Takes Place in Santa Barbara During Fest's 10 Days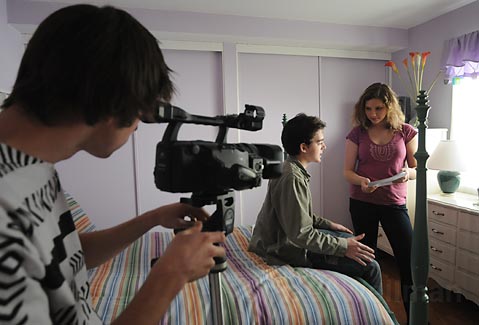 The 10-10-10 student film competition, a staple of the Santa Barbara International Film Festival, kicked off two days before the opening night curtains pulled back. On January 20 at the Montecito Country Club, 10 filmmakers were paired up with 10 screenwriters, all of whom are finalists selected from the Santa Barbara area to make a 10-minute short film in the ensuing 10 days of the Film Fest. Five of the groups consist of high school students, and five are college students. This year's theme of the competition is "Legend," which the fest's executive director Roger Durling said is intentionally vague to encourage creativity among the writers.
The films will be screened at 1 p.m. at the Lobero Theatre on February 1, and judged based on filmmaking and screenwriting criteria. One winner will be chosen from both the high school and college level, and the winning films will be shown that night during the closing celebration at the Arlington.
Eighteen-year-old Miles Dixon, a senior at La Cuesta High School, was selected both as a filmmaker and screenwriter. He is directing Cardinal Hits the Window, written by Zac Frank. Dixon learned about the competition in a screenwriting class at SBCC, where he is dually enrolled. "It's a great opportunity, and it's one that should be taken advantage of," he said. His screenplay, Incredible Ned, will be directed by Erik Choquette of Santa Barbara High School. It is the first 10-minute screenplay he has written. "I'm excited to see what is done with my script," he said.
Although Dixon has only been in Santa Barbara for four-and-a-half months, he began making movies in New Hampshire at age 9, when his cousin got a video camera. "I'm looking forward to just getting out and shooting," he said. He described his current film as good drama, adding that it brings him back to more dramatic films he made as a kid.
When turning in his short film for consideration in 10-10-10, Dixon got involved with the Youth CineMedia project. He edited some of the short documentary films made by local teens. This was his first exposure to documentary filmmaking, and he said he enjoyed "being able to do something that you actually feel like you're helping somebody while you're shooting."
Running Late is the title of the film being made by 22-year-old SBCC student Kerstin Catrin Hedstrom. It was written by Tracy Fisher, also from SBCC. Hedstrom is an international student from Sweden, and will be getting her associate's degree in film production.
The entire film takes place just before midnight on New Year's Eve, in an elevator. In the elevator are a woman on her way to a party to ring in the New Year and a man on his way to the rooftop to wait for aliens. Rumor has it that the government has been experimenting on aliens and at midnight they will retaliate by blowing up all the buildings where said experiment occurred. "We got a couple of fun ideas on the set," Hedstrom said, adding that she did not change the script much.
Hedstrom's experience includes a number of shorts from her film production classes and the winning entry in a competition for the college's official TV commercial. She has been into filmmaking since she was 14. She said her favorites are independent dramas with strong visuals, noting that her favorite director is Gus Van Sant. "His movies are like poetry, and I love that," she said, noting his simple, but very beautiful visual storytelling.
Ryan Turner, a 19-year-old UCSB film major, is directing The Naked Guy, written by Brooks Institute student Tatiana Kaiser. Turner participated in last year's 10-10-10 competition, although he said he is better prepared the second time around. "I had a good amount of people willing to help me out making this film," he said. Turner was pleased to get a comedy script, and one that left a lot of room to mess around with.
The story involves a man being found passed out in an apartment elevator – a naked guy, to be exact. The man who finds him then imagines the series of events that led up to this odd occurrence. His friend shows up and comes up with his own theory, as does the building superintendent. Turner did not give away the ending, although he did say there is a twist. On incorporating the theme of "legend," he said that finding this naked guy would be a story one would be likely to retell over and over, thereby becoming a legend.
Turner shot at five different locations, which he said provide a funny juxtaposition of the observers' fantasies. He added that some of the shooting required special permits, and provided challenges that his crew had to work around. "You have to be prepared for everything," he said. "You have to think on your feet."
While he made his film last year with the help of only a producer and cinematographer, Turner emphasized the great deal of help he got this time. "I think the most important thing is that you can't do it alone," he said. "A film is a group effort."
4•1•1
The 10-10-10 films will be screened on Sunday, February 1, at the Lobero Theatre. The winners from the high school and college categories will then be screened again that night, at the Arlington Theatre, as part of the closing night festivities.