Arts & Entertainment
An Editor's Insight
Walter Isaacson. At Westmont College's President's Breakfast, Friday, February 6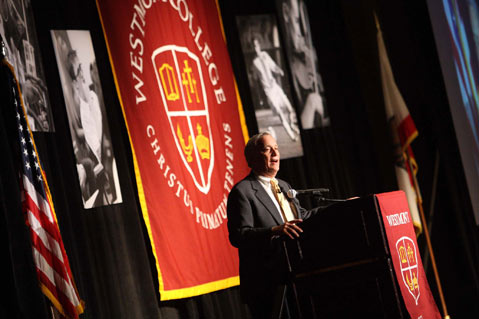 Evoking the creative spirit and respect for tolerance of Benjamin Franklin and Albert Einstein, the esteemed editor, author, and historian Walter Isaacson informed and inspired more than 770 people last Friday, February 6, when he gave the keynote address for Westmont College's President's Breakfast. Though Isaacson openly admitted to "sometimes" worrying that "we're in the worst situation our country's ever seen," his words gave hope that the new American generation could find a solution to our current problems by tapping the ingenuity of our best thinkers and working together for the sake of progress. "Compromises may not make great heroes," said Isaacson, channeling Franklin, "but they do make great democracies."
In its fourth year, the $75 breakfast has fast become one of the hottest early morning tickets on the Santa Barbara social calendar, and people don't show up at 7 a.m. – and this year, amidst rain showers – just because of the tasty meal served up by the DoubleTree Resort's staff. The crowd – which included both hometown politicians such as Salud Carbajal and Dan Secord as well as international stars like actor Billy Baldwin, who recently purchased the film rights to Isaacson's biography of Franklin – converges to hear the brightest minds in history and journalism share their thoughts and experiences. In years past, the speakers have included David McCullough (Pulitzer Prize-winning author of John Adams and 1776), Thomas Friedman (Pulitzer Prize-winning New York Times journalist), and Fareed Zakaria (Newsweek editor, author, and well respected TV talking head). As former CEO of CNN, former managing editor of TIME Magazine, author of biographies of Franklin, Einstein, and Henry Kissinger, and current president of the Aspen Institute, Isaacson fit the bill well.
But his words weren't the first that inspired. John Davies, who owns the public affairs firm Davies Communication and sits on the Westmont board, opened the morning with comments about the college's response to the Tea Fire, and how it brought out the "true spirit of Westmont." Following a couple songs from the tuxedoed and black velvet dressed Westmont choir, those sentiments were repeated by Westmont president Gayle Beebe. "It was a great evening of hope," said Beebe of the Tea Fire. "It was a great evening of community." In introducing Isaacson, Beebe called the state of world affairs "truly a biblical epoch," asking, "How do we respond?"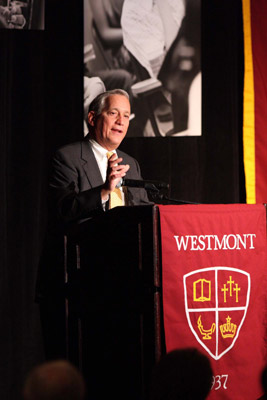 For that answer, out came silver-haired Isaacson in a mustard tie and dark blue suit, explaining that smart people are everywhere, but what it takes to turn a smart person into one who works for the good of society is "creativity and moral will." Franklin and Einstein, said Isaacson, each developed their own sense of morality, but not at the expense of respect for others.
Living in the age of Puritanism, Franklin quickly developed what would become a very American sense of morality. "I have a natural aversion to tyranny," Franklin wrote under the pen name Silence Dogood when he was just a teenager, "and any encroachment on my rights makes my blood boil exceedingly." But just as he feared for his rights, Franklin also made sure not to tread on the rights of others, explained Isaacson, and learned that the "pretense of humility" – the practice of listening to your neighbor with an open mind – was a required tenet of democratic society. Because Franklin had that ability, Isaacson believes he was able to become a creative, socially minded citizen. "It is only out of an atmosphere of tolerance and respect that creativity : seems to bubble up," explained Isaacson.
No one embodies that creative mindset more than Einstein – but it didn't start out that way. The future physicist was slow to speak and known as "the dopey one" in his family, said Isaacson, joking, "All the parents can take heart in knowing that Albert Einstein was no Einstein when he was young."
But by age six, Einstein was staring at a compass every day for hours, wondering how it continued to point north, and by 16, his hands would get sweaty while he thought about the problems not answered by Maxwell's equations. "I remember what made my hands sweat while walking the streets of New Orleans when I was 16," recalled Isaacson, "and it wasn't Maxwell's equations."
Not until he was relegated to a job as a clerk at a patent office in Switzerland – mostly examining inventions that tried to synchronize the country's clocks – did Einstein's creativity bubble up. In that job, said Isaacson, he was forced to "challenge every assumption" and, soon enough, Einstein realized that "what is simultaneous is relative depending on your state of motion." From that idea spawned his theory of relativity. Although science-minded and not a religiously devout man, Einstein maintained a respect for the divine, finding God in the harmony of the universe and the "absence of miracles." Einstein, explained Isaacson, was humbled by it all, and found his version of faith in that awe.
Turning his attention away from history and to the current state of world affairs, Isaacson said that we face a global crisis "between those who are open-minded and tolerant while holding to a deep faith and those who are close-minded and fanatical." He argued that, although faced with as many if not more problems than America faced post World War II – an era that saw the development of the World Bank, of NATO, of the Marshall Plan – Americans in this age are not being creative enough in discovering solutions, even though we're surrounded by innovation. "We're not calling the people from Google, YouTube, and Facebook to ask how they would re-create Radio Free Europe," he said, referring to the radio broadcasts that played a large role in breaking down the Cold War. Such ideas, he suggested, could be used to combat the fundamentalist doctrines being pushed in madrasas in the Middle East and beyond.
But Isaacson didn't leave the breakfast crowd without hope. He pointed to the last election as a sign of better times, since both parties nominated "decent people who wanted to rise above partisanship." That is a sign of progress, he suggested, explaining, "We have an opportunity now to merge creativity and moral will to address the challenges we face, but we need to work together and be humble and look for common ground." As he left the stage, the nearly 800 in attendance all rose to their feet in applause.