News
The Retail Detail
What's Happening with Commercial Real Estate in Santa Barbara?
Walk any length of State Street these days and you'll find locked doors and empty, white-washed interiors where previously stood shops that buzzed with business and the cha-ching of cash registers. Instead of dressed up mannequins and colorful merchandise displays, you'll see "For Lease" signs-many advertising reduced rent-posted by such companies as SIMA, the Radius Group, and Goodwin & Thyne.
Few can remember the last time State Street looked so empty, so it's only natural that Santa Barbarans would wonder whether our town's commercial core is dying, doomed by the country's economic woes. Are the mom-and-pops going extinct? Will only national chains be able to weather this storm of recession?
For these answers and more insight, I chatted at length last month with three of State Street's commercial real estate experts, namely Brad Frohling of the Radius Group, John Thyne of Goodwin & Thyne, and Anda Ashkar of SIMA. They assured me that such fears are mostly unwarranted, that a blend of national chains and hometown stores will always persist, and that Santa Barbara, as usual, is faring far better than most anywhere else.
Each also explained how this market works, noting that unlike residential leases, which go month-to-month or year-to-year, commercial leases tend to be for five-, 10-, or 20-year periods. That means tenants who locked in low rates 10 or 20 years ago might not be able to afford current market prices when their lease is up for renewal, and that can account for some vacancies and "My rent skyrocketed!" sob stories. But it also means that some vacancies could result from landlords seeking higher-than-market rates today just to ensure that they don't end up with tenants locked into lower rents if the market surges tomorrow.
As for the rates themselves-which are going down, but not as quickly as they are in the residential sector-the highest in Santa Barbara is in Paseo Nuevo, where retail stores lease for about $6.50 a square foot. Prices drop based on how far away from the mall you go and how big a spot you're leasing. (Sizes range from 1,000 to 24,000 square feet.) But they never really dip below $3 a square foot on lower State Street.
As a comparison, shops on upper State between Las Positas and Hope Avenue lease for closer to $2.50 per square foot, while a shop on Manhattan's Madison Avenue can fetch $21.75 per square foot. In Santa Barbara, these rates are "triple net," which means that on top of the advertised rate, tenants also pay their share of the property's taxes, insurance, and maintenance. That could add up to an addition $1 per square foot in the nicest spots. Brokers, meanwhile, make their money by taking a percentage of the lifetime value of the final lease. Finally, State Street properties-owned by everyone from longtime Santa Barbara families to new school investment groups-are rarely for sale. When such a property does come onto the market, it's gone in days.
Here's what else they had to say.
Brad Frohling, Radius Group
About 95 percent of the commercial leasing on the South Coast is controlled by Hayes Commercial, Pacifica Commercial, and the Radius Group, explained Brad Frohling, a senior sales associate with Radius. These companies help property owners find tenants and negotiate leases, much as realtors help buy and sell homes. Many are surprised to learn that none of the three are national brokerages. "It so happens that local boys do most of the business here," said Frohling, who went on to note that Radius's clients are dedicated to supporting homegrown businesses. "People have the impression that we're seeing how to get rid of local business," he said. "That's never the case. Landlords are sympathetic and like local tenants."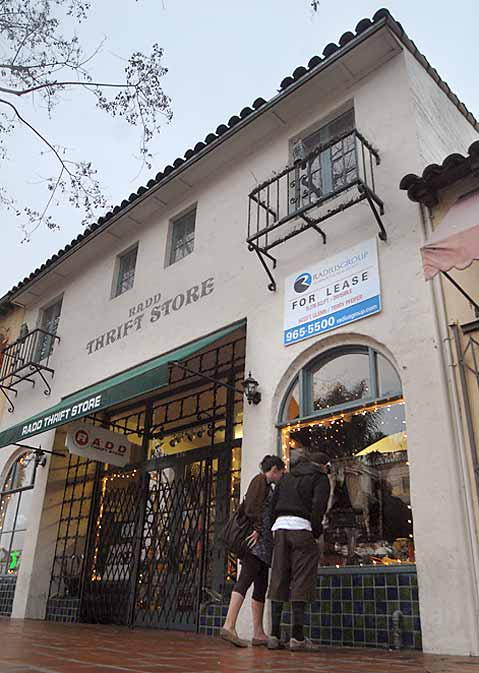 But Frohling does "facilitate whatever the market is" based on a supply-and-demand formula, and sometimes that means national chains. Frohling has taken heat for being the agent who arranged Verizon's takeover of the Italian & Greek Deli site on the corner of State and Ortega streets, but he explained that the deli's owners made that decision because they owned the building. "They were able to double their income without making any sandwiches," he said.
That's not to say that national chains are always desirable, though. Frohling said national tenants can be difficult because they often require strict dimensions and other chain-consistent designs. But it goes beyond that too. "No one locally wants Santa Barbara to look like every other retail market in California," he explained. "This is obviously a special town and a special market. : It's just not all going to go to the national tenants. It just won't happen. There's still going to be a mix."
The mix is one reason why Santa Barbara is doing better than elsewhere, with a vacancy rate remaining "relatively low" at 1.4 percent when, according to Frohling, "A lot of markets are now well into double digits." Prices shot up quickly between 2004 and 2008, so Frohling calls this slowdown a "kind of natural correction."
As did everyone contacted for this story, Frohling gave the current situation a positive spin. "This actually provides an opportunity," he explained. "If rates come down, some of those business models that aren't able to pay the top end maybe now can secure leases that enable them to operate."
John Thyne, Goodwin & Thyne
The most positive spin of all came from John Thyne, whose five-year-old company built its popular reputation as a residential brokerage but is now actively involved in State Street commercial leasing. "This is a time when fortunes are made," said Thyne. "It's a dream market because, if you have the money and can lock in a deal for 10 years, three years from now it might be the greatest thing you ever did. State Street is going to be a thriving center of our town for a long, long time to come." He also noted that the market "goes up a lot faster than it comes down."
Thyne said that many of the vacancies result from multiple leases coming due at the same time, roughly 20 years after State Street's last major renovation. "People think, 'Oh, it must be the economy that's causing these vacancies.' That's not altogether true," he said. Thyne's explanation was not entirely endorsed by Frohling and Ashkar, who suggested that good management takes this "roll" into account and balances properties accordingly so that leases do not end simultaneously.
Thyne also said that "people need to know that just because they see a 'for lease' sign, it doesn't mean that the property is available." Sometimes signs are used solely for advertising as a new tenant sets up shop, sometimes they are used to push a tenant into inking a deal, and sometimes a property actually sits empty even though the lease is still being paid. This last scenario was the case with Pep Boys on lower State, which closed in November 2007 but paid the lease through August 2008, when the contract ended.
The Pep Boys building is also Thyne's example of how his clients are helping save the little guys. After first trying to turn the property into a bowling alley but being denied liquor permits, the landlord is now breaking it up into an upstairs office space, two State Street-fronting restaurants, and five to seven smaller restaurant spaces in the former parking lot behind the building. Thyne praised the plan, saying, "[My client] wants to make sure that mom and pops have a place to go."
But Thyne is experienced in national chains too, having brokered the deal that's moving Forever 21 into the massive Anthropologie space on the corner of State and Canon Perdido. (Anthropologie is moving up the street to the SIMA-owned San Marcos Building.) He said that national companies usually have cash reserves and don't bicker over the small stuff, but he also realizes these are minor considerations for a town worried about chain takeover. "This is a philosophical debate that plagues every commercial real estate market in the country," said Thyne. "In my opinion, Santa Barbara is a very special place, based on the fact that you don't have big box stores everywhere you turn. I don't think it would be in the overall best interest of landlords on State Street for us to go the way of Los Angeles or Ventura or Santa Monica."
Anda Ashkar, SIMA
Compared to brokerages like the Radius Group and Goodwin & Thyne, SIMA-which both owns and manages properties-is a much different beast, with equally unique advantages and challenges. "We're the largest in terms of property ownership and management that's local," explained senior vice president Anda Ashkar, who said the company owns more than half-a-million square feet in town, from El Paseo and the San Marcos Building to Victoria Court and the Pierce Building on lower State.
Being owners allows SIMA to be more flexible with its tenants, said Ashkar, explaining, "We see across the board what's going on. It's a better playing field. : We can be way more creative in structuring deals, giving people some time to get off the ground where they don't pay rent on day one. We'll incubate you for awhile."
Ashkar also believes that SIMA is more attuned to the market than others. "We check in and look at prices on a weekly basis," she explained. "If a property hasn't moved, we ask, 'Is it outdated? Is there something physically wrong? Is it priced too high? What is it?' Shame on us if we ignore the situation." That attention has kept tenants coming. "Even in this market we have some people lining up for the space," she said. "Some tenants don't even balk at the rent."
But over the years, SIMA has gained a reputation around town as, in Ashkar's words, "the big, bad landlords," and former renters have complained about the company not responding to basic maintenance requests while simultaneously treating them poorly as tenants and boosting their rent. (This newspaper leased its former quarters in Victoria Court from SIMA. The complaints reported here come from other former SIMA tenants.) The company is also often blamed for bringing in national chains such as Old Navy and Peet's Coffee while kicking out beloved institutions such as Restaurant Nu and Alpha Thrift.
Ashkar was hired less than two years ago, in part to repair the company's image and work more collaboratively with the community. She's since cleared house and hired a new, young staff, whom she repeatedly tells, "An image is only as good as the people behind it. How you carry yourself and represent yourself to the community is how you'll be perceived." Is it working? "I believe we're making those changes one deal at a time," said Ashkar. "It's going take time to turn a reputation like that around."
Also part of "being proactive" in that regard involves solidifying the company's dedication to Santa Barbara store owners. "Our preferred route is to work with mom-and-pops," she explained. "If we can help local people and put money in their pocket, they spend it locally."
But no matter who SIMA works with, Ashkar said that any flexibility on SIMA's part "requires [tenants] to be honest and tell us what they can and cannot do." When a tenant stops paying rent and becomes uncommunicative, then there's little option for an owner. "We work as long as we can with them. When you ignore us and you don't talk to us and we're chasing you for four months, there's a point where the only way to get your attention is to start the legal process," said Ashkar. "Some people tend to run, others face the music. It's really a tenant-by-tenant basis."
Although everyone agreed all commercial leasing in Santa Barbara truly is a case-by-case situation, Ashkar was able to point out at least one similarity. "One thing I can say is that no one calls to say, 'Thank you so much. I love paying rent,'" she joked. "That call never happens."