Like Basil Hallward of Oscar Wilde's The Portrait of Dorian Gray, Cat Power (Chan Marshall) is a performer who seems to reveal a piece of her inner most soul with every performance she gives. Her voice and presence are composed of a depth and breath so deep they cannot be countered by anything but equally gifted talent and life experience-and that's exactly the way her Friday night benefit show at the Lobero went down.
Following a formal introduction by a member of DANCEworks, (a portion of Summerdance, the Santa Barbara festival which organizes in-town performances from groups from all over the world), Marshall skipped and scampered onto the stage in her characteristically awkward but charming way. She wasted no time as the stage lights lowered to almost complete darkness, chiming into her band's eerie and haunting remix of the Animals' 1964 hit, "House of the Rising Sun."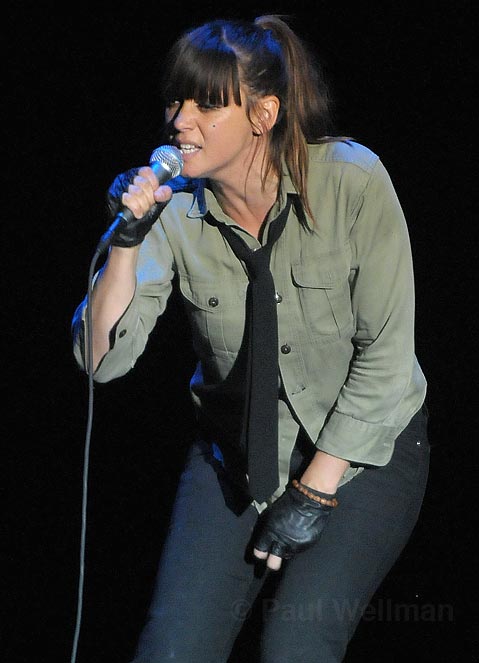 Not surprisingly, Marshall played songs almost exclusively from her most recent covers album, Jukebox. Each of the songs was arranged slightly different than the versions that appear on the record, with most of the songs extending into blues-rock-inspired jams. Marshall also played two songs from her (arguably best) album, The Greatest, each of which-The Moon" and "Where is My Love"-were each done in beautiful harmony and perfect pitch. Not appearing on Jukebox, but nonetheless a cover, Marshall and her band also launched into a very powerful rendition of CCR's protest ballad, "It Ain't Me." But the hands-down highlight of the night was Marshall's newly remixed version of her own "Metal Heart." During her delivery, two dancers appeared onstage to showcase their somewhat out of place, but undeniably inspired interpretive moves.
Overall, it was another beautifully evocative and moving delivery by Cat Power, no less divine than her June 2006 show at SOhO. The Lobero worked as a wonderful venue for the intimacy and urgency of her voice and allowed the audience to feel just a little closer to the action. At the close of her show, several concertgoers even brought bouquets to the stage, which Marshall immediately pulled apart and passed out to anyone in the front rows of the theater.