Bottles & Barrels
Wine Cask Evicted
Venerable Santa Barbara Institution Closes Without Warning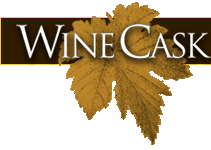 On Tuesday, February 17, one of Santa Barbara wine country's most historic and influential businesses closed its downtown doors for good, as the owners of the Wine Cask restaurant and wine store – as well as the Intermezzo wine bar – told their employees that there'd no longer be jobs for them. The surprise shutdown comes less than two years after longtime owner Doug Margerum sold the business to senior care mogul and Los Angeles area restaurateur Bernard Rosenson. According to the landlord, SIMA Property Management, the closure resulted from an eviction that was triggered by "several months" of unpaid rent.
Rosenson, who reportedly plans to use the Wine Cask brand for his Oxnard wine warehouse and Calabasas retail shop, was not able to comment until Friday. Without his input, the status of the tremendously popular and influential wine futures tasting program remains unclear; this year, it was set for March 28 at the restaurant, and April 11 at Fess Parker's Wine Country Inn in Los Olivos.
Margerum, who corresponded over email from his vineyard property in Washington state, said he was "very sad" and that "the dramatic fashion of the demise is disheartening." However, he explained that the Rosensons had assured him via email that they "will not leave any bills unpaid." Margerum added, "I feel for the Rosenson family. This must be a very difficult time for them."
It's also proving difficult for the employees. "We had no idea. We had no warning at all," said Tracy Ward, a server at Intermezzo who'd worked there about a year and a half. "I'm very upset because I'm a local and remember, as a little kid, going to this place. Now it's gone." She said that the final paychecks would be delivered to employees on Thursday, February 19.
Joining Ward at the mourning party at The Sportsman on Tuesday night was longtime employee Dennis Ferguson, a familiar face for many, who'd worked in the retail wine shop since 1981. "It's very depressing and emotional," said Ferguson, who now must look for a job for the first time in nearly 30 years. "It's a gut-wrencher. It'll leave a hole." Although he showed up to see trucks emptying the business late on Tuesday night – remembering, "It just had that feeling like they were sneaking out of town under the cover of darkness" – Ferguson was not shocked by the news. He said that the owners had recently cleaned out the wine cellars, taken art off the walls, and "selectively pruned" the retail shop. "It was a matter of when, not if," he said. "It's been ongoing."
Originally founded in the mid-1970s by Ralph Auf der Heide and friends, the Wine Cask was sold to the Margerum family in 1981, and emerged as the best place to find Santa Barbara County wine, among other imported treats. In the ensuing years, the restaurant and wine bar also opened and became some of the finer dining hotspots in a food-loving tourist town. That reputation turned the storefront into an incubator of sorts for the budding regional wine trade, serving as both a hangout and classroom for the region's now famous winemakers. "It was like a starting point," said Ferguson, listing off such big modern wine players as Jim Clendenen, Adam Tolmach, Greg Brewer, Ken Brown, and Fred Brander. "It gave focus and attention, like, 'Hey, this is a really good area for wine.'"
David Yates, assistant winemaker at Jaffurs Winery, echoed Ferguson's sentiments, explaining that he and Craig Jaffurs took their first wine appreciation class there, which, in part, made them leave their careers and turn to winemaking. "We were lucky to have such a fine place that was well integrated into the local wine community," said Yates, whose wines now rate among the best in the world. "The Wine Cask also served as a launching point for many local restaurant owners, executive chefs, winemakers, sommeliers, and catering folks. We are lucky to have some real superstar alumni from the Wine Cask around town." Still shocked by the news, Yates offered, "It is a sad day for the Santa Barbara wine community to lose a landmark like the Wine Cask."
So what happened? Bottom-line-wise, the Rosensons hadn't paid rent for many months, explained Anda Ashkar, the senior vice president of SIMA, which owns and manages the property. "We tried working with them, but there's nothing more we can really do," she said. "Our requests weren't met by any reasonable response on their side. We had no choice but to proceed to take back the space."
Ashkar said that the Wine Cask's problems were "due in large part to the choices the new owners made in the management and operation of the restaurant : The situation they have created for themselves is greater than what the landlord can solve." She added, "It's sad to see what has come to pass for Doug Margerum's beloved Wine Cask. I'm sure Doug is shaking his head in disappointment at how the new ownership has left his famed establishment."
Former shop employee Ferguson also laid some blame on his former employers, explaining, "Certain mistakes were made in the operations of the business after the takeover." Ferguson is referring specifically to the "tree episode," in which the new owners took out a historic eucalyptus tree in the courtyard one night without telling anyone, much to the chagrin of Santa Barbara's history-revering citizenry. "I always wonder what kind of impact that had on the community," said Ferguson, explaining that he thinks certain movers-and-shakers in the community stopped coming to the restaurant and wine shop about that time. "With the tree, people stopped showing up here."
Ferguson also said that the new wine buyer was a "wheeler and dealer" and may have had conflicting ideas with the Wine Cask's long-standing customers. "They wanted to be heavily local," said Ferguson, "but then we didn't seem to be getting a lot of locals." That notion of the Wine Cask's retail store losing touch with the Santa Barbara consumer has been uttered in numerous wine-drinking circles far before Tuesday's closure, and many have complained about a cheapening of the brand under the Rosenson ownership. Ferguson said that the buyer tried to shake things up with sales – some strategies worked and many didn't. "But I think we didn't necessarily follow up with people, with what they wanted," said Ferguson, further explaining that employees were often not allowed to do their jobs, that there was "interference from on high," and that the event planning was "erratic" and showed of "desperation."
Of course, Ferguson, Ashkar, Margerum, and everyone else were quick to admit that a poor economy certainly shared the blame, as well as the increasing level of competition from other retailers and fine dining restaurants in town. But the economic problems should have come as no surprise, said Ferguson, and the business managed to succeed through other downturns in the past under Margerum. "The economy was a problem a year ago," he said. "I think a wiser management may have ridden out the storm."
For the moment, Margerum is standing behind the anointed successors to his legacy. "I really did think Rosenson had the abilities to run it," said Margerum, explaining that Rosenson ran a restaurant in Long Beach called The Breakers, that he was wealthy, and that he had an "incredible collection of rare wines to bring to the equation." He explained, "I had quite a few people interested in the business and I chose Mr. Rosenson because I trusted him. I still trust the man to keep his commitments to the employees, vendors, and customers." Although Margerum had a consulting contract and wrote a good part of the 2008 futures catalog, he said that Rosenson – who is also the owner of the Big Yellow House in Summerland – never asked for his help.
Despite the closure, Margerum remains optimistic. "My hope is that Wine Cask could begin anew now that this chapter has ended," he explained. "I suspect a phoenix might rise from the ashes."