Dance
BASSH at the Lobero Theatre
Dance Alliance's Annual Show Sizzles
"Sizzling" was the word of the night at this year's stellar BASSH event. The Santa Barbara Dance Alliance's annual showcase of ballroom, Argentine tango, salsa, swing, and hip-hop, BASSH highlights the studios and dancers that make these dance forms vibrant in our community. Master of Ceremonies Derrick Curtis again delivered his characteristic combination of endearing onstage patter and charismatic dance performance.
An explosive cha-cha-cha by dancers from the Arthur Murray Dance Studios proved that the performers who trained together are competition ready; Curtis mentioned that they're taking this one on the road. Deborah Ko and Fernando Magana's salsa was as hot as promised, and Ko's smile lit up the house. In the rumba/paso doble, Santa Barbara Dance Center's David Alvarez showed how to be a great dance partner- his moves matched in intensity only by his gaze on his partner Alison Allan. Blaire O'Donnell and Ricardo Razo's seductive bolero ended with a dramatic pose-just one example of the breathtaking shapes struck by so many of the night's performers.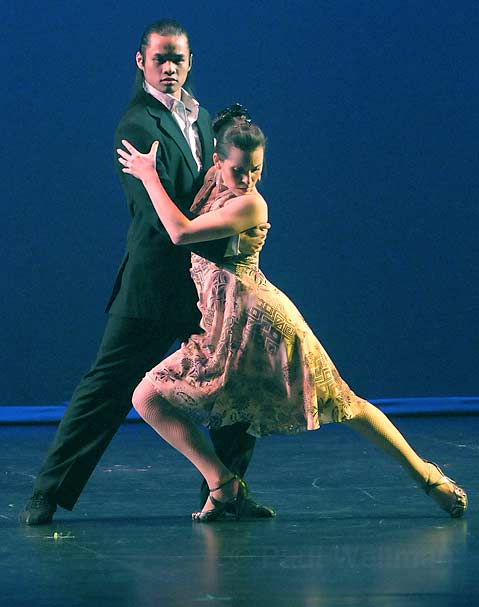 As in years past, this show's greatest strength was its diversity. The range of ages and the mix of men and women both onstage and in the audience proved that dance in Santa Barbara is a vibrant community affair. With young dancers like Maria Avila and Philip Downey sharing the stage with longstanding dance talents like Curtis and his wife and dance partner Trudie Olsen-Curtis, it was clear this showcase was equally open to the upcoming and the fully established. Throughout the night, ballroom styles alternated with street dance; both were at home onstage.
Among the 20 numbers were Shawn Henry's acrobatic group break dance routine and hip-hop choreographer Tamarr Paul's dynamic work, a symbolic breaking free. Whether it was Latin partner dancing or big group numbers, this year's BASSH was downright sexy, a theme Curtis played on in his shout-out to the men in the audience: "We're talking 'bout love : so take your partner dancing this year : there are several studios in town." And they all sizzle.