Sports
Breakers Remain Unbreakable
Santa Barbara's Basketball Team Plays First Home Game with New Hometown Heroes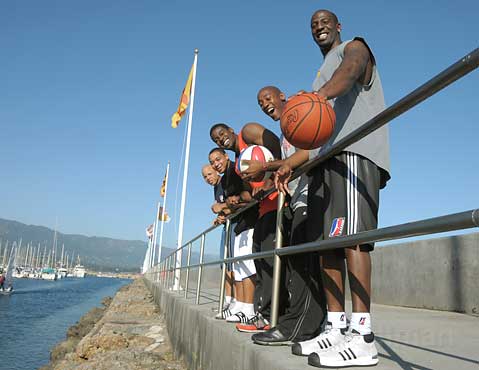 During the next two months, it appears inevitable that three teams will win a lot of basketball games: the Lakers and Cavaliers-anybody want to bet against their fulfilling the NBA's most appealing matchup in the Finals?-and the Santa Barbara Breakers.
The Breakers should be getting familiar to South Coast fans, as they have been around twice as long as the usual professional sports franchise trying to make it in this town. They have launched their third springtime season and will play their home opener at 7:05 p.m. this Saturday, April 25, at the S.B. City College Sports Pavilion. It is the first of seven consecutive Saturday night home games on their schedule.
There is no way the Breakers can improve on their 2008 record-they went 18-0 and won the inaugural championship of the West Coast Pro Basketball League-but they have the ingredients to raise the quality of their play this year. The seven-team league has been strengthened by the addition of Santa Barbara's opponent this weekend: Beijing Aoshen Olympian, a club with a core of Chinese players that has been winning its share of games in U.S. minor leagues. The Olympians sent guard Sun Yue to the Lakers this past season. American guards Sheldon Pace and Tyree Jones add firepower to their current offense.
The Breakers managed to beat Beijing Aoshen in their road opener at Rosemead last week, 119-113, but they had to come back from a 15-point deficit in the first half. "It was a carryover from last year," Breakers owner and coach Curt Pickering said. "We'd bend but we wouldn't break." One of the team's new players, 6²10³ center Tremaine Townsend, came up big in the victory. Townsend, who helped Cal State Northridge win the Big West championship and put a scare into Memphis in the NCAA tournament, had 21 points and 14 rebounds.
Santa Barbara has doubled the hometown presence on its roster. Joining last season's MVP Josh Merrill, the 6²9³ former UCSB star, and point guard Shantay Legans (Dos Pueblos High and Cal) are a pair who last played together at Santa Barbara High six years ago: 6²8³ forward Santiago Aguirre and 6²1³ guard Taylor Rochestie.
Aguirre, an NAIA All-American at Westmont College in 2007, signed with the Breakers after spending two years with several Mexican clubs, including the national team. Rochestie is expected to make his professional debut on Saturday after a stellar career at Washington State. Aguirre is excited at the prospect.
"Taylor is going to try to be the best player on the team," Aguirre said. "He'll want to help his team win in any way possible. It's great to have him. He brings everybody together with a positive attitude and hard work. When you play with him, you think, 'I've got to work harder.'"
Rochestie's reputation as a team player should help him blend with the Breakers. Most of the players who prolong their basketball careers in various minor leagues are hoping to get a shot at the NBA or a rich European club, and that might tend to make them want to hog the limelight. But that was not how the Breakers went undefeated last year.
"We all want to win, and that means putting our talents together so we jell as one," said Tim Taylor, a veteran guard from Wayne State (Nebraska). "It's easier said than done. The minute somebody steps outside their role, it falls apart."
Other returning players are 7²1³ center Rashid Byrd and guard Allan Purnell. Pickering is very high on newcomer Zack Fray, a 6²6³ combo guard who made an impact overseas, and 6²7³ Jerry Dupree.
The last time the Breakers came up short was in an International Basketball League semifinal that ended their first season in 2007. They have won 30 of their last 31 games.
Ticket prices for Saturday's game are $12 for adults and $6 for students.
OTHER WEEKEND HIGHLIGHTS: It's another big series for the UCSB baseball team, as it hosts 12th-ranked Cal Poly on three consecutive afternoons starting Friday (Apr. 24) at 2 p.m. The Gauchos and Mustangs are trying to stay in contention with Big West Conference leader UC Irvine, the nation's new No. 1 team. : Faster, higher, and stronger will be the mission of high school athletes competing in the S.B. County Track and Field Championships on Saturday (Apr. 25) at Carpinteria High. : UCSB's Gaucho Gallop has events for runners of all ages, and dogs, too, at 8 a.m. on Saturday at the campus lagoon.