Outdoors
Santa Barbara Endures Its Most Threatening Natural Disaster Ever
Jesusita Fire, Day by Day
The Jesusita Fire forced an estimated 30,000 South Coast residents from Goleta to Montecito out of their homes and put another 30,000 on warning. In its wake, 78 homes were lost and another 22 damaged, not to mention the more than 100 outbuildings that got torched. But the real story is how many homes were saved by the brave and diligent firefighters who personally fought off the flames through the night, risking their own lives and sustaining injuries to do so. As of The Santa Barbara Independent's press deadline, the threat has subsided, and the fire is nearly 100-percent contained.
To memorialize the past week's physical, emotional, and psychological drama, we present this special issue, which serves as a rundown of the work completed by the more than one dozen writers, editors, photographers, map-makers, designers, and Webmasters at The Santa Barbara Independent who worked around the clock to deliver the latest and most critical news to our community. But this is a mere glimpse at the more than 70 articles produced by The Independent during this disaster. To see them all, head straight to independent.com/jesusita.
Reporter's Notebook
Tuesday, May 5
1:40 p.m.: A brush fire starts in San Roque Canyon near the Jesusita Trail. Rumors swirl as to the origin: gunshots, a blown transformer, and a Vandenberg Air Force Base missile launch are all suspects. Investigators have since determined that the inferno was sparked by someone using a power tool to clear brush along lower stretches of the Jesusita Trail.
2:15 p.m.: Smoke and flames are clearly visible from downtown Santa Barbara as the newborn wildfire officially becomes the Jesusita Fire.
2:20 p.m.: The Indy's wilderness reporter Ray Ford, located on a ridge to the east of San Roque Canyon, reports 40- to 50-foot flames burning straight uphill as two helicopters work to put out the half-acre wildfire. People living near the fire area report mandatory evacuation orders for portions of Tunnel and Holly roads as well as Spyglass Ridge. Dozens of other Mission Canyon residents voluntarily start packing their bags.
3 p.m.: Winds continue to build in the foothills and canyons of Santa Barbara with gusts registering in excess of 40 mph.
3:39 p.m.: On scene in the Foothill Road area, Indy reporter Chris Meagher gets confirmation from a CHP officer that much of Mission and San Roque canyons are indeed being evacuated.
4:01 p.m.: The City of Santa Barbara issues official mandatory evacuation orders for all residents north of Foothill Road between Ontare and Gibraltar roads. Santa Barbara's Red Cross opens a shelter at First Presbyterian Church on Constance Avenue and State Street.
4:30 p.m.: With 150 acres already burned, 70 fire engines are on scene along with 14 strike teams. County fire officials report another 20 strike teams-each one with 14 firefighters and five engines-are en route.
4:40 p.m.: Ford observes from his perch above the fire: "Things are looking pretty bad right now. : Flames are heading right into the main upper part of Mission Canyon."
5 p.m.: A majority of the 175 brush-eating goats located in Mission Canyon are evacuated safely with flames bearing down on them. Sadly, as of press time, some 35 of the goats left behind remain unaccounted for and feared dead.
6:45 p.m.: Ford, now with a crew of firefighters up on Spyglass Ridge Road, estimates that "there is potential for the fire being down on Tunnel Road in three to four hours, maybe less. : I don't see how there won't be some house-to-house battles going on later tonight."
7:30 p.m.: Numbers from an evening press conference at the Cater Water Treatment Plant include 1,000 people successfully evacuated, some 1,200 homes notified of mandatory evacuation orders via a knock on the door from law enforcement, approximately 200 firefighters on hand with nearly 220 more making their way to a staging area at Earl Warren Showgrounds, and four helicopters doing water and fire retardant drops.
8 p.m.: The Red Cross relocates its shelter to Dos Pueblos High School in Goleta, where 10 evacuees spend the night. Large animals are being accepted at Earl Warren.
9 p.m.: Officials report some 420 acres have burned, though no structure loss has occurred. Weather reports indicate that winds have subsided and, according to reports from Meagher and Ford, optimism is running high among firefighters that the overnight will hold more of the same.
Wednesday, May 6
7:30 a.m.: As firefighters from around the state converge on Earl Warren, fire officials at the morning press conference reveal the fire is at just 196 acres, opposed to the previously reported number of 420. A night of good weather conditions and aerial attack proved positive; still, the fire remains zero-percent contained with a scary weather report for the day, so five helicopters, four air tankers, and two scout planes are prepared for action.
11 a.m.: The Santa Maria Airport is now open to handling refueling and reloading retardant-dropping fixed-wing tankers fighting the fire. Nick Welsh reports that a failure by the U.S. Forest Service to renew its contract with a company servicing tankers in Santa Maria kept the airport off-limits to fixed-wing planes deployed by CalFire during the initial 24 hours of the wildfire.
As a result, the two fixed-wing planes dropping retardant are forced to reload in Porterville, rather than Santa Maria. The round-trip from Porterville to Santa Barbara is at least an hour longer than a Santa Maria trip. But city fire Battalion Chief Pat McElroy later said air support had been more than adequate, and that the battle will be won on the ground. "We are engaging where we can engage," McElroy said.
Noon: Officials at the mid-day press conference are wary that the winds could pick up, and no one listening in the 90-degree heat has to be told it's hot out. Winds are expected to reach gusts of 60 mph, while the relative humidity is already in the teens, a level considerably less than ideal. Despite competition from a fire in Arizona, fire officials here have not been denied the resources they're requesting.
2:45 p.m.: Ray Ford reports that winds are beginning to pick up, and, in turn, so is the fire.
4:15 p.m.: "This thing is way out of control," says city fire spokesperson John Ahlman. "All we can do now is try to save some homes." The fire is not far from Mission Canyon, and the wind is blowing south-southeast, in that direction, with gusts approaching 60 mph. Spot fires are occurring rapidly, and eyewitnesses report that homes are already burning. Air attacks are cut due to high winds. Refugees jam the streets in the extended evacuation zone, and six fire engines sit in front of the Mission. Spot fires ignite some nearby properties below Foothill Road. The Museum of Natural History begins moving its collections into fireproof vaults.
6 p.m.: A new CalFire command takes over from local officials, meaning a bigger, badder, more organized attack can be formed. Reports come across the radio scanner of engines getting overrun and burned and buildings on fire.
6:23 p.m.: Gov. Arnold Schwarzenegger proclaims a state of emergency for Santa Barbara County. The designation opens up the ability to seek federal reimbursement for up to 75 percent of the costs of the fight.
7 p.m.: Chris Meagher reports the fire ran through the Botanic Garden, and active fire is still flaring on both sides of Mission Canyon Road. Downed power lines prevent a trip farther up the road.
8 p.m.: The fire is blowing east toward Rattlesnake Canyon and the foothills above Montecito. At the same time, evening winds are again pushing it down into San Roque Canyon near the Cater Water Treatment Plant, and it continues a march up the mountains to the ridgeline. The mountainside that frames Santa Barbara remains ablaze.
8:30 p.m.: In Mission Canyon, Ventura County firefighting veterans Ron Topolinski, Robert Lopez, and Brian Bulger have been injured and sent to the Grossman Burn Center in Sherman Oaks, but all three should be released within a week.
8:45 p.m.: The winds seem to be dying down finally, reports Ford, back from his second trip to the front lines today. "All is pretty calm up there right now," he says. The fire can still reach Camino Cielo and then bump down to other locations. "This has the potential to be Santa Barbara's worst disaster ever, if all lines up wrong as it did today," says Ford.
11 p.m.: As down-canyon winds subside, mandatory evacuation orders are downgraded to warnings for many areas of downtown Santa Barbara. Specifically, the upper State Street area near Alamar Avenue and San Roque Road are considered to be out of harm's way.
Thursday, May 7
Midnight: With thousands impacted by mandatory evacuation orders and warnings, most area schools cancel classes for Thursday.
2 a.m.: Despite mellowing wind conditions, localized gusts near Las Canoas Road and Skofield Park deliver what one area resident describes as "large fireballs" raining down from the upper Rattlesnake Canyon area.
7 a.m.: A first-light investigation of the fire's burn area by Ethan Stewart reveals several homes damaged or completely destroyed in the Mission Canyon, Las Canoas, and Tunnel Road neighborhoods. Surveying the area by truck and foot, Stewart reports more houses saved than lost. First reports of actual addresses destroyed include locations in heavy-hit areas like Holly Road, Orange Grove Avenue, Spyglass Ridge, Montrose Place, Williams Way, and the Santa Barbara Botanic Garden. More than 1,700 acres have been charred and the fire remains zero-percent contained.
9:40 a.m.: Forty minutes behind schedule, the political pandering begins in earnest as Governor Arnold Schwarzenegger, flanked by a gaggle of city, county, and state officials, holds a press conference at Earl Warren Showgrounds. The air cavalry appears to be on its way as the number of helicopters on scene doubles and fixed-wing aircraft triples. Sundowners are expected to return in earnest while temperatures in the canyons are expected to top out at over 100 degrees.
1:42 p.m.: Ray Ford reports that the fire is now firmly established in the upper reaches of three canyons: San Roque, Mission, and Rattlesnake. Despite widespread speculation that the eastern flank of the fire remains the number-one danger zone, Ford says that, based on his observations, a western run toward San Antonio Creek and Barger Canyon remains a distinct possibility.
6:35 p.m.: The forecasted sundowners have yet to materialize, but a steady, albeit weaker wind has pushed 50- to 60-foot flames to the west all afternoon. From a vantage point atop La Cumbre Peak, Ford observes, "It looks like bad things are happening. : It is now becoming a Goleta fire as well as a Santa Barbara fire."
7 p.m.: Flames rip through part of the Arroyo Burro Trail, Ford reports. In the west, less-than-gale-force but still considerable winds scatter spot fires across the Foothill Road area, prompting engines to station themselves at homes in the Cocopah Drive, Cieneguitas Road, and San Antonio Creek Road areas.
7:45 p.m.: Chris Meagher, stationed near the end of Ontare Road, observes flames burning big in the foothills all around him, pushing west toward Highway 154 and down-canyon toward Foothill Road. "It's just getting crazy," says Meagher. "It's impossible to tell what the fire is doing."
8 p.m.: Scanner chatter is filled with alarmed firefighters and calls for the immediate repositioning of fire engines. In a series of urgent press releases, the mandatory evacuation areas are expanded west to all residents north of Foothill Road and east of Highway 154 as well as San Roque neighborhoods between State Street and Foothill Road and, on the eastern side of things, from Alameda Padre Serra to Sycamore Canyon.
8:28 p.m.: Now located just west of the 154 on Via Chaparral, Meagher says the Jesusita Fire has reached "full-on freak-out mode." Mandatory evacuation orders now include Painted Cave and East Camino Cielo homes. Intersections near evacuated areas, such as Cathedral Oaks at Old San Marcos Pass, are jammed with a mixture of fleeing residents and rubber-necking looky-loos as ash the size of quarters rains down on parts of Santa Barbara and Goleta. In a press release, fire officials report 75 residences damaged or destroyed.
9 p.m.: Spot fires ignite the steep, brushy canyon between Northridge Road and Santa Teresita Drive, but firefighters manage to save all nearby homes, Ford reports.
9:15 p.m.: With unconfirmed rumors that the fire has jumped it, Highway 154 is officially closed. The fire is now estimated to be 2,739 acres with some 24,000 people under either mandatory or warning evacuation.
10 p.m.: The Jesusita Fire, pushed by erratic 40 mph winds, races through the San Marcos Foothills Preserve.
10:45 p.m.: As Jesusita roars west toward Goleta, endangering ever more homes and prompting evacuations of 18,000 more residents, Meagher reports from a press conference held on short notice at Earl Warren Showgrounds. Sheriff Bill Brown dubs Jesusita "probably the worst emergency that has faced the county in the last 25 years." Officials disagree on whether the flames have jumped Highway 154 at this point. County Fire Chief Tom Franklin urges the public to flee now: "Make that decision to leave early. : We don't want to count you as one of the victims of this fire." At this point, 2,300 firefighters are battling Jesusita and 75 homes are estimated to have been burned or damaged. Fear runs rampant that the Jesusita could be the second coming of 1990's devastating Painted Cave Fire.
10:50 p.m.: Mandatory evacuation orders are once again expanded. It now includes all areas north of Cathedral Oaks and west of Highway 154 all the way to Patterson Avenue. Inundated with thousands of new evacuees, the Santa Barbara Red Cross opens up a second shelter at UCSB's MAC (Multi-Activity Center).
11:05 p.m.: Ray Ford reports seeing a "300-pound black bear" fleeing the flames near the end of Northridge Road.
Friday, May 8
1 a.m.: Ethan Stewart, standing just below San Roque and Foothill roads, calls the area "a ghost town." Meanwhile, the fire makes a run down San Roque, toward downtown, and firefighters make a concerted effort to hold Foothill. They also stamp out spot fires in Stevens Park and under San Roque Bridge. "The ash is so thick : it looks like it's snowing," says Stewart. Helicopters buzz despite strong winds and low visibility.
1:34 a.m.: Goleta residents get moving when a mandatory evacuation is ordered for all residents living north of Highway 101 and between Turnpike and downtown Santa Barbara. The county relocates its Fire Call Center. Through the night, the mandatory evacuation zone would be extended all the way to Patterson Avenue.
6:45 a.m.: Ray Ford reports that fire damage to Goleta was not as bad as he feared, despite houses smoldering near 154.
8:01 a.m.: Ben Preston reports from a 7 a.m. briefing that the fire's eastern edge is burning Cold Spring Canyon. The previous night's winds-clocked at 40-60 mph-have ceased, but Jesusita is still moving a quarter-mile an hour, even without wind.
8:19 a.m.: Driving through Montecito, Stewart reports no further damage in Mission and Rattlesnake canyons. Spot fires continue to plague the areas, however.
8:41 a.m.: Stewart reports 100-foot flames just west of Highway 154, about two miles north of San Antonio Creek. The flames did jump the 154, but only in spots.
9:49 a.m.: Nick Welsh reports that Westmont College is scrambling to evacuate 500-600 students on the eve of its graduation ceremonies within the three-hour window allotted by law enforcement.
11:20 a.m.: A 10 a.m. press conference reports on the new plan of attack against the eastern and western fronts of the Jesusita Fire. On the west, the flames have edged into the San Antonio Creek drainage; to the east, it remains in Cold Spring Creek. To the south, the battle on Ontare Road was especially fierce: "We were trying to go direct on the fire through the fuel, but once the wind picked up, it was back to the races," says Los Angeles County Fire strike crew leader Ron Reed. The fight found a new ally, however, in the form of a DC-10 capable of dumping 12,000 gallons of retardant in a single drop. Based out of Lancaster, the DC-10 will travel 100 miles to Santa Barbara to deliver its load. Now the legion of firefighters includes 2,500 crewmembers-1,400 more than on Thursday.
1:43 p.m.: Welsh reports that the 1,000 inmates at the Santa Barbara County Jail won't be evacuated even though they're in the zone ordered to do so. "The jail is actually one of the safer places to be," said Sheriff's spokesperson Drew Sugars. "The jail was built to withstand a fire; it's a really protected structure. And it has a large amount of defensible space around it."
7:09 p.m.: Sam Kornell files an extensive address report on what's been burned in the Tunnel, Cheltenham, Las Canoas, and Mission Canyon roads area, after riding his bicycle around for the area for hours. He and other reporters continue this address reporting through the weekend.
10:02 p.m.: Bakersfield Californian reporter Gretchen Wenner, who was in town visiting her parents and volunteered her services, reports that well-prepared fire crews get ready to stamp out spot fires near the Painted Cave area. Chumash artifacts survive because they are protected with fire retardant material.
Saturday, May 9
10 a.m.: Ford reports "cool, moist air" coming in while standing on Painted Cave Road, and says it is "the first day in the past five that firefighters have started to feel more comfortable." Though the fire threatened ranches in the east fork of Maria Ygnacio Creek and spot fires still burned near Painted Cave, Ford says the San Marcos Trout Club seems safe and the "fire on the west side of Highway 154 is mostly out."
10:50 a.m.: Meagher reports that evacuation orders are lifted for most properties below Foothill Road, and officials claim 30 percent containment. "We're going from the defensive to the offensive," says Santa Barbara City Fire Chief Andy DiMizio. "We're going to chase the fire, not have the fire chase us."
11 a.m.: After hand crews have been working for about a half-hour, Ford reports that the big Erickson Sky Cranes have begun their retardant drops. The air attacks allow the hand crews, including low-risk prisoners trained for the job, to do their magic. "This is the tough work on the fire lines, not as glamorous as the air drops from above, but absolutely essential to putting out the fire," says Ford, explaining that this work will continue, "covering miles of fire perimeter such as this, cutting line in the worst of terrain, and making it possible for the time when 100-percent containment will be declared."
6 p.m.: Bakersfield Californian's Wenner reports that some of the more than 500 animals, from tortoises, chinchillas, and alpacas to songbirds, cats, and dogs, are beginning to return home from the emergency shelters at the Santa Barbara Humane Society and Earl Warren Showgrounds. "This is a great service," says one pet owner, and another offers, "We will, of course, donate."
Sunday, May 10
10 a.m.: Mandatory evacuations are lifted, except for most mountainous areas.
Noon: Red Cross closes Dos Pueblos High School shelter, but keeps UCSB facilities open.
9 p.m.: All evacuation orders are lifted. Residents are allowed to return home, except those living in the Painted Cave and East Camino Cielo communities, where the fire still smolders.
La Vista Road
It wasn't firefighters, but a group of six civilians who kept John Price's sizable home at 1550 La Vista Road safe. The group-sweaty, dirty, and tired-headed down the hill on Thursday, packed in a white Chevy Blazer and in a gleeful mood, on their way to Chuck's Steakhouse. The fire was "gnarly," Price said, but the group was equipped with a water pump, and staved off the fire with a lot of hard work and sweat. The group of men, which also included plumber Pat Carroll, seemed to be having a good time, or at least were enjoying the result, and were laughing as they considered starting "John Price's A Fire Team." "Will work for beer," Price said.
Williams Way
I grew up in Mission Canyon, and, like everyone in the Santa Barbara foothills, I knew that, sooner or later, a fire would come sweeping down from the mountains and into the neighborhoods.
When the Jesusita Fire first began last Tuesday, I helped evacuate our family home on Williams Way. We went to stay with friends on the Riviera, but were all forced to evacuate that house on Wednesday afternoon and move into a hotel.
A little before midnight, I told my parents I was going to a friend's house, and drove through the darkness up into the mountains on back roads that weren't barricaded. Driving up Cheltenham Road, I was relieved and surprised to see no houses on fire. It was eerily quiet and dark, all the power was out, ash and smoke were falling like snow, not much wind, and no fire personnel in sight.
When I reached upper Cheltenham, I could see, through trees, a fire that appeared to be just behind my house. I raced through the house to see the upper level of our backyard on fire. I felt the warmth immediately.
I grabbed the garden hose and began dousing everything in sight, focusing on an oak overhanging our wooden deck. The heat was strong-at one point I accidentally stepped on a lawn chair laying on the deck, and my shoe sank into the melting plastic. I was so full of adrenaline I didn't at first notice when an ember burrowed into my forearm.
As I sprayed, I yelled for help. Someone yelled back, and soon a couple of firefighters emerged through the smoke. Eventually they managed to get a fire hose down from Montrose Place and doused the flames within a few minutes. I said thanks, they left, and then I continued spraying embers on the ground.
After I felt reasonably sure that the fire in our backyard was dead, I climbed to the roof to hose things down. But from there I could see high flames shooting up into the sky just north of my house. It appeared a home was burning on Williams Way, and another on Montrose. I set up my sprinkler, and then walked to Williams Way, where firefighters were on the street watching forlornly as what remained of the walls of a house turned to ash. They said they had tried everything to prevent the home from burning, but had failed. Did I know the homeowner? Yes, I did. The firefighters appeared heartbroken.
At about 3:30 a.m., I went up to my roof, where I stood, mesmerized, the sprinkler drenching me, peering through a thick curtain of ash and smoke. Homes on Montrose and Williams Way were sending thick, twisting spires of flame into the sky-both not more than a couple of hundred feet from where I stood. It was silent, except for the sound of wind brushing the trees and the faint beeping of a car alarm. The air had a sickly, sweet smell: smoldering plastic, plaster, rubber, and treated wood.
At about 5:30 a.m., I drove around, checking on friends' homes. Calling a groggy Marisa Haskell with the news that her house had escaped unscathed was one of the greatest phone calls I've ever made.
On Williams Way and Palomino Road, firefighters were lying everywhere-on the street, in driveways, sleeping, exhausted. I went back to my house to make coffee, but with the power out, I couldn't grind beans. From a tablespoon of old espresso, I made the worst coffee I ever offered to anyone, and carried it over to a couple of firefighters who couldn't sleep. Their faces were black with smoke and their eyed rimmed with red. To my eternal regret, I didn't get their names. They were from Morro Bay. Of the firefighters I met in my neighborhood-there were surely more than 100 camped out on Palomino-all were from out of town: Kern County, Atascadero, San Luis Obispo, Malibu, Calabasas. Later that evening, when the power returned, I was able to make three pots worth, which I gave to a group of Los Angeles firefighters camped in a nearby driveway.
The story of the Jesusita Fire is not how many homes burned, but how many homes were saved. This good fortune-tempered by the many tragedies that did befall our friends and neighbors-is attributable, above all, to the firefighters. I know nothing about firefighting in general, and so, like most of us, am unqualified to judge the larger strategy deployed. But I do know that on the ground, in my neighborhood and all across the Santa Barbara foothills, it was the bravery, skill, dedication, and great decency I saw in each firefighter I met-many of whom do not live in Santa Barbara, or even near it-that saved so many homes. – Sam Kornell
Las Canoas Road
George Quinn, 64, and his wife, Barbara, were sitting in lawn chairs with their dog Manny nearby on Wednesday as smoke continued to pour over the skies above. The fire had already passed by the couple's home at, which George, sporting soaked jeans and a cigarette in his mouth, had built several decades ago. They weren't about to see it burn in this fire. "We built it to be fireproof," Barbara said. George used five hoses to protect his home, and burn spots around the yard kept him busy. In addition to the Quinns' diligence, ice plants and good clearance helped ensure the home's safety.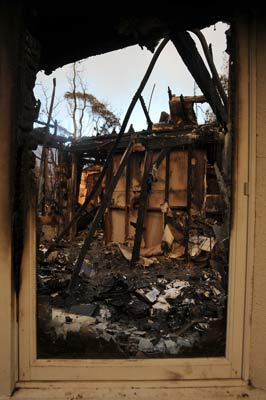 Orange Grove Avenue
Reduced to smoldering rubble and two half-standing walls, the family home of Howard and Kim Schiffer and their children at 1450 Orange Grove Avenue was lost on Wednesday evening. The founder and director of Vitamin Angels, Schiffer had just returned to Santa Barbara from working at a refugee camp in Kenya. Just hours after learning the devastating news about his house, Schiffer remained upbeat. "Fire seems to reduce everything to its most essential elements," he explained in an email. "Right now, we feel totally surrounded by love and support-it truly is a blessing. We have lost our home. I know that in the weeks to come, we'll remember all of the special things that have now been consecrated. Today we're holding each other closely, being so thankful to all of our family and friends, and moving forward, step by step."
Tunnel Road
With 100-foot flames surrounding their small neighborhood of homes at the end of Tunnel Road, the Lindemann family-with the help of firefighters and uncle Walter Shirk and cousin Cody -tapped into a neighbor's swimming pool and fought back the Jesusita Fire on Wednesday night. When the firestorm finally blew through hours later, the Lindemanns' home at 1470 Tunnel was still standing, along with most of their close neighbors. By putting out spot fires for two nights straight, the Lindemanns were able to stop the spread of the Jesusita Fire in their remote region. They weren't the only ones who saved their properties, and their experience provokes the question: Should knowledgeable and prepared homeowners be allowed to stay in their homes and fight wildfire? There is homeowner training for this tactic in Australia, and it may be time that parts of America's fire-prone West Coast begin considering such a program as well.
Fire Facts
Acres burned: 8,733
Containment: 80%, as of Wedneday a.m.
Properties affected: 78 homes destroyed, 22 homes damaged, 67 outbuildings destroyed, 69 outbuildings damaged
Injuries: 29 firefighters injured
Personnel: More than 4,100 firefighters at the peak, including 428 engines and 110 crews
Equipment: Five air tankers, including the DC-10, and 15 helicopters
Cost: $15.5 million
Expected containment: May 20, 2009