Dance
Review of Santa Barbara Dance Alliance's 2009 Teen Choreography Showcase
Annual Show On the Verge Highlights Young Talent.
Co-president of Santa Barbara Dance Alliance (SBDA) Alana Tillim took the stage Saturday night at the Marjorie Luke Theatre to welcome the audience to On the Verge, the annual chance for teen choreographers to show off work they've created under the guidance of mentors. Tillim acknowledged that those in attendance might expect to hear what the teens had learned from their mentors in the process of preparing for the show. "Instead, I'd like to thank them for what they have taught us," she concluded. From where we sat, there was a lot to thank them for as well.
SBDA Teen of the Year Nikki Pfeiffer set the bar high with her opening solo, "Metal Heart." Danced to a song by Cat Power, it seemed to embody all the grace and angst of the teen years, and she was masterful with movements both lyrical and tortured.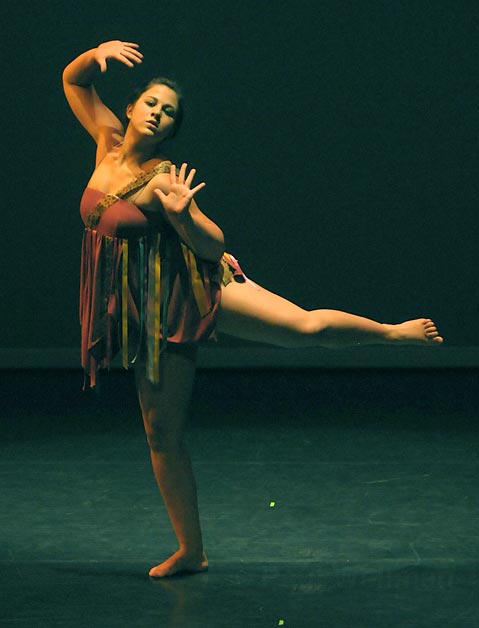 Pfeiffer also performed with Robin Zelko and Taylor Fisher in Fisher's trio, "Us Terrible Angels." Here, unusual movement styles that weren't always pretty combined with an evocative sense of time and place to result in an inspired piece of dance theater.
Fisher also created a charming but too-short solo: while Daniel Garner played guitar and sang a sweet indie rock song, Fisher danced around him, the chemistry between them obvious.
Another standout of the evening was Zelko's solo set to "Oh, Danny Boy," and dedicated to her late grandfather. Wearing a billowing shirt that could have been his over a modest black bathing suit, she managed to convey both childhood and maturity, as well as deep love and respect.
Cari Helchuis and Corrie Jiminez performed a spirited and beautiful flamenco duet with individualistic flair, incorporating a hat and a fan, while Anastasia Sagawinia presented an outstanding tap solo, powerful for its vulnerability as well as for its strength.
Popular hip-hop dance styles were represented as well. The youth company Everybody Dance Now! performed a piece choreographed by Kaci Yamanaka; DBOYZ showed that dance is not just for girls with a high-energy number of their own creation; and Aryanna Aronson's precise and athletic duet, "Shortys Just Dance," was performed with Jacey Daniels. Zelko's finale, "Money," pulled out all the stops and had the audience whooping it up as the dancers showed off their best moves.
If the audience took away one lesson from the evening, it was that these are the choreographers and dancers of a new era. We can't wait to see what they will do.