Outdoors
Valle Verde Heroics During Jesusita Fire
Retirement Home Housed Over 162 Senior Evacuees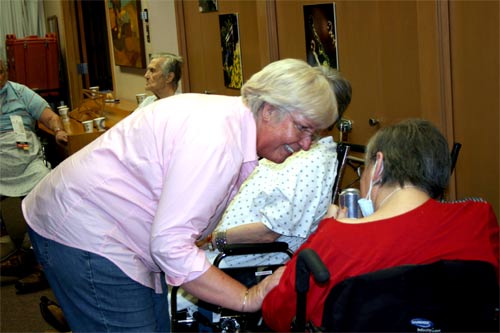 "It was like living in a M.A.S.H. episode," said Ron Schaefer, executive director of the Valle Verde Retirement Community . "A row of ambulances. An orange glow in the sky. Ash raining down. Gurneys and wheelchairs everywhere."
Schaefer was describing the scene in the parking lot of Valle Verde Retirement Community, located at 900 Calle De Los Amigos, on Friday, May 8, during the Jesusita Fire. Within a four-day period, Valle Verde temporarily housed more than 162 senior citizen evacuees, acting as a staging ground to provide beds, meals, and care while other accommodations were made.
Jan Koegler, program administrator for Santa Barbara County Health Department's (SBPHD) Public Health Emergency Preparedness program, said Schaefer and the Valle Verde staff worked tirelessly and did whatever was necessary to take care of the evacuees. "They were nothing but calm and eager to assist in any way possible throughout the disaster."
Within a couple hours of the fire starting, SBPHD's Emergency Medical Services (EMS) in partnership with the National Long Term Care Ombudsman had decided to evacuate the residents of the senior assisted living facility Wood Glenn Hall located on Foothill Road near East Alamar Avenue. Wood Glen Hall and Valle Verde, both non-profit organizations, have a mutual transfer agreement to take in residents during an emergency. Residents of Wood Glen Hall began arriving mid-afternoon on Tuesday, May 4, in vehicles from the County's ambulance provider, American Medical Response (AMR).
By the next day, all but 12 of the 60 evacuees had moved to other accommodations. But the staff and residents at Valle Verde had only a short reprieve. Later that day, evacuation became mandatory for Villa Alamar – an assisted living facility for seniors with Alzheimer's Disease and other dementias located on East Alamar Avenue near State Street. Although Valle Verde does not have a transfer agreement with Villa Alamar, at the request of EMS, Schaefer agreed to provide shelter, care, and basic needs while more appropriate accommodations for the high-needs elderly evacuees could be found. Valle Verde nursing staff evaluated and performed triage for the patients as best they could without medical records. Eventually, staff from Villa Alamar arrived to help administer aid to their residents.
The next evening, Thursday, May 6, brought even more evacuees to Valle Verde. Erratic 40-60 mph winds refueled the fire, forcing the evacuation of Senior Living Concepts, a skilled-nursing facility near La Cumbre Avenue and State Street that houses 115 medically impaired residents. Again, Schaefer generously offered Valle Verde as a staging area for the evacuees, despite not having a transfer agreement with the organization. "Fortunately we were in this little pocket far away from the fire and we could be a staging site," Schaefer said.
By this time, Valle Verde's theater, dining area, and social room were all set up with cots from the Red Cross. Staff from both Valle Verde and Senior Living Concepts worked past 3 a.m. evaluating and providing medical assistance to the new evacuees. Some Valle Verde residents even came out during the night to serve cookies and coffee or to comfort the displaced seniors.
Many of the evacuees were transported to Santa Barbara and Goleta Valley Cottage Hospitals, Lompoc Skilled and Rehab Center, and skilled nurse facilities in Ventura, Camarillo, and Solvang. Easy Lift Transportation , a non-profit organization that provides transportation to senior citizens and people with disabilities in South Santa Barbara County, helped with the transport of the evacuees. By the end of following day, Valle Verde was empty of evacuees.
Koegler said that EMS is grateful to Valle Verde and their staff for being proactive and willing to assist the community during the Jesusita Fire. "Santa Barbara is fortunate to have this facility and its resources available to assist our vulnerable residents."
Both the residents and the staff of Valle Verde graciously gave their time, even late into the night, to care for and comfort seniors who were forced to flee their homes. Schaefer said that, as a non-profit, Valle Verde is encumbered to the community in a profound way. "Whenever this community needs us, we will step up."