Arts & Entertainment
Ziggy Marley Plays for the Kids
S.B. Boys & Girls Club Hosts Reggae Star, Acoustic Concert
Grammy-winning recording artist Ziggy Marley unleashed his new youthful sound on the Santa Barbara community this past Friday, playing semi-acoustic for over 100 parents and children at the Santa Barbara Boys & Girls Club before taking the stage at the S.B. Bowl later that evening.
With a broken down set of acoustic guitars, miscellaneous percussion, and back-up vocals from his daughter, the Jamaican-born Marley showcased songs from his new album, Family Time, Marley's third solo album and first full-length production geared specifically toward children and families. Sponsored by the Santa Barbara Bowl Educational Outreach Program, the free concert was part of the Bowl's reinvigorated effort to preserve music-related programming and activities in the community. Eric Shiflett, Education Outreach Coordinator for the Bowl, said along with the program's board members, he hopes to continue to provide free performances for Santa Barbara's underprivileged youth. "We are trying to reestablish Santa Barbara as a leader in arts education," Shiflett said. "One dollar of every ticket bought at the Bowl goes to arts education in the community."
Reaching out to nearly 15,000 Santa Barbara-area students each year, the Educational Outreach Program funds local performances, music classes, artist-in-residence programs, and after-school activities. Last year alone, the Bowl raised more than $175,000 for education outreach programming. Moss Jacobs, promoter for the Bowl, said Marley's new album fell perfectly under the Outreach Program's vision. "When I heard [Ziggy's] children's album, a light bulb went off in my head," Jacobs said. "We've been waiting to do this: a Friday show for children in our own neighborhood."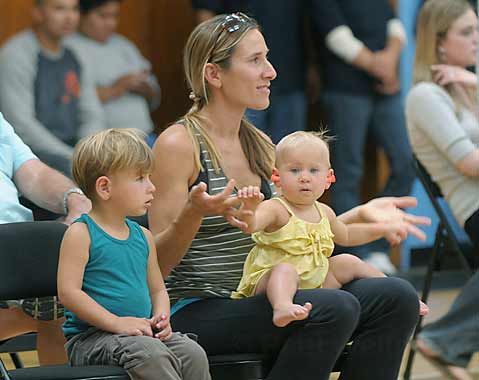 Supporting numerous music programs in the community, the Santa Barbara based non-profit Notes for Notes is just one of many which benefit from the Bowl's philanthropy. In a partnership with the Boys & Girls Club, Notes for Notes has created a sound studio dubbed the "Musicbox" on site at the club, offering free to use guitars, keyboards, drums, turntables, and computers with recording interfaces and software. Notes for Notes Director Phil Gilley said the Musicbox, which is open Monday through Friday from 3 p.m. to 7 p.m. at the club, is a positive extracurricular activity for youths under the age of 18. "The Bowl is a big sponsor for Notes for Notes," Gilley said. "In addition to helping us raise funds for the MusicBox, they share a similar goal in getting kids into music and involved in positive programs."
The event was also sponsored by Tuff Gong Worldwide and Nederlander.