Outdoors
La Brea Fire Report for Friday
Skies filled with smoke, some homes threatened by 67,000 acre blaze
[This report comes from Inciweb, the Forest Service website]
Extremely active fire behavior on the La Brea Fire yesterday created plumes of smoke visible for miles. At noon yesterday, as the fire grew on the west flank, a mandatory Evacuation Order was issued by the Santa Barbara County Sheriff's Office for the Tepesquet Canyon area. Firefighters worked aggressively through the afternoon and night to prevent fire from reaching the Canyon area, conducting burn out operations to reinforce 'dozer lines along the ridges under challenging conditions. Later Thursday afternoon, the fire crossed Horse Creek within the San Rafael Wilderness creating a massive plume of smoke. Another massive plume was created as the fire moved east into Bates Canyon above Cuyama Valley, however, fire lines protecting homes in Cuyama Valley are holding.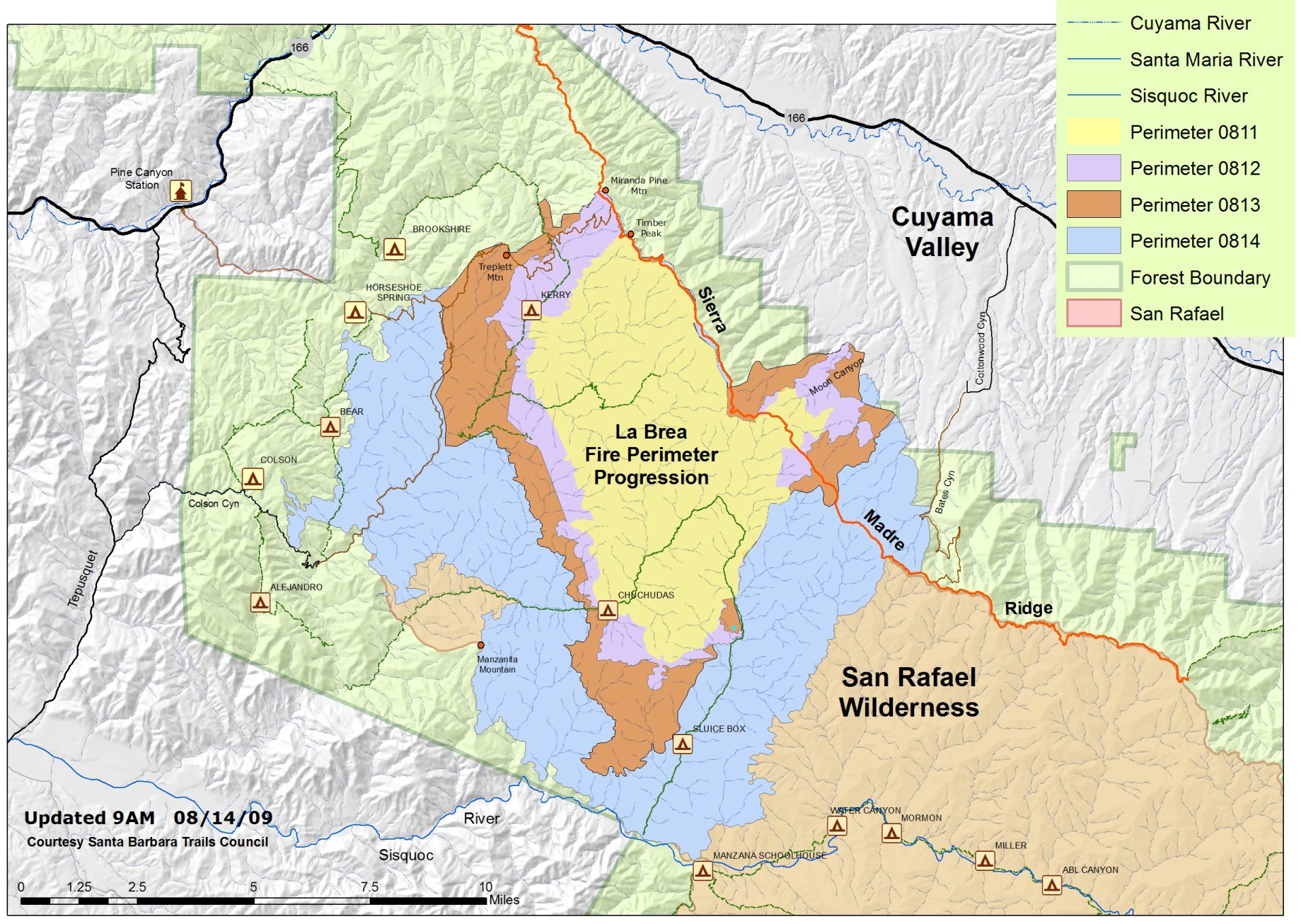 Firefighters continue to battle the blaze with all means at their disposal including the best tools, technology, and equipment available. Despite extensive efforts, the fire grew approximately 20,000 acres since yesterday morning. This intense fire activity is due to a combination of extremely dense, old vegetation, bone dry fuels, and erratic winds.
With the hard work of dozers over the past few days to open old fire lines left from the Zaca Fire, and with the location of the current fire, managers are planning to continue burnout operation.
The purpose of this work, which is a common strategy, is to remove fuel (brush) in a way that controls the fire movement. This method uses "fire to fight fire" by removing volatile fuel under our terms. This work can accomplish a large burnout in a shorter time frame by maximizing favorable conditions and, thus, reducing the exposure to fire personnel.
The wildfire remains several miles away from Tepusquet Road and fire managers believe the best option to check the fire is to use both aerial and ground firing techniques. "Firing" operations are likely to continue by hand crews into the night, depending on weather conditions.
Aircraft have pre-treating the 'dozer line with fire retardant to further help in the containment objectives. The fire retardant helps by wetting and reducing oxygen availability as it coats the brush near the dozer line.
An Evacuation Order was issued Thursday at noon for all of Tepusquet Canyon, from Santa Maria Mesa Road to Highway 166, all of Colson and Ruiz Canyons, and the Blazing Saddles community. At 4:00 a.m., Thursday, August 13, an Evacuation Order was issued for Pine and Buckhorn Canyons, along Forest Roads 11N04 and 11N05, affecting 10 residences. Effective since 2:00 p.m., Tuesday, August 11, an Evacuation Order was issued by the Santa Barbara County Sheriff's Office for the following areas: Western Boundary: Sierra Madre Road; Southern Boundary: Cottonwood Road; Eastern Boundary: Highway 166; Northern Boundary: Spoor Canyon. This area includes Moon and Eckert Canyons. An Evacuation Warning exists for areas bound by Cottonwood Road and Wasioja Road, and between Highway 166 and Sierra Madre Road.
The New Cuyama High School and Benjamin Foxen Elementary School are currently the designated temporary emergency shelter staffed by the Santa Barbara County Chapter of the American Red Cross. If you need assistance with the evacuation and sheltering of animals, please contact the animal hotline at 681-4332.
Firefighting conditions remain difficult due to the steep and inaccessible terrain, dry dense chaparral, low relative humidity, and erratic winds. Extreme fire behavior has been observed since the fire began. The northeast portion of the fire area has not burned since 1922. Due to emergency vehicle traffic and congestion on Highway 166, the public is urged to seek an alternate route and to use extra caution when traveling the highway.
There will be another community meeting tonight, August 14, at 6:30 p.m. at the Benjamin Foxen Elementary School, 4949 Foxen Canyon Road, in Sisquoc.
The fire is now estimated at 67,092 acres. Three helibases still support the fire, one at Santa Ynez Airport, one at Santa Maria Airport, and a supply helibase at the Incident Command Post. A retardant base is located at Spanish Ranch in Cuyama Valley.
The Fire Investigation Team is asking for the public's assistance to help establish the cause of the La Brea Fire. If you have any information regarding the La Brea please contact Forest Service Fire Investigators at 805-686-5074. Investigators have spoken to witnesses, but are still seeking additional information that may assist with the ongoing investigation.
An emergency closure order is in effect for portions of the Los Padres National Forest in and around the fire. For more information, please contact Fire Information at (805) 961-5770 from 6am-10pm
Temporary flight restrictions have been put in place over the fire area.
Engines: 90
Crews: 59
Dozers: 25
Helicopters: 11
Watertenders: 26
Total personnel: 1,859
Basic Information
Cause: Under Investigation
Date of Origin: Saturday August 08th, 2009 approx 02:50 PM
Location: 26 Miles east of Santa Maria
Incident Commander: Pincha – Tulley / Lewin
Current Situation
Total Personnel: 1,859
Size: 67,092 acres
Percent Contained: 10%
Fuels Involved: Primarily Chaparral with with areas of grass and timber.
Fire Behavior: Burning operations weree successful witn the slight increase in humidity overnight. Fire behavior was active throughout the night.
Significant Events: Crews will continue to hold and mop up along the north portion of the Treplett fuel break by Miranda Pine. Structure protection was implemented along Foothill Road in Cottonwood and Pine Canyon. Firing operations were successful in the Bates and Horseshoe Canyon. Spot fire in Rattlesnake Canyon was contained. Evacuation orders exist for all of Tespusquet Canyon, Colson Canyon, including the Blazing Saddlesanyon Community and all of Ruiz Canyon. The evacuation order is still in effect for the 14 threatened residences on Foothill Road and the 7 residences on the Buckhorne Ridge. Forest Service closure order no. 09-13-5100-10 is in effect for areas in and around the fire.
Outlook
Planned Actions: Crews will hold and mop up along Sierra Madre Road and the north portion of the Treplett fuel break. Crews will continue construction of direct fire line and burn out along Rattlesnake Canyon. Structure protection groups will provide protection for Foothill Road in Cottonwood Canyon, Pine Canyon and Tepusquet Canyon. Construct direct and indirect line from Kelly Canyon north.
Current Situation: Today, the focus is on continuing burn out operations to reinforce dozer lines from Buckhorn Ridge south through Buckhorn Canyon, then to Colson Peak, and to then hold the fire from Colson Peak south to Goodchild Ranch. Work will also continue on reinforcing fire lines on the west flank of the fire to prevent fire from reaching Tepesquet Canyon. Structure protection engines will be positioned in the Tepusquet area, as well as Cuyama Valley. Firefighters will continue their efforts on the east side of the Sierra Madre Ridge, above Cayuma Valley and along the southwest flank of the fire above the Sisquoc River.
Weather: Today's temperatures will be 85-95 degrees in low elevations and 78-85 on ridgetops. Ridgetop winds will be northeast 10-15 mph with gusts 22 mph, becoming west to northwest in the afternoon.
Growth Potential: Extreme
Terrain Difficulty: Extreme