Arts & Entertainment
Devendra Banhart at SOhO
Sold-Out Show Delivers Night Full of New Psychedelia
Call it freak folk, call it new psychedelic, call it wistful-just don't call Devendra Banhart's shtick derivative. In front of a sea of fans, Banhart spent his Wednesday night SOhO stint posturing, warbling, and cooing his way through new and old favorites. But perhaps more noteworthy than any set list selections were the hundreds of young and old devotees who turned up to worship at Banhart's altar. Girls in face paint and floor-length dresses swayed and swooned, while scraggly-haired Banhart look-alikes tapped their feet and bobbed their heads in appreciation. Older couples mingled among the youngest of the all-ages crowd, and nearly everyone in the place grooved out during "Long-Haired Child," creating a sight unlike anything the S.B. music scene has experienced of late.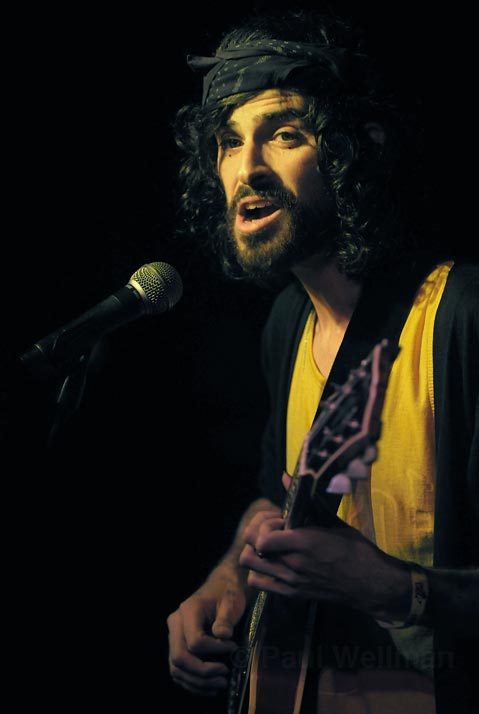 Opening for Banhart were Costa Mesa folk rockers the Growlers, who got the place up and moving early with their dark, surf-tinged guitar hooks and near circus-like stage presence. While frontman Brooks Nielsen sashayed freely about, an auxiliary drummer in an oversized coolie hat sat stationary with a small bongo. During more rollicking tracks, the band found themselves flanked by legions of shimmying ladies-the ultimate testament to sonic success.
Standing above the at-capacity crowd, Banhart jammed out a bit before charging hard with the poignant crooner "Sight to Behold" and the playfully acoustic "Little Yellow Spider." Still, the night didn't really pick up 'til around the time he launched into the show-building "Seahorse," which found him channeling Lou Reed against a slew of sweet harmonies and bluesy guitars. After that, it was a series of hard-rocking jams and cool, folksy numbers that alternated through the night. "Bad Girl" made the place come alive through a chorus of "wah wahs," while "Hey Mama Wolf" got the crowd swaying.
By night's end, it was the upbeat guitars and muffled drums of "I Feel Just Like a Child" that perhaps best encapsulated the night in song. From the front of the stage, Banhart shook and gestured like a miniature Iggy Pop while the masses gyrated along. In short, it was a scene straight out of any good music festival, be it Woodstock '69 or Coachella some 40 years later.