Arts & Entertainment
Ben Harper Gets Ready for Hard Rocking Times
The Singer Brings New Band, Material to West Beach Music Fest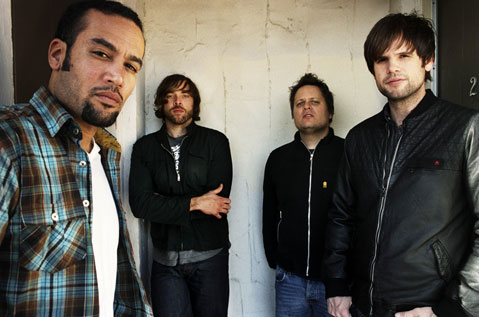 It is a small, elite crew of musicians who can reinvent themselves so publicly, and keep fans so enamored, as Ben Harper. Like his fellow upper echelon dwellers, Harper can seemingly do no wrong, churning out great record after great record without ever sounding stale, yet somehow never conforming to mainstream conventions. He's also headlined nearly every big time music festival you can name – Lolapalooza, Coachella, the Montreal Jazz Festival, and this Saturday night, Santa Barbara's West Beach Music Festival.
On Harper's latest, White Lies for Dark Times, the singer-songwriter has ditched his longtime band the Innocent Criminals and hooked up with Jason Mozersky (lead guitar), Jesse Ingalls (bass, keyboards), and Jordan Richardson (drums) to form Relentless7. The result of the teaming – which began when Mozersky handed the singer a demo en route to a gig – is nothing short of a ruckus affair. Gone are Harper's gentle croons and soft guitars, in their place rocking riffs and bluesy solos. It's upbeat, it's in your face, and it begs to be turned up to 11. We recently caught up with Harper to discuss his album, his new band, and his longtime ties to S.B.
And as far as the band name goes, I can't help but notice that there aren't seven of you in the lineup. Well, we had a list of names. Relentless7 was top tier, and it just sounded better than Relentess4. [Laughs.] And it made for a better logo.
Sonically speaking, what do the R7 guys bring to the table that couldn't be done with the Innocent Criminals? You know, it wasn't even about what other bands can or can't do. It was more of a matter of connecting on a soul level with the Relentess7 guys and moving forward and allowing it to grow into what it's become. It's not like I went out and chose a new band. We just got into a room together and it happened. It was there, it was alive, and it demanded its just deserve as far as attention and discipline and commitment go. And every different musical setting is going to bring out a different musician in you, so:. That's the job of a musician, to never stop searching for where you're supposed to be musically.
It's what's allowed you to reinvent yourself while never shunning your fanbase, no doubt. Ah, I hope I haven't. That's the one thing; you can never do enough or be enough. The same people who I was playing music to 10 years ago are going to have busier lives now. That whole thing, the shifts and changes, I'm just really excited that I'm able to still do it and still take it on the road and make records.
You've always been pretty adamant about not making a record or touring with a quote-unquote "backing band." How much pull did the R7 guys have in the studio? I did co-writing with the Innocent Criminals too, so I was well-versed and prepared, though the majority of my records aren't co-writes, but it was time to do that and expand and push and be pushed. I've always surrounded myself with great musicians and I've always honored the smartest idea in the room.
How did you, as the resident veteran, go about making them comfortable enough to voice their opinions? [Laughs.] They worked their entire lives to be ready for that moment – as had I to be ready for them – so that part was really comfortable. Everybody felt really confident in their own musicianship and in each other. It was a great environment, as was the Innocent Criminals. I'm not going to put myself in musical surroundings that are anything less than world class.
The record has these amazing points of grime-y, almost garage rock blues. What were you guys listening to when it came time to put these songs to paper? You know, most importantly, nothing. We were listening to each other, truly. Not to say we're not influenced. Who isn't? Whether it's Chuck Berry to The Beatles or the early ska scene to Bob Marley-everybody's influenced for sure. But that still doesn't give you a right to not be original in your own way. We were really just listening and feeding off one another. That's one of the best parts about this record, I think, is that it does dig deep and has the potential to lay the foundation for a sound that can be distinctly Relentess7's.
I imagine some of this material has put a different spin on your live show. Do you feel like you're getting to really rock out on stage now? Yeah. Not that I didn't get to rock out in the past, but it's rockin' out in a different way that I've been reaching for for a long time. It does feel like a great leap in a certain direction that a part of my music's gone all along, and also a whole new path that I couldn't be more inspired by on a daily basis.
How are the crowds reacting to it? Great so far, knock on wood. They've really taken to the new music and claimed it.
For a number of reasons, you've got some strong ties to Santa Barbara. How did you get brought on for the West Beach Festival? You know, we got the invite, and it's been long enough now to where it makes sense to be [in Santa Barbara] again. I'd play Santa Barbara every week if I could. That whole region, from Ojai to Santa Barbara, is what I wish all of California looked and felt like. It's one of the great places on stage, in front of the stage. I think from a fan perspective Santa Barbara is very alive, very fertile for inspiration when it comes to making music.
I see you've got a gig the next night in Arizona, but any big plans for while you're here? Oh yeah. We always get Mexican food from our spot there on Milpas, La Super Rica. Hamburger habit is great too. We take the kids to the zoo and we ride bikes on the bike path in the park. I grew up in Santa Barbara. I used to go up there every weekend as a kid. My mom loved it so much that we used to come in and stay the weekend every single weekend for 10 years. She had friends who owned Jensen's Music there in town. Those guys are great. I mean, I grew up in that music store. My family has a music store in Claremont, called the Claremont Folk Music Center, and Jensen's was our satellite music-store hang in Santa Barbara. : And that radio station [KCSB 91.9]-I've heard more people talk about hearing me on that radio station than KROQ. You kind of take the airplay you can get, and they've been really good to me. I can't thank them enough. That's the go-to station. Those guys are great.
411:
Ben Harper plays Bob's Stage of the West Beach Music Festival this Saturday, September 19 at 8:15 p.m. For full concert and lineup details, including tickets and VIP passes, call 963-4408 or visit westbeachfestival.com.