Theater
Czech Clowns and More at Lit Moon World Theater Festival
The 2009 Fest at Center Stage Features Artists from Santa Barbara, San Francisco, and the Czech Republic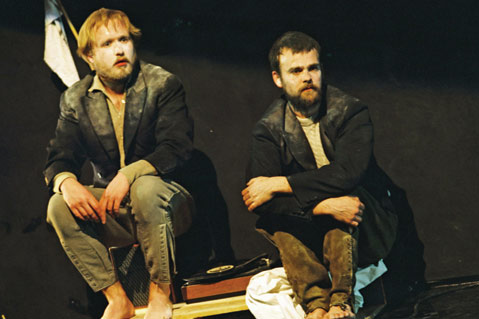 Westmont theater arts professor John Blondell scours central and eastern Europe every summer, producing plays of his own with Lit Moon Theatre Company and searching for the best in inventive new performance-based theater to bring back for his annually alternating World Theatre and Shakespeare festivals. We're in a World Theatre year for 2009, and the fascinating festival going on right now at Paseo Nuevo's Center Stage Theater runs through this Sunday, October 18. Dubbed Czechs and Mates!, the six days of programming celebrates a Czech connection between renowned California performer and professor James Donlon and the Czech director and physical theater teacher Ctibor Turba. There are a total of seven shows, all in English, and even though the festival began this past Tuesday, there's still time for an enthusiastic viewer to see every one of them, including two world premieres: Flush, a two-person piece set around a prison toilet and featuring Donlon and Howard Lotker; and The Tragedy of Tragedies, or the Life and Death of Tom Thumb the Great, Lit Moon's new version of Henry Fielding's 18th-century satire of stage conventions.
Blondell's Lit Moon combines techniques from dance, performance, and non-Western theater with a savvy and at times irreverent fascination with the recognized canon of world drama. The Tragedy of Tragedies, a send-up of both tragedy and the crowd-pleasing shallowness of its presentation on the London stage, seems made for the company. One legend about the original production is that when Jonathan Swift attended the show, he laughed out loud in public for one of only two times in his life. Blondell said that in his version, there will be additional references to the various tragedies that Lit Moon has presented, along with the 40-plus plays parodied in the original script. The Tragedy of Tragedies will be performed on Friday, October 16, at 9 p.m., and on Sunday, October 18, at 5 p.m.
Brick Circk, by Prague's Circus Sacra, features the contemporary clowning of Stevo Capko, one of the most exciting young performers working in the Czech tradition of street clowning. Circk's Sunday afternoon show would make for a good weekend outing for the family.
Also on the agenda, Adriatic Presents of Prague will bring Polaris, an acclaimed work based on the great era of Antarctic exploration. Expect two heroic men, plenty of fish, penguins, and seals, and lots and lots of snow. Polaris takes place on Friday, October 16, at 7 p.m. Lit Moon will reprise its hit pop musical The Wedding, which features three brides and one very droll Stanley Hoffman as the lucky groom. This is a great opportunity to catch one of the signature pieces created in our town so far this century. The Wedding is revived on Saturday, October 17, at 7 p.m.
Albert's Fear by Theatre Alfred of Prague pairs Donlon (as director) with one of the actors in Polaris for the story of a small boy who overcomes his own fears and makes a powerful choice that leads him to triumph. A great show for families, Albert's Fear plays on Thursday, October 15, at 7 p.m., and on Saturday, October 17, at 4 p.m.
Coproduced by San Francisco's Flying Actor Studio and Prague's HoME, Flush has the makings of an unforgettable premiere. Both Lotker and Donlon are virtuoso physical performers, and the play's title, setting, and historical context promise that the political ramifications of the present moment will get a thorough airing out. Flush will be performed tonight, Thursday, October 15, at 9 p.m., and again on Saturday, October 17, at 9 p.m.
On Sunday at 1 p.m., actors from all the companies will gather at Center Stage for an improvisational show called Chances Are. Using chance activities to generate short scenes, the participants will have only two hours to rehearse before entering the performance space in front of a live audience, meaning anything could happen.
4•1•1
All Lit Moon World Theatre Festival shows take place at Center Stage Theater (751 Paseo Nuevo). For tickets and information, call 963-0408 or visit centerstagetheater.org. For more about Lit Moon, visit litmoon.com.