News
Marymount's Meow
Kitty Cat Becomes School's Mascot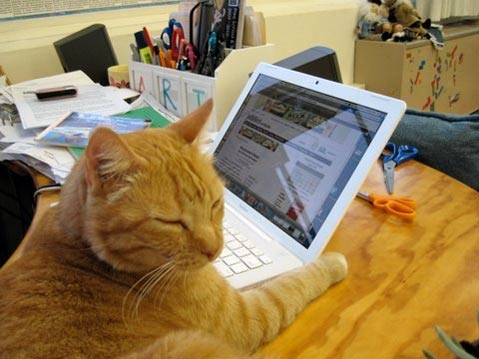 In 1990, a cat named Patrick adopted Marymount School in Santa Barbara. According to principal Deborah David, "Patrick was a big, orange tabby cat who took up residence on campus and selected the mail basket in the main office as his bed of choice. For years, the staff piled the mail next to the mail bin rather than in it to make room for the cat!"
Patrick died many years ago, which left a void on the campus. Luckily for the students and faculty at the JK-8 school, another orange tabby cat, this one named Rex, recently decided he was going to be the new campus mascot of Marymount. Athletics director Gary Messineo said these two cats are the exact same coloring. "It's like Patrick has been reincarnated."
Although Rex likes spending his days at Marymount, he does have a real place to call home. Rex was adopted by Dorothy Sewell, who unfortunately lost her house in the Jesusita Fire. As fate would have it, Dorothy and Rex are renting a place right across from Marymount. Despite his owner's efforts to keep him home, Rex seems to prefer the company of children. Sewell said every morning Rex will scratch on the front door and meow when it is time for school. Then he walks up the sidewalk and joins the kids to play before school starts. Then Rex comes out again for recess and lunch.
Rex seems to know exactly when it is okay to come by and play with kids. In the event that Rex oversteps his bounds and tries to enter classrooms, Sewell brought all the teachers squirt bottles so they can politely remind him that classrooms are for humans only. Though that doesn't mean that Rex won't stop trying to go where he doesn't belong. Last Friday night, Rex wandered into Battistone Hall during the Middle School dance. He crept in during a break between songs, but once the music came on and he realized he was interrupting a party, Rex bolted out.
Hilary Doubleday, a mother of one of the students at Marymount, decided to write a short story about Rex and teamed up with art teacher Sarah Maguire. Doubleday said the cat inspired her: "I can't help but take it as a positive reflection on Marymount and Marymount students that a cat has basically adopted us. It is such a nice and touching, and true story, that I couldn't help but feel inspired to write something."
Maguire had decided that since the students at Marymount seemed so smitten with Rex, she wanted to use him as their inspiration for animal drawings and paintings. Maguire's K-8 students provided the beautiful illustrations of Rex for Doubleday's book. According to Maguire: "In the book the children have personified Rex, he is playing basketball, in the science lab, even lounging in an inner-tube in the pool; the children have really enjoyed drawing and painting Rex."
The kids continue the conversation about Rex even after school. Parent Elizabeth Hansen told me that her son Theo talks about Rex at the dinner table non-stop. She said the conversation includes all the funny places Rex goes on campus, and usually ends in giggles as Rex is quite a character. Elise Marie Meyer told me that her son was excited when Rex showed up for his Pack 31 Cub Scout meeting held at Marymount. Rex even walked up the path on his own to be part of the St. Francis Prayer Service.
I think Grace Blakenhorn, a Marymount second grader, summed it up perfectly when she exclaimed, "Rex is a purrr-fect cat for Marymount!" I couldn't have said it better myself.
Marymount will be holding a book fair at Chaucer's Book Store on Wednesday, October 21, 7-8 p.m. A portion of the proceeds from the book, entitled Marymount's Meow, will benefit Marymount. I've had the pleasure of viewing this heartfelt book and I would recommend it to any animal lover!
K-9 PALS's Great Ball Drop
K-9 PALS is holding their First Annual Great Ball Drop, in association with the Santa Barbara Beer Festival, Saturday, October 17, 4:45 p.m. on the softball fields of Elings Park. This is their primary venue for raising funds to provide care and medical assistance to the dogs at the Santa Barbara County Animal Shelter. Proceeds will also benefit the Elings Park Foundation.
One thousand numbered balls will be dropped "from the sky." Some balls will fall into prize-winning dog bowls, others retrieved by "prize-selecting" shelter dogs. It's guaranteed to be something spectacular to see. Prizes include brunch for two at the Four Seasons Biltmore; Elings Park EPDOG tags; one month pass to the Santa Barbara Athletic Club; iPod Mini Shuffle; and many more. Grand prize is a two-night stay at the luxurious Four Seasons Hotel in Las Vegas with $100 spending money.
The price for the ball drop is 1 ball for $10; 10 balls for $90. You can purchase balls by calling K-9 PALS at 681-4369 or stop by the Santa Barbara County Animal shelter at 5473 Overpass Road. For more information on K-9 PALS, visit www.k-9pals.org.
C.A.R.E.4Paws Free Spay/Neuter Clinic
Members of the public interested in getting their dog or cat spayed or neutered free of charge should contact C.A.R.E.4PAWS at 968.CARE (2273) or info@care4paws.org to reserve a spot.
C.A.R.E.4Paws, short for Community Awareness, Responsibility, Education, started its spay/neuter program with the goal of reducing the large population of unwanted dogs and cats in Santa Barbara County. To learn more about C.A.R.E.4Paws and its different programs and upcoming events, visit care4paws.org.
Adoptable Pet of the Week
Bronte came to the shelter nearly a year and a half ago as a youngster. She is shy, but who wouldn't be after growing up at the shelter. She is a pretty rabbit, and would become a nice addition to a family if given a chance.
Bunnies Urgently Needing Shelter (B.U.N.S.) is a volunteer organization that cares for abandoned rabbits. B.U.N.S is located at the Santa Barbara County Animal Shelter, 5473 Overpass Rd. B.U.N.S. works to find bunnies permanent homes, and educates the public on caring for a companion rabbit. For more information, visit bunssb.org