News
The Rex Marchbanks Way
Santa Barbara Bowl Unveils New Monument to Legendary Operations Manager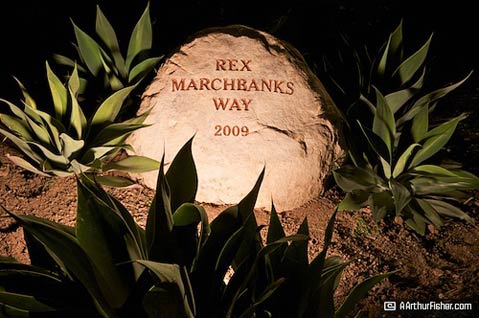 They came in droves on Wednesday night, armed with cherished memories and ready to celebrate, once again, the legacy of a great rock 'n' roller. More than 50 staffers, sponsors, and otherwise friends of the Santa Barbara Bowl assembled on November 18 to take part in the annual end-of-season "Hang" party-but also to cheer in the new monument for longtime operations manager Rex Marchbanks, who died after a fight with cancer in 2007. The monument, a boulder engraved with the words "Rex Marchbanks Way" and paid for with an anonymous $250,000 donation, effectively renames the steep asphalt path that most Bowl-goers follow to enter a concert.
A tall, long-haired, scruffy-faced figure who's rumored to have inspired "The Dude" character in The Big Lebowski, Marchbanks became the Bowl's operations manager in 1991 and, around that time, began living in an old caretaker's cottage on the property, located where today's Wendy McCaw Terrace sits. "We called him 'The General' on show days," said the Bowl's Eric Shiflett. "He basically wrangled everybody. He'd be the first to greet the band, get them all situated, and do whatever general operations were needed. He was really the guy who got it all done."
Gregarious and often seen riding his bike around town, Marchbanks was an embodiment of rock 'n' roll spirit, and, according to an April 2007 eulogy by Russ Spencer, lived a life reflective of his hometown "precisely because he so perfectly embodied the looser, freer, more innocent Santa Barbara that he grew up in." On Wednesday night, Spencer, Shiflett, and many others, including retiring general manager Sam Scranton, who was one of Marchbanks's best friends and closest business associates, told stories about Marchbanks's life and legacy.
The end-of-season Hang is itself a nod to Marchbanks, explained Shiflett. "It was really Rex and Sam," said Shiflett, describing the post-concert parties that would ensue at Marchbank's pad. "They would just say, 'You gonna hang after the show tonight?' They would always hang after the shows and just tell stories. That was the point where we'd download our stories from that day's show." From that, the annual celebration naturally took on the "Hang" moniker.
From the Hang to Rex Marchbanks Way, this dude's imprint on the Bowl is proving increasingly hard to miss. As such, everyone at Wednesday night's event seemed pretty certain that Rex is pounding away on his drums and drinking chardonnay up in rock 'n' roll heaven.