Arts & Entertainment
Best of the Arts 2009
Indy Editors, Contributors Dish on the Year's Highlights
As we approach the end of the Noughties, publications large (Rolling Stone, New York Times) and small (Pitchfork, Onion) scramble to sum up what may be one of the most eclectic decades in the arts. This year alone, we saw chart-topping albums from a teenage country crooner and a "fashion-forward" (read: possibly insane) diva in the making. In television, reality continued to rule. And at the box office, vampires reigned and Nazi headhunters reigned.
On the S.B. front, we saw another stellar Bowl season come and go, as well as some truly unreal club shows from some of rock's youngest and brightest (Girls, Devendra Banhart, Edward Sharpe & the Magnetic Zeros). Early on, the Santa Barbara International Film Fest filled the streets with a healthy smattering of Hollywood's elite (Clint Eastwood, Kate Winslet, Mickey Rourke) and top-notch cinema. UCSB's Arts & Lectures ushered in its 50th year with more programming then we can list, and somewhere along the way, the Granada finally found its stride, hosting cello great Yo-Yo Ma and the world premiere of Seance on a Wet Afternoon.
Below, a smattering of The Indy's staff dish on their favorite moments of '09, and reflect back on a mighty year in the arts.
Aly Comingore, Associate Arts Editor (Pop & Rock, Film)
Best Album: Grizzly Bear's Veckatimest
Best Concert: Jens Lekman at Velvet Jones
Best Nonsensical Live Show: Billy Corgan and Spirits in the Sky at Muddy Waters Cafe
Best Book-to-Film Adaptation: An Education
Best Craft Party: Jill of All Trades at the Presidio Motel
Charles Donelan, Arts Editor
Best Recital: Yo-Yo Ma at the Granada Theatre
Best Adult Drama: The Lieutenant of Inishmore, presented by Genesis West at Center Stage Theater
Best Big Concert: Bonnie Raitt and Taj Mahal: Bontaj Roulet at the S.B. Bowl
Best Teen Musical: Rent, presented by Stage Left at Santa Barbara High School
Best World Premiere Opera: Seance on a Wet Afternoon, presented by Opera Santa Barbara at the Granada Theatre
Roger Durling, Contributing Writer
Best S.B. Concert: Dave Brubeck at the Lobero Theatre
Best Film: The Hurt Locker
Best Circus Performance: Cirque loize's Nebbia at the Lobero Theatre
Best Opening Night Gala: Seance on a Wet Afternoon, presented by Opera Santa Barbara at the Granada Theatre
Best Dance Performance: Aszure Barton & Artists' DanceWorks at the Lobero Theatre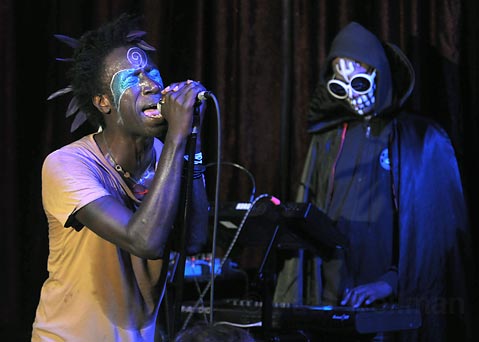 Ryan Faughnder, Contributing Writer
Best Pop Culture Book: How the Beatles Destroyed Rock 'n' Roll, by Elijah Wald
Best Album: Dirty Projectors' Bitte Orca
Best Santa Barbara Music Scene: Extreme metal by the likes of Nekrogoblikon, Untapped Fury, Dark Vital Flames, and others
Best Under-Attended Indoor Concert: Saul Williams at Velvet Jones
Best Outdoor Concert: Flight of the Concords at the S.B. Bowl
Palmer Gibbs, Copy Chief
Best New Television Show to Get Obsessed With: Glee
Best Movie Worth Waiting for the Midnight Showing: Harry Potter and the Half-Blood Prince
Best Concert: Bloc Party at S.L.O.'s Veterans' Hall
Best Album Purchased at an Indie Show: Temper Trap's Conditions
Best Retro Film Experience: The Wizard of Oz screening at the Arlington Theatre
Andrea Whiting, Arts Intern
Best Dance Party: Forro in the Dark at SOhO
Best Reason to Lose My Hearing: My Bloody Valentine at Coachella
Best Facial Hair: The Growlers at Muddy Waters Cafe
Best L.A. Concert: Animal Collective at the Henry Fonda Music Box
Best Concert/Best PSA for the Legalization of Marijuana: Girls at Muddy Waters Cafe
D.J. Palladino, Contributing Writer
Best Film: A Serious Man
Best Movie: Star Trek
Best Novel: Thomas Pynchon's Inherent Vice
Best Graphic Novel: Bryan Lee O'Malley's Scott Pilgrim Vs the Universe
Santa Barbara Artist of the Year: Parry Gripp, for his continuing profound contributions to the art of the YouTube video
Joe Woodard, Contributing Writer
Best homecoming: Katy Perry at the Santa Barbara Bowl
Best classical performance: Yo-Yo Ma at the Granada Theatre
Best rising star: Shelby Lynne at the Maverick Saloon
Best new trend: Indie rock la Deerhoof, Mt. St. Helens Vietnam Band, and Band of Skulls
Best jazz performance: Sonny Rollins at UCSB's Campbell Hall
Starshine Roshell, Contributing Writer
Best Hair/Rent of its generation: The Broadway-bound American Idiot musical
Best youth theater production:San Marcos High School's Man of La Mancha
Best "They played where?" performance: Billy Corgan and Dave Navarro at Muddy Waters Cafe
Best addictive-as-crack popcorn seasoning at Metro theaters: White cheddar
Best reason to resurrect Billy Idol: Sexy, swingy remake of "Dancing With Myself" on FOX's Glee