News
Shelter from the Storm
Supes Grapple with Homeless Deaths and Warming Centers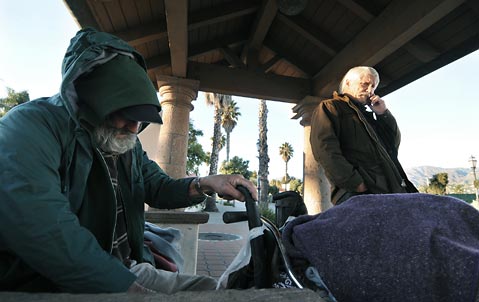 When Van Daniels keeled over and died early Monday morning at St. Athanasius Church in Isla Vista — where he'd worked as a gardener the past two years — he was the seventh South Coast homeless person to expire in as many weeks, and the sixth to die this year alone. Daniels, in his mid fifties, reportedly lived outdoors at a campsite in Goleta. With Daniels' death in mind — as well as that of the 28 homeless people who died in Santa Barbara last year — the county supervisors struggled to craft a short-term, Band-Aid solution for people who find themselves on the streets during the winter storms.
Led by 3rd District Supervisor Doreen Farr, the board voted to find $40,000 in spare change from the county's cash-strapped budget — which already looks to be $16 million short — to help South Coast churches that volunteered to open their doors as emergency warming centers defray some of their costs. That money will help purchase much-needed blankets and ponchos, but church volunteers say they would like some professional assistance from county social service workers skilled in the delicate art of working with the mentally ill.
How much, if any, professional assistance will be provided remains to be seen. That's because a trained county social worker would cost the county $538 for one 13-hour shift, according to county emergency services chief Michael Harris. Incredulous at the cost, Supervisor Salud Carbajal exclaimed, "$500 a night?! Are you putting people up at the Biltmore?" During the last pulse of storms, volunteers serving the homeless scrambled to open warming centers — which provide shelter from the elements but no food or cots — at churches in Isla Vista, Carpinteria, and at the Unitarian Church in downtown Santa Barbara. During the most forbidding rains, the Unitarian Church kept 25 people dry inside and another 15 outside under the building's eaves. Some nights, people were turned away. Shelter volunteers have accused the county government of shirking its duty to provide emergency relief to the poor.
But under the terms of a bureaucratically elaborate protocol adopted three years ago, the county's requirement to act has not yet been triggered. Only when all the South Coast shelters report they've accepted more than their dry-weather capacity — and when it's cold and wet for two nights running — must temporary warming shelters be provided. (Even then, it remains unclear to what extent that county is on the hook and to what extent affected cities must contribute.) South Coast shelters have not maxed out because some homeless, no matter how bad the conditions, will have nothing to do with them. "But even if all the shelters were full, we'd still have 300-400 people on the street," said John Buttny, of the nonprofit Bring Our Community Home.
All the supervisors agreed that the current arrangement is way too cumbersome and voted to devise something more responsive to the elements by next fall. In addition, the county supervisors discovered $85,000 in unclaimed federal grant funds that homeless advocates could apply for to help provide additional shelters during the next two to three months of bad weather. Homeless advocates have been seized by a sense of urgency caused by a perception that homeless people are dying in larger numbers. "Twenty-eight last year. Six this year. That's too much," said one speaker. In response, the supervisors agreed to conduct a formal study that will hopefully shed light on the circumstances under which homeless people died last year.
Sheriff Bill Brown cautioned the supervisors against doing anything that would increase the workload of the coroner's office, which he said had increased significantly in the past year already. (He noted, for example, that the number of suicides that the coroner's office handles nearly doubled — from 34 to 60 — over the last year.)
Speaking on homeless deaths, Brown said, "We have not seen a huge spike." Some homeless advocates took issue with Brown's perception, asking how he could know, given that until the last two years no one kept any tally of homeless mortality rates. Public Health czar Dr. Peter Hassler seemed to side with Brown, noting that the death rates for homeless people in Santa Barbara County was identical to the mortality rate for the population countywide. But because that figure seemed intuitively at odds with what he'd expect for people living on the margins, Hassler said he supported a study on the matter.