News
Goleta Ice Rink Skates Closer to Reality
Developer Donates Land as Nonprofit Ratchets Up Fundraising Campaign
You can almost hear the ice freezing.
The long-awaited ice skating rink complex planned for Goleta's Camino Real Marketplace will be sliding faster toward reality as, on Friday, March 5, the mall's developer, Mark Linehan, publicly donates the designated patch of land, near Storke Road, to the Greater Santa Barbara Ice Skating Association. The donation, which was officially made a couple of weeks ago, will be celebrated during a noontime press conference — complete with hockey superstar Luc Robitaille — that the nonprofit association hopes will kick off a more vigorous fundraising campaign.
"It's a great permanent asset for the community," said Kathy Mintzer of GSBISA, which has raised a little more than $2 million since it was founded in 2003 but needs another $4 million to start building. "This is the time when we really need the community to get behind us."
Though many thought that the ice rink was going to be built as part of the Camino Real Marketplace when it was developed in 1997, Linehan's plans merely dedicated space for the rink. "That was the misconception: Some people thought Mark was going to build the rink," said Mintzer. "That was never part of the deal. He's kept his word — he set aside the land, and now he's giving it to us."
When the mall was being built, Linehan said, a for-profit company from Los Angeles came forward to build the rink. Rather than donating the land to them, he rented it for $1 a year because he wanted to maintain some control. "It's right in the middle of our project," he said, "so we wanted to make sure that it was nice." But the L.A. company ended up backing out of the deal two years later, when they realized they couldn't make the rink work economically. "Now, with a nonprofit coming forward that's well capitalized and has good people involved, we're much more comfortable deeding them the land, and it helps them in the long-term," said Linehan.
Mintzer, too, is confident that the nonprofit route is the way to make the rink viable. "With the building owned and operated by a nonprofit, we can keep all the user fees down," she explained on Tuesday. "It's going to be very affordable, accessible, and public." The complex will feature two rinks, one regulation and one junior-sized, said Mintzer. She hopes to start intramural leagues and skating schools, and involve UCSB as much as possible. "We have the demographics to support it, and the user fees will cover the costs," she said. Mintzer has already reached out to youth groups, including at-risk youth programs. "We want to make sure that all kids have an opportunity to skate," she said.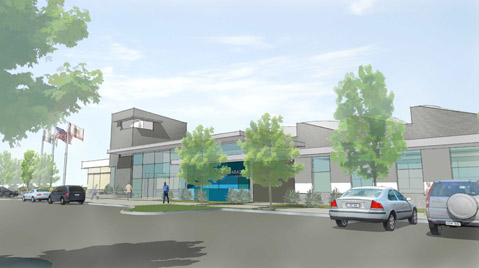 But will the people come in enough numbers to keep the rink afloat? Both Linehan and Mintzer say yes. "In Santa Barbara, there isn't enough for kids to do recreationally unless you're really involved in organized sports," said Mintzer. "If you just want to hang out with friends, there aren't a lot of places to go where it's safe, supervised, and year-round." Linehan agrees, explaining, "We used to have a lot of stuff in town — an extra bowling alley, ice rinks, miniature golf, all that stuff. The problem was that the people who owned the land and the people who rented it were different people, and the landowner would always decide to build an office building, so all of those activities went away." Both expect skaters to come from as far as Santa Maria, because the rink will be the only one between San Jose and Oxnard.
Once the additional $4 million is raised, Mintzer said, the rink will take about nine months to build. "Our goal is to start digging next year," she said, with the aim of opening at the end of 2011. And now is the right time. "With this economy, the cost of construction has gone down, so we want to hurry up and lock in a bid," she said.
Linehan hopes that it will move forward without much more delay. "We thought it would be a neat thing," said Linehan, adding that it didn't hurt his business partner has two kids playing hockey at the time they came up with the Camino Real plans. "It's taking a lot longer to come to fruition than we expected, but many great things take a long time."
In the meantime, Linehan is also pursuing a hotel project on the Camino Real property, which the Goleta City Council approved it last year. "It will be boutique hotel — not a resort like Bacara, but a higher-end hotel than what Goleta has been accustomed to," said Linehan. Construction on that should start in the spring of 2011, with an expected opening in the summer of 2012.
After that, all that remains of the entire 83-acre lot is a two-acre piece located at Santa Felicia and Storke Road. The plans called for an MTD station, but the transit organization backed out of the deal soon after the mall was built. "For the last nine years we haven't thought about it," said Linehan. "So we're just in the initial stages of thinking about what that should be."
Until then, Mintzer will be banging the ice-rink drum, promising, "It's something that anyone can enjoy and you don't have to be experienced."
See iceinparadise.com for more info on the ice rink.