Courts & Crime
D'Sant Angelo Guilty of Stealing from Nuns
Convicted of Felony Grand Theft as Sisters Faced Eviction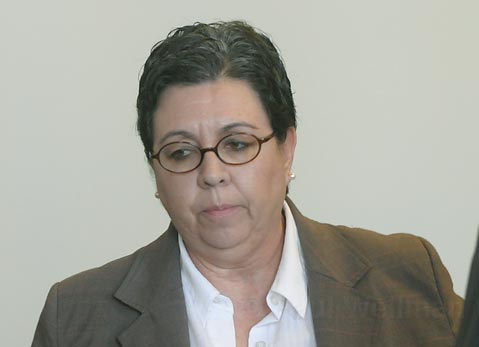 A Santa Barbara Superior Court jury today found Denise D'Sant Angelo guilty of stealing $2,800 that local donors had intended to help three nuns find housing.
After the verdict was read shortly following lunch, Judge Jean Dandona ordered D'Sant Angelo, who had been free on bail, remanded to custody. She faces an April 22 sentencing hearing at 8:30 a.m. While D'Sant Angelo appeared to have prepared herself to be taken into custody, her two grown children — present during the verdict hearing — had trouble composing themselves and seemed shocked and confused when she was placed in handcuffs.
D'Sant Angelo also faces an April 12 hearing on felony elder abuse charges that she cheated Cecilia and Bobby Sanchez while claiming to assist them in financial dealings involving their home.
In the nuns' case, prosecutor Brian Cota charged that D'Sant Angelo inserted herself into a 2007 community effort formed to aid three Sisters of Bethany who were being forced from their long-time convent on Santa Barbara's Eastside. Instead, Cota charged, she pocketed $2,800 from the fund and used the money for her own purposes.
D'Sant Angelo's attorney, public defender Jeff Chambliss, argued that his client had acted in good faith but was "confused" about how to handle money collected from donors. "The jury has spoken," he said after the verdict. "It was a good, long trial, and we respect their decision."
The nuns were evicted on short notice from the convent by the Los Angeles Archdiocese so proceeds could help pay damage suits filed by victims of priests. The building was later razed as part of expansion plans for the adjacent Our Lady of Guadalupe Church. The parish paid a sum to the archdiocese, in an amount that was never revealed. The nuns have left Santa Barbara but one, Sister Angela Escalera, returned to testify at the trial.
Chambliss said D'Sant Angelo faces a maximum of three years in state prison for her felony grand theft conviction, but that she would be released after serving half that time, due to California Department of Corrections (CDC) protocol. Should she avoid prison, Chambliss said, she would likely be put on probation for six or seven years. Prior to her sentencing, D'Sant Angelo will be referred to the probation department, which will take into account statements from her, Chambliss, Cota, and her victims.