Briefs
Students Battle Competitive Robots
Dos Pueblos High Schoolers Going to Atlanta for Mechanized Showdown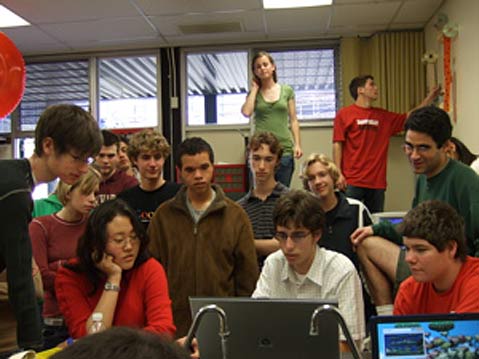 Students from Dos Pueblos High School's Engineering Academy will be traveling to Atlanta this month to compete in the US FIRST robotics national championships, bringing along a customized robot that they designed with help from Raytheon engineers.
The students, who call their team the D'Penguineers, spent the last six weeks designing and building two robots at a cost of $25,000. They will send one to Atlanta's competition, leaving the other at home to practice with.
"The students act as junior engineers, while the mentors act as senior engineers," Director of Dos Pueblos Engineering Amir Abo-Shaeer said. Building a robot, he said, is "so different from what is seen on most high school campuses."
The robot, said Abo Shaeer, is designed to excel at the yearly national robotics competition organized by the science nonprofit FIRST (For Inspiration and Recognition of Science and Technology.) Each year's robot is tailor-made for the competition, this year's task being a challenging variation on soccer.
"This year we have a camera, a lift system using a crane mechanism, and the ability to travel in any direction," Abo-Shaeer said.
The 32 senior students on the robotics project, along with several younger apprentices, split into teams that focused not just on the robot's technical aspects, Abo-Shaeer said, but also on the business and shipping dilemmas of getting a five-foot-tall, 150-pound contraption across the country.
Though students do manufacture parts of the robot in Dos Pueblos's small machine shop, Abo-Shaeer said the project aims to teach students how to design and engineer a project, rather than how to create the individual parts.
"It's not supposed to be a science project where students do all the work on their own," Abo-Shaeer said. "It's meant to teach engineering." The robot's complexity translates into a serious time commitment, said Nicole Schauser, a student at Dos Pueblos who helped engineer the robot's chassis and drive train. "It's very time intensive," she said. "In the last six weeks I put in about 450 hours. It can be hard to get all the other school work done, but this experience is definitely worth it."
Raytheon electronics engineer Dan Lang said he has been consistently impressed with the level of dedication shown by these young engineers, many of whom hope to pursue undergraduate degrees in science. "Given the different backgrounds the students have, it's amazing to see all of them have the same goal," Lang said. "I'm speechless sometimes watching these kids."
According to Abo-Shaeer, this is the fourth time in a row that the D'Penguineers advanced to the championships in Atlanta. The team took second place in regional matches held in Los Angeles and San Diego. "I don't think anyone is expecting to win world championships," Schauser said. "We're going to try our best to play the game as well as we can. We're there to enjoy the experience of competing and see the robot at its best."
Ten of the students from Dos Pueblos will also be competing for the Engineering Inspiration Award, which rewards students who used their engineering knowledge for the betterment of their community, said Orianne Matthys, a Dos Pueblos student who will be presenting an account of her school's community service to a panel of judges in Atlanta. "We are involved in tutoring first generation college-bound middle school students," Matthys said, "working with [younger] robotics students and trying to build a new engineering building." She was referring to the next project that the D'Penguineers hope to undertake: fundraising for a new 12,000 square-foot building, which would be a marked improvement over the 900-square-foot classroom where the engineering academy's 128 students currently attend class. Matthys added, "It's nice having such a positive impact in the community."