Briefs
CALPIRG Cleans Up Our Trash
Organization Campaigning to Change Plastic Bag Laws
The UCSB chapter of CALPIRG and the Isla Vista Surfrider chapter teamed up to host the "Big Sunday" beach clean-up on May 9 as a part of their combined campaign to protect our oceans from pollution. The clean-up was just a part of their larger campaign to educate the community about the issue and prevent future pollution.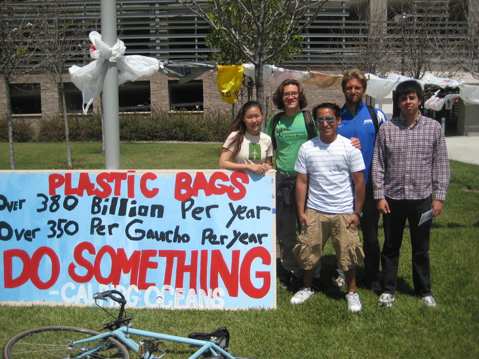 While the tides were too high to permit cleaning on the beach, volunteers combed the cliffs along Del Playa Drive in Isla Vista, picking up all the garbage left in bushes and parks. The students and community members who participated focused on cleaning the area, but some were rewarded when they found lost money or Frisbees in need of a new owner. Will Palomino and Michelle Baek, co-coordinators of CALPIRG's Oceans Campaign, hope to work with the Surfrider Club again and organize at least two more clean-ups this month. CALPIRG's goal for May and June is to educate at least 1,000 students about the ocean issues.
Currently, CALPIRG is focusing on the effect of plastic bag pollution, and cutting back on usage. "We're trying to educate, not to punish," Palomino said. In April, CALPIRG were part of the organization that put on plastic bag demonstrations and projects around campus, called the "Evolution of Man and Bag." Members of CALPIRG strung chains of plastic bags throughout the UCSB campus, and the Surfrider Club brought out the "plastic bag monster." These displays go to show the amount of plastic bags the average person accumulates on a regular basis, and how much waste it causes. "In Africa there is this community — there are so many plastic bags blowing their way they've infused it into their culture, they made buildings and decorations with those bags," Baek said, explaining the creative solutions for dealing with excessive waste.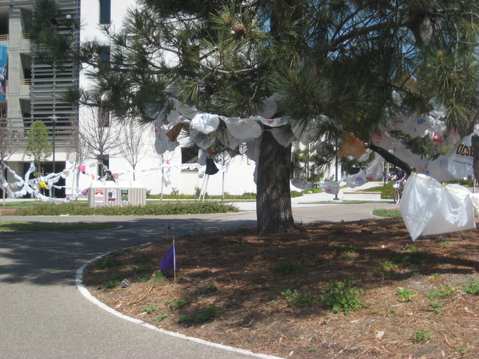 On a larger scale, CALPIRG is campaigning to have plastic bag laws changed. Each year a, state-wide campaign called "Wave of Change" starts in San Diego and moves up the coast, ending in Sacramento. Campaigners stop at beaches along the way, where locals can demonstrate their commitment by joining the beach clean-up. Local politicians, like Das Williams and Goleta Mayor Eric Onnen, attended the Santa Barbara event this year as a show of support for the movement, and a pledge to support laws protecting the ocean. Originally, CALPIRG members hoped to impose a tax on plastic bags in the local area, but community contention kept this plan from going into action. Instead, CALPIRG is working to educate people, in hopes that knowledge will solve the problem. "[We] just try to change lifestyles and make people more aware of what they do with plastic bags," Palomino said. "It's a habit change that people need to do."
Although CALPIRG's expenses are met mainly out of pocket, UCSB is considering granting $3,000 in funding for CALPIRG campaigns. The organization will use these funds to bring speakers to campus and on more informational campaigns.