Dance
Shiroun Dance Company at Center Stage Theater
Tuesday Night Performance Aimed at Ending World Hunger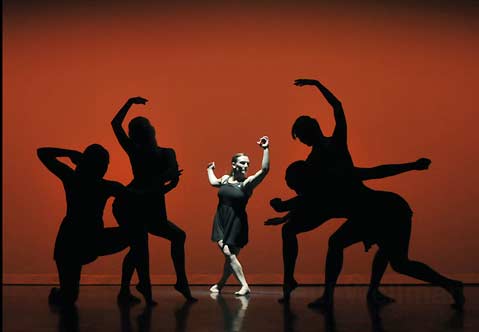 We tend to think of the arts as divorced from the most pressing issues of our times: political corruption, environmental crisis, war, and poverty. Yet for the members of Shiroun Dance Company, art is a direct vehicle for social change. In an unusual intersection between business, performance art, and activism, Nu Skin Enterprises is underwriting Shiroun's six-month West Coast tour, during which every ticket sold translates into a month of food for a hungry child.
At Center Stage Theater, the five young women of Shiroun—an anagram of the word "nourish"—delivered an evening of high-energy dances interspersed with inspirational quotations. In an era when cynicism and despair too often pervade our sense of global concerns, Shiroun brought buoyant optimism to their work.
The evening began with tribal beats and athletic movement that drew on everything from African dance and hip-hop to modern dance technique. Every dancer threw herself into the choreography with total commitment—from dynamic floor work to balletic extensions, they gave it all they had. Though they're a very young company in all senses—dancers ranged in age from 18 to 23 and spent only two weeks putting together the show—Shiroun's dancers all have extensive training and were handpicked in auditions from New York to Los Angeles. Their dedication showed in tight, harmonious sequences, original weight-sharing techniques, and pure endurance.
Company member Kymberly Kellems choreographed the majority of works on the program, from the meditative solos and sophisticated partnering of "Another Position" to the campy, peppy "Love in My Heart." "Bliss" was a tribute to street dance, complete with matching hoodies and flashy sneakers à la America's Best Dance Crew, and "Follow Your Nature," set to modern covers of "Blackbird" by the Beatles, celebrated the importance of honoring one's individual spirit. Between each number, a deep male voice intoned wisdom from such luminaries as Joseph Campbell, E.E. Cummings, and Albert Schweitzer, couching the entire show as a message of hope for humanity.
"Our deepest fear is not that we are inadequate," this voice insisted as the show drew to a close. "Our deepest fear is that we are powerful beyond measure." Marianne Williamson's words pointed to the real strength of this ambitious, visionary company. Ending world hunger through dance may sound impossible and naïve, but these young women are pressing forward in the face of doubt, pushing past fear of failure or success to do what they dreamed was possible.