Briefs
New Cuyama Cools Off in New Pool
Small Town Finds Relief from 100-Plus Degree Weather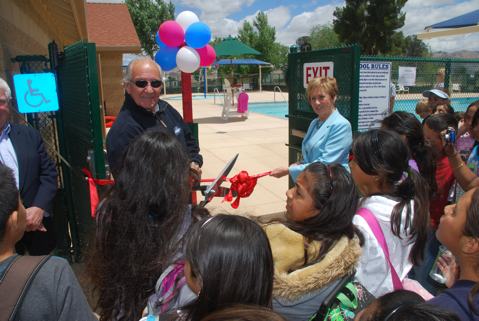 Just in time for the hot summer months ahead, the small Santa Barbara County town of New Cuyama opened its new pool to the public on Friday, May 28. After a ribbon-cutting ceremony featuring 5th District Supervisor Joe Centeno, CEO Mike Brown — and a host of other officials from the Cuyama Unified School District and the Cuyama Valley Recreation District — around 50 local kids wasted little time splashing into the four-lane, 25-meter pool. The ceremony was attended by close to 100 Cuyama Valley residents and included the unveiling of the pool's new sign that reads: "Joseph Centeno Aquatics Complex."
According to a press release issued by William Boyer, the county's communications director, the Board of Supervisors voted in April to name the pool in honor of Supervisor Centeno because he's been "a tireless champion of the needs for the Cuyama Valley community that is part of the 5th District." Boyer noted that Centeno has worked to ensure that the 800-or-so residents of Cuyama receive "the vital County programs and services they need." This, he says, includes the pool because it is a "a critical resource" to a community that bakes in consistent summer temperatures of 100-plus degrees.
Second District Supervisor Janet Wolf has spoken out against the project from its get-go. She's argued that the complex's construction — which includes a wading pool, landscaped outdoor area, bathrooms and showers, and parking lot — is, coupled with upkeep, costing the county money it does not have. The project's total cost thus far, said Boyer, is $2.4 million.
4•1•1
Starting now, May 29, the pool will be open every day from 1 to 7:30 p.m. until September 6 (Labor Day weekend). There is open swimming from 1 to 4 p.m. and lap swimming from 4:30 to 7:30 p.m. Admission is $6 per session, and swimmers can purchase 10-hour cards for $20.