Briefs
Local Woman Honored with Congressional Gold Medal
Piloted and Delivered Fighter Planes During WWII
The only thing that outshines Mary Lewis's extraordinary achievements is her humble and fearless demeanor. At age 89, Lewis stands as one of the first members of WASP, or Women Airforce Service Pilots. On Monday, May 31, Lewis received a Congressional Gold Medal from Congressmember Lois Capps at her Hope Ranch residence.
"This is a long overdue recognition of the service you gave to your country," said Capps to Lewis as she accepted her large, hefty medal.
Lewis's lifelong love for flying began at a young age. While attending Kalamazoo College in Michigan, she joined the Civilian Pilot Training Program and received her private license in 1940.
After this first taste of flight, Lewis joined the fourth class of WASP in 1943. After fighter training, she excelled and was certified in most of the aircraft in the U.S. Army Corps, primarily flying the most advanced U.S. Army fighter planes of the time. She then delivered fighter planes all over the United States.
"Everyone has to make a living," said a soft-spoken Lewis.
Lewis broke various gender boundaries during the time. After WASP was disbanded in 1944, she returned to college to study physics, a highly unusual major for a woman. It was at Berkeley University that she met her husband, Hal Lewis.
"My wife is my hero," said Hal, who shared witty, spry banter with his wife throughout the medal ceremony.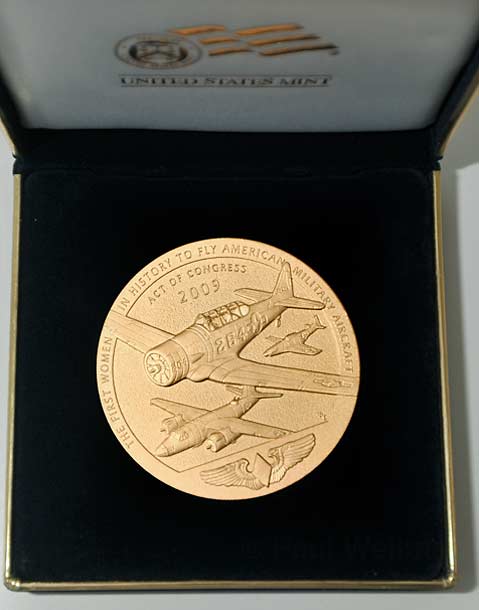 After moving to Princeton and then back to Berkeley, Hal and Mary settled in Santa Barbara with their two children. Their son Roger is an emergency room physician at the UCLA hospital in Torrance, California. The entire family knows how to fly.
Lewis's fearless, decisive actions opened many doors for more women hoping to fly in the U.S. military. Lewis, along with the other members of WASP, were not acknowledged as veterans until 1977, and according to Hal, were not recognized for their achievements until 2010.
While attendees of Mary Lewis's medal acceptance gloated over her various achievements, the guest of honor remained unassuming and calm.
"Keep all the smiles in it," said Lewis, who described her fighter days as a daring, fun time.