Positively State Street
Real Estate, Woods, Kurt Vile Team Up to Take on Jensen's
Monday Night Triple Bill Promises Loads of Lo-Fi Goodness
GET LO: While this season has already been marked with some stellar live shows, it's this Monday's triple bill at Jensen's Mainstage (2905 De la Vina St.) that probably has me the most stoked. It's there that Club Mercy plays host to not one, but three bands I'd more than gladly throw some cash at: Jersey surf rockers Real Estate, Brooklyn folksters Woods, and Philly psych master Kurt Vile.
If you've yet to familiarize yourself with any of these aural wizards, let me give you the rundown. Vile is perhaps best known as the lead guitarist for Philadelphia indie rock outfit The War on Drugs, though his solo rep is slowly starting to overshadow his band-born roots. His third album, last year's Childish Prodigy, is chock-full of classic folk and rock references (Tom Petty, Jim Morrison, Ray Davies), disarming guitar parts, and some seriously nostalgia-inducing production techniques, proving lo-fi can rock when it's done right.
As for openers (and Vile labelmates) Woods, it's all about layering. Since forming in 2005, these Brooklynites have released five albums' worth of moody folk that's part Moldy Peaches-style twee, part somber '60s-style country. Disparate as it may sound, the combination makes for a sonic landscape that's both catchy and decidedly unique.
Lastly, the Jersey boys of Real Estate are about as far from Jersey Shore as you can get; they pen dreamy pop melodies that pair with sometimes-rockin', sometimes-meandering chord progressions to create a fuzzy sound that falls somewhere between Surfer Blood and The Feelies. The songs are sentimental, but never cloyingly sweet, making for a newer, slower, and undeniably refreshing take on the current surf-rock resurgence. Need more proof? They've already been earmarked by Nylon and Stereogum as ones to watch—and awarded the coveted Best New Music crown on Pitchfork.com. Not too shabby, considering the quartet first formed just last year.
All three bands play an all-ages show at Jensen's Mainstage on Monday, June 14, at 8 p.m. For show details and tickets, call 563-3200 or visit clubmercy.com. And for a full interview with Real Estate's Martin Courtney, visit independent.com/realestateband.
DANCEHALL DOUBLES: If you need more reasons to stay out on a week night, SOhO (1221 State St.) has both Tuesday and Wednesday set aside for two can't-miss reggae shows. On Tuesday, June 15, the club hosts international dancehall star Barrington Levy. The 46-year-old singer may best be known for his rise to fame (and furious recording career) in the 1980s, but Levy's kept mighty busy since then, releasing albums through the '00s and contributing to recordings from Jadakiss, the Long Beach Dub Allstars, and Slightly Stoopid, among many others.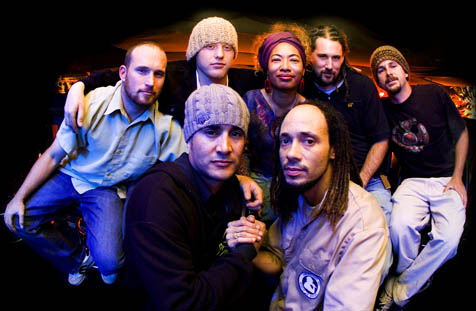 And on Wednesday, Sicily-born, Kingston-bred reggae giant Alborosie hits the SOhO stage with S.B. music makers Cornerstone in support of his latest release, Escape from Babylon to the Kingdom of Zion. Together, the two acts promise a night's worth of grooveable dancehall and roots music that demands to be danced along to. Both shows start at 9 p.m. For tickets and information, call 962-7776 or visit sohosb.com.
THE GREATEST: Finally, this Sunday, June 13, Brooklyn folk rockers April Smith and the Great Picture Show bring their guaranteed-to-be-great stage show to Muddy Waters Café (508 E. Haley St.) with openers Chief. Part theatrical parlor act, part epic pop band, Smith's Picture Show is one of those rare musical gems that simply needs to be seen live. As the band's frontwoman and oh-so-adorable ringleader, Smith pens über-catchy piano rock à la Alison Sudol or Sara Bareilles. But where this songstress differs from her AC radio-ready peers is all in the orchestration. Backed by melodicas, stand-up bass, and accordion, Smith channels a sound that's decidedly (and delectably) old-world. The show starts at 8 p.m. For tickets and info, call 966-9328 or visit clubmercy.com.