Arts & Entertainment
The String Theory of the Carolina Chocolate Drops
Durham-Based String Band Returns to S.B., Plays SOhO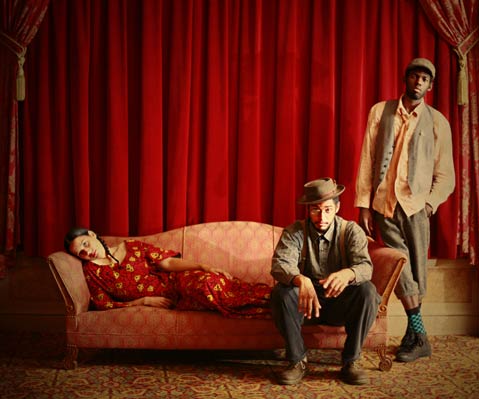 It may seem contradictory to use the phrase "forward-thinking" to describe a band that primarily plays music in styles from the 1930s and earlier, but it makes sense once the Carolina Chocolate Drops come over the stereo, thanks in part to their down-home version of Blu Cantrell's "Hit 'Em Up Style." Justin Robinson, who usually plays fiddle for the band, lays down a spittle-soaked beat-box groove while classically trained singer Rhiannon Giddens displays her R&B chops over a banjo and fiddle riff. It's as if the gap between these instruments of bygone eras and the turntables and drum machines of today were not so great at all.
The history of African-American string-band music is fascinating, but Robinson — like the other Chocolate Drops — cannot be pigeonholed by ethnomusicology. "History doesn't make music interesting," he told me recently over the phone. "Music has to be interesting on its own."
Giddens, Robinson, and Dom Flemons — who met in 2005 at the Black Banjo Gathering in North Carolina
— play with a modern edge, which is no easy feat for a band playing kazoos, jugs, bones, and autoharps. Their new full-length album (and debut for Nonesuch Records), Genuine Negro Jig, features traditional tunes such as "Trouble in Your Mind" and the raunchy "Cornbread and Butterbeans" alongside originals and adaptations of Tom Waits's "Trampled Rose" and the aforementioned Cantrell selection.
Unique as the Drops are for their musicianship, it's difficult to ignore the anomaly of African Americans playing this music. While the banjo claims direct African ancestry and enjoyed popularity in black communities during the 19th and early 20th centuries, the instrument eventually fell out of favor. And it fell hard. "Black people don't know a lot of things that they used to do," Robinson said. "Black people are a people who like looking forward in music. They generally haven't had a history of looking back and being nostalgic and remembering stuff."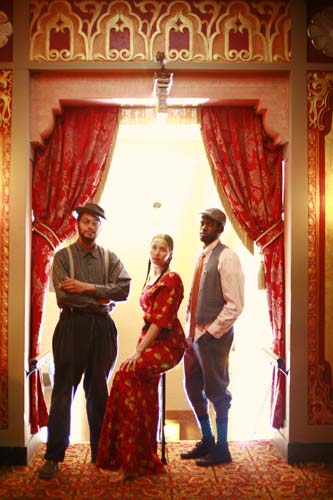 He added, giving a more pragmatic reason for the instrument's decline, "The banjo is not the most versatile of instruments, I have to say, in comparison to the guitar. That fifth string really messes stuff up!"
A common theory is that the banjo's association with blackface minstrel shows contributed to black culture's avoidance of it, but Robinson believes that this idea has been overplayed. "I don't think it has any bearing on why modern people don't do it," he said. "I just don't even think that's in the popular consciousness enough to make a difference. I think at one point it may have been a deterrent, but by that time black people had largely given that up anyway." Noting the dominant trend of the progression of American musical styles, he added, "By the time white people start getting into [a genre], black people largely are done with it."
The band members have been labeled as "revivalists," but that's an oversimplification of their contemporary take on seemingly ancient music. Robinson explained, "It's not like we went through a bunch of dusty archives and found stuff that no one had heard for like a hundred years. Largely it's stuff that we heard other living human beings play. So you can't really call it a revival, 'cause it's got to be dead first." And it's this philosophy, along with their skill and Dust Bowl-chic style of dress, that's allowed them to fit right in at the rock clubs and massive festivals where they play.
Somewhat ironically, the technology of the modern world has made it possible for more musicians and fans to interact, collaborate, and push the music they love into the future. "With the power of the Internet, it makes those things way more available than they would have been 30 years ago. There's a whole old-time scene, like, all around the country, where people play this music all the time. We just happen to be the band who would get popular doing it for whatever reason."
For all we know, then, the banjo could be the instrument of tomorrow.
4•1•1
The Carolina Chocolate Drops play SOhO (1221 State St.) this Monday, June 28, at 8 p.m. For tickets and information, call 962-7776 or visit clubmercy.com.