Sports
Baseball, Soccer, and Basketball
S.B. Foresters Win, the Irish on the World Cup, and Kobe Bryant Visits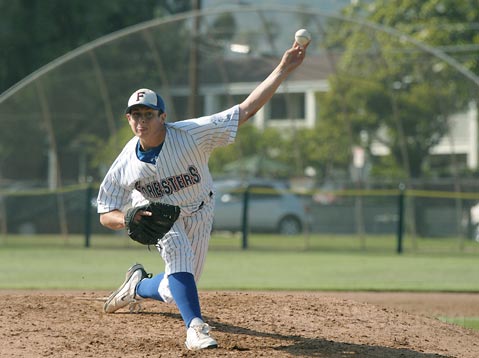 The Santa Barbara Foresters are up to their old tricks. In three separate baseball games last week, they piled up 14 runs, but when they faced tough pitching Sunday during their annual 4th of July game at Pershing Park, they managed to scratch out just a 2-0 victory over the Conejo Oaks.
The key plays were a pair of bunts in the bottom of the fourth inning. With one out and a runner on first, Jeremy Rathjen, a strapping cleanup hitter from Rice University, nudged the ball for an infield single. "I've been working on my bunting," Rathjen said. "Coach Pinner [Bill Pintard] stresses execution and small ball, doing your part to move runners around the bases." Michael Ratterree followed with a sacrifice bunt—he managed to get the wood on a difficult high pitch—and that moved Nick Melino and Rathjen into position to score on Jeff McVaney's two-out single.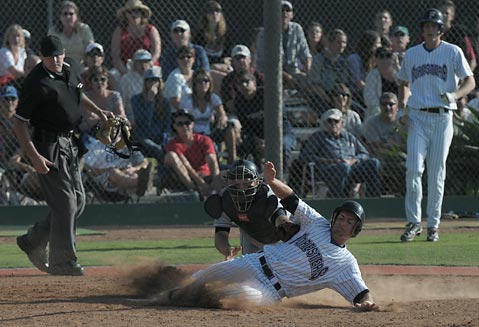 The two runs were all the Foresters needed behind the strong pitching of Chris Joyce, who's in his fourth year with the hometown team since seeing action as a Dos Pueblos High junior. "He's a freak of nature," UCSB pitcher Jesse Meaux said of Joyce. "He's got the worst body on the team, but he's one of the most athletic guys." Joyce allowed four hits in seven innings. Bryce Uhrig and Ryan Hawthorne preserved the shutout victory that kept Santa Barbara on top of the California Collegiate League standings.
The Foresters can ensure another appearance in the National Baseball Congress World Series by winning the league or this week's Rawlings California Cup, a tournament taking place on their home field, UCSB's Caesar Uyesaka Stadium. They will play games Thursday (July 8), Friday, and Saturday at 4 p.m. If they win their bracket, they will be in the championship game Sunday at 1 p.m.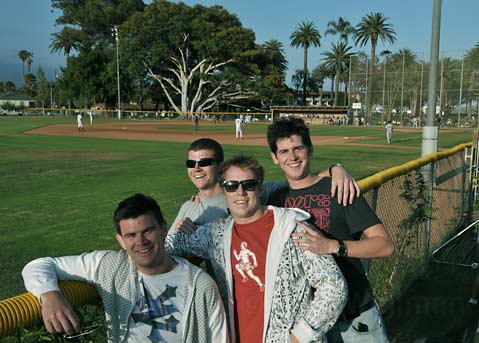 Among the Foresters' most vocal supporters last Sunday were four young men from Dublin, Ireland. Looking for holiday fun during their summer travels, they wandered into the park before the game. They befriended third baseman Walker Moore and promised to give him "the Irish luck" (pronounced: loook). The four lads—Richie Casey, Conor Kenny, Ross Wyse, and Ivan Barker—respectfully followed the singing of "God Bless America" by Paul Uyesaka during the seventh-inning stretch. "America, hell yeah," Wyse shouted.
FI FIE FO FIFA: The Irish are, of course, avid football (soccer) fans, but they have a rather jaded view of the World Cup this year. Ireland's team was on the brink of qualifying for the tournament when it was ousted by an ill-gotten goal off the naughty hand of France's Thierry Henry. The Irish protested to no avail. "It shows what a joke FIFA (the ruling body of international soccer) is," Casey said. "We would have brought a lot to the World Cup, but Ireland is a smaller country. They get more money from France being in there." The French flopped horribly in South Africa. The curse of the Irish? "To see France and England go out couldn't make us happier," Casey said. The upsets, screwups, heroes, and villains have made for an intriguing tournament. Downtown pubs and the Arlington Theatre will be humming—literally, from the vuvuzelas—during the World Cup final match at 11:30 a.m. Sunday.
KOBE'S IN TOWN: After tucking away his fifth NBA championship with the Lakers, Kobe Bryant turned up in Soweto, South Africa, to hang with some young soccer players, and now he's landed in Santa Barbara. He's brought his basketball skills camp to UCSB this week. On Friday, July 9, he will do lunch at the downtown Boys & Girls Club from 11 a.m. to 2 p.m. Tickets for the $200-a-plate luncheon, which will benefit all the county's Boys & Girls Clubs, as well as Bryant's own charitable foundation, were selling fast. Call Donna Reeves at 962-2382.
COURTING HISTORY: The sands that were cratered by Henry Bergmann's straight-down spikes will be consecrated to his memory on Saturday. The Friends of East Beach Association will launch a fund-raising campaign by naming Henry Bergmann Court in honor of Santa Barbara's first beach volleyball superstar. The intent of the nonprofit association is to upgrade the quality of the East Beach courts, a longstanding recreational resource and the place where Karch Kiraly, Dax Holdren, and Todd Rogers hatched their Olympic dreams. After the 4 p.m. dedication, there will be a volleyball game. Sinjin Smith and Randy Stoklos, two other giants of the sport, are expected to participate.
THE BOBS PASSING: Bob Carman, another sportsman of legendary stature, reached the finish line last weekend. The local teacher ran long distances before it became fashionable, logging more than 50 marathons—including a seventh-place finish at Boston in 1960—but it was the runs he did as a lark that revealed his adventurous spirit. There was the day he trekked from Santa Barbara Mission to Old Mission Santa Ines, and the summer when he took cross-country literally and ran the length of Ireland … Bob Ponce also passed away recently, leaving behind a rich photographic history in yellowed pages of the News-Press. His favorite sport was football, and it showed in his work. Ponce's shots of Sam Cunningham scoring four touchdowns in the 1973 Rose Bowl Game were suitable for framing.