Briefs
Search and Rescue Team Saves Injured Dog
Had Slipped and Fallen 20 Feet near Tangerine Falls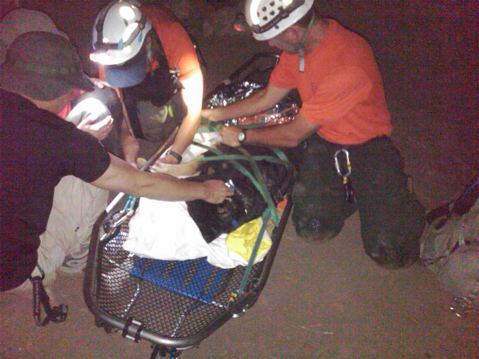 On Saturday, July 3, Santa Barbara Search and Rescue Team saved an 80-pound shepherd mix named Val, according to a press release.
Just below Tangerine Falls, in the West Fork of Montecito's Cold Springs Canyon, Val slipped on wet sandstone and fell 20 feet, injuring her hind legs thus rendering her unable to walk. Val's owners managed to lift her back up to the trail but were unable to make it to the car.
As evening approached, they dialed 9-1-1, enlisting the help of the S.B. Search and Rescue Team (SAR), which was joined by a Santa Barbara County Animal Control officer.
SAR secured Val in a stretcher and used a rope to belay her down the steep grade. Once in the car, Val's owners drove her to a nearby emergency animal clinic for treatment.
Juanita Smith, SAR team member and search dog handler, said afterward, "Many of us have dogs as part of our family, so to see another dog injured is something we take very personally and therefore are happy to help where we can."
Authorities used the opportunity to remind people, when taking a dog along on a hike, to bring along plenty of additional water and to plan your hike to match the capabilities of your dog.