Sports
Santa Barbara's Own Football Team
Seminoles Coaches and Players Set Their Sights on Playoffs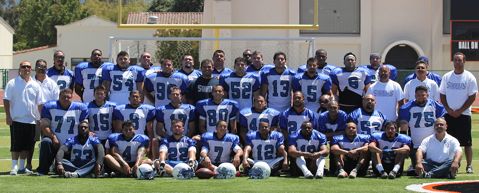 It's been almost nine years since Santa Barbara County had a semi-pro football team. But that time is now over.
The newest installment of local semi-pro football comes in the form of the Central Coast Seminoles. The Seminoles are a part of the United Football Alliance League as well as a member of the American Football Association. The league has the same rules and officials as the NFL. There are also playoff games at the end of the season, culminating in a championship game. The only main differences are that the players are not paid and teams only play 10 games.
"The last semi-pro football team that was here in town was the Santa Barbara Condors in 2001, I believe," said Luis Ibarra, the Seminoles' owner. "So, I just decided to give the guys an opportunity to live their goal again, live their dream."
A combine was held in March for all prospective players which produced the team's current roster. All members of the team have various levels of football playing experience.
"Some of the guys on the team are ex-Arena Football players, some played D-1 colleges, and some just came out of high school," Ibarra said.
Players range in age from the early 20s up to 40 years old, but despite the drastic age differential, Ibarra said he was very pleased with the talent on the team.
"I think the talent on this team is phenomenal," Ibarra said. "We have a lot, a lot of talent. I think this year we should do really well, and I don't just say that as an owner. I really do expect us to do well."
Ibarra isn't the only one praising the abilities of the team.
"We have a lot of talent and a lot of it has to do with just playing as a team," said Bobby Bisquera, the team's offensive coordinator. "A lot of these guys come from different areas of town, different backgrounds. Everybody's been coached up by different high schools, different colleges, and we need everybody to come as one and represent the Seminoles and play as a team. It's coming along though."
Ibarra also said he is pleased with the coaching staff he has assembled.
"We assembled all of these coaches by research," Ibarra said. "They've been coaches for years in the Santa Barbara community and they wanted to be a part of the organization. And they don't get paid so it's all for the love of the sport."
The level of optimism for the team in its first season seems to have resonated throughout the entire coaching staff as well as the players. Head coach Mark Gomez believes that the playoffs are almost a lock.
"Playoffs, that's for sure," Gomez said. "We're all out here, we all want to win. There's not anybody out here that just wants to see how we're going to do. Everybody wants to win. And everybody is expecting to win."
Steve Silva, a 24-year-old wide receiver who graduated from Dos Pueblos High School in 2004 and played at College of the Canyons in Santa Clarita from 2004-06 before transferring to Whitworth University in Spokane, Washington, said that he is excited to play with the team that Ibarra and his coaches have put together.
"I wouldn't be surprised if we won six or seven games with this team that we have together," Silva said. "We just gotta time up some things here and there, and we'll be good."
As far as a starting quarterback goes, Bisquera says that 28-year-old Matt Ruiz is the leader right now.
"He's the one we're grooming to be the starting quarterback, and we have Teddy Gomez," Bisquera said. "But Matt Ruiz right now is probably the number one guy and it's his job to lose."
Ruiz played quarterback for Santa Barbara High School up until his sophomore year and then didn't play again until he joined the Condors after he graduated.
"I think we'll make the playoffs for sure," Ruiz said. "I've played in this league before, and I've seen the talent in this league, and I think we match up pretty good."
Teddy Gomez, 22, also played at Santa Barbara High School and then briefly at Santa Barbara City College, but primarily as a tight end or wide receiver. It's been about two years since Gomez last played football, but he said the transition to quarterback has gone really well and he's very excited to be playing again and to be a member of the Seminoles.
"It's fun. You miss that feeling when you don't have it, and then when you get it back, it's the best feeling in the world to go out there and play with a group of guys that have your back and want to accomplish the same goals that you have," Gomez said.
Gomez said his favorite part of playing football is building lasting friendships with teammates. It's safe to say Gomez speaks for many of the players on the Seminoles' roster.
"Being at practice and being with your teammates — you build a bond together, building that team camaraderie, and make some lifelong friends — I would say is my favorite part, and that winning doesn't suck," Gomez said with a laugh.
It could take several hours to go to a Chargers, Raiders, or 49ers game. If you don't care for that amount of driving, don't worry: There's a talented football team here in your own backyard.